Hundreds of volunteers around the world transcribed >30,000 specimen labels at 25 events over four days (Oct 22–25, 2015) in the first Worldwide Engagement for Digitizing Biocollections (WeDigBio) event.  Events spanned a range of formal and informal education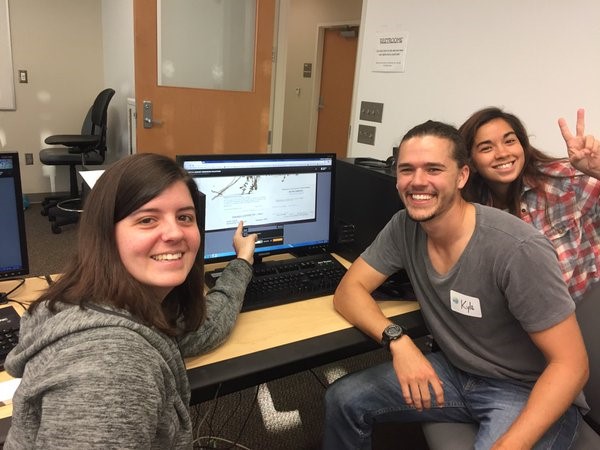 venues, from middle-school and undergraduate science classrooms to county libraries to museums, universities, and botanical gardens, such as the Smithsonian's National Museum of Natural History, Australian Museum, Field Museum, Florida State University (see photo), Natural History Museum of Los Angeles County, Belgium Botanic Garden Meise, Yale University, New York Botanical Garden, Florida Museum of Natural History, and University of California, Berkeley.  The core leadership team for the event included members of iDigBio, Smithsonian Museum, Australian Museum, and Notes from Nature with critical help from leaders and programmers from the participating online transcription platforms: Les Herbonautes, Herbaria@Home, Atlas of Living Australia's DigiVol, Smithsonian Institution's Transcription Center, Notes from Nature, and Symbiota.  In addition to onsite volunteers, the event engaged individuals online who were distributed throughout the world in >50 countries.
The WeDigBio event represents a convergence of what had been somewhat independent efforts to build momentum for public engagement in specimen digitization and had its roots in iDigBio's CITStitch Hackathon (Dec 2014). That hackathon, WeDigBio, and the transcription platforms' independent activities recognize the potentially huge boost that public participation in digitization can provide to closing digitization backlogs, sustaining digitization beyond project funding cycles, increasing biodiversity science literacy, and increasing local support for collections.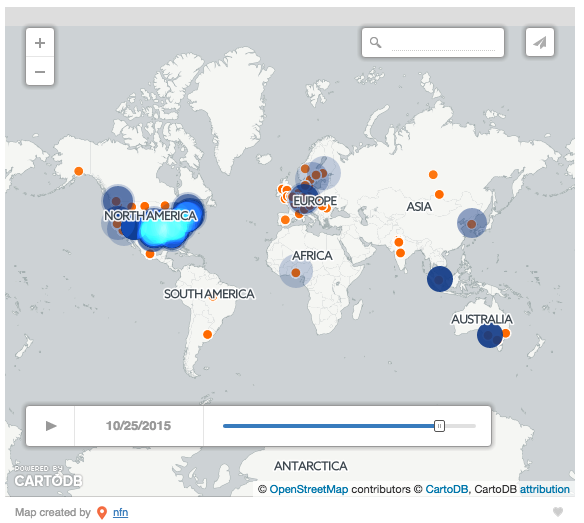 A major outcome of collaboration leading up to the WeDigBio event is the website wedigbio.org.  Wedigbio.org provided resources for planning the onsite events in the lead-up to WeDigBio (e.g., tasklist/timeline, educational exercises, games to use) and a go-to place during the event for finding events and projects, monitoring social media buzz, and, importantly, monitoring progress.  Event-wide progress was visualized on a wedigbio.org dashboard that did two things: mapped transcriber contributions through time (with what quickly looked like fireworks spread across the globe; see screenshot) and a plot of contributions through time at each transcription platform. Twitter was especially active with photos and tweets from onsite events, and some of the simultaneous events experimented with interactions via AdobeConnect.
Some might remember past blog posts on iDigBio's lead-up experiments with onsite digitization parties: the imaging blitz at Florida State University's Robert K. Godfrey Herbarium, the simultaneous transcription blitzes at the Godfrey Herbarium and Valdosta State University's Herbarium, and the Godfrey Herbarium's transcription blitz at the 2015 Florida Native Plant Society Meeting.  Austin Mast's plenary talk on WeDigBio at the 2015 Society for the Preservation of Natural History Collections also provides an overview of much of the momentum leading into the WeDigBio event. 
iDigBio hosts two working groups relevant to this topic: the Interoperability for Public Participation in Digitization Working Group and the User Engagement for Public Participation in Digitization Working Group.  Contact Libby Ellwood or Austin Mast, if you are interested in joining those groups.  All are welcome.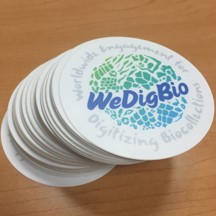 Lessons learned from previous, smaller-scale iDigBio events and those that were happening in parallel at Smithsonian Museum, Australian Museum, and other institutions included the importance of generating social media buzz, clearly communicating the research value of the specimens and the data generated by the volunteers, and making it fun with games and prizes.  To add excitement during the onsite WeDigBio events, some hosts used the WeDigBio games, such as Habitat Bingo and Timeline Tracker, and offered small prizes (e.g., chocolates). WeDigBio stickers (see photo) and temporary tattoos were also given to volunteers at many of the onsite venues.
The WeDigBio organizers are currently sifting through survey data, transcription tallies, and analytics from website traffic to share with the community in the next few months.  Austin Mast will present on the topic of WeDigBio and, more generally, citizen science opportunities in biodiversity research collections at the Natural Science Collection Alliance briefing to the US Congress in December.
Planning for WeDigBio 2016 has already begun with iDigBio funding an April planning workshop.  Everyone from the biodiversity research collections community is welcome and encouraged to participate in WeDigBio 2016.  To learn more, visit wedigbio.org and stay informed by liking WeDigBio on Facebook and following @WeDigBio on Twitter.
Finally, the WeDigBio organizers extend a huge thank you to all the WeDigBio volunteers onsite and online, all of the onsite event hosts and organizers, and to the broad network of supporters who made this event possible. Thank you!