Part of iDigBio's Vision and Mission is to promote a better understanding and appreciation of biodiversity by engaging the research community, collections community, citizen scientists, and general public through outreach. iDigBio's outreach activities include hosting and participating in a variety of events, creating outreach materials and resources, and engaging with a diverse audience online through our website and social media.
Outreach Materials created through ADBC
Are you looking for outreach materials to help engage with people about biodiversity, digitization, or iDigBio?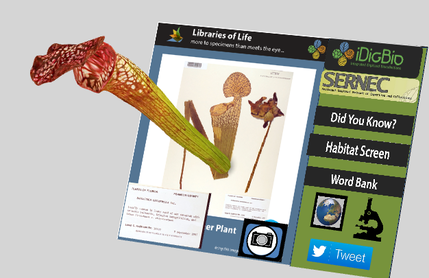 Libraries of Life Collection Cards were created by the iDigBio Augmented Reality Public Education/Outreach Working Group. The fifteen cards each feature a different project funded by NSF's Advancing Digitization of Biodiversity Collections program, and each card launches a 3D model in the mobile device's viewer that brings specimens to life for the public. The cards are available to download and print through the app, and further resources are available at www.libraries-of-life.org, including educational materials.
The MicroFungi Portal also has an outreach page that has educational videos and articles about early mycologists.
Citizen/Community Science
The SoRo TCN has created an iNaturalist project for citizen scientists to help document the biodiversity at the Rocky Mountain Biological Laboratory.
Help the ESB TCN document marine mollusks of the North American Eastern Seaboard on iNaturalist.
Notes from Nature Outreach Activity: Notes from Nature is an excellent outreach tool because people can directly participate in the digitization of museum collections. The website hosts multiple collections at all times and is fun and easy to use. iDigBio has created an activity intended for a tabling event --- for a general, or younger audience. We used this activity with Girl Scouts, but it could be easily adapted for other groups. Visit the K-12 page to find Notes from Nature activities meant for formal education.
Outreach Videos
One of the members of the Mid-Atlantic Megalopolis TCN has created a 3-video series on the importance of digitization and collections.
DigIn has created several wonderful outreach videos that can be found on their outreach page.
Check out the oVert TCN YouTube Channel.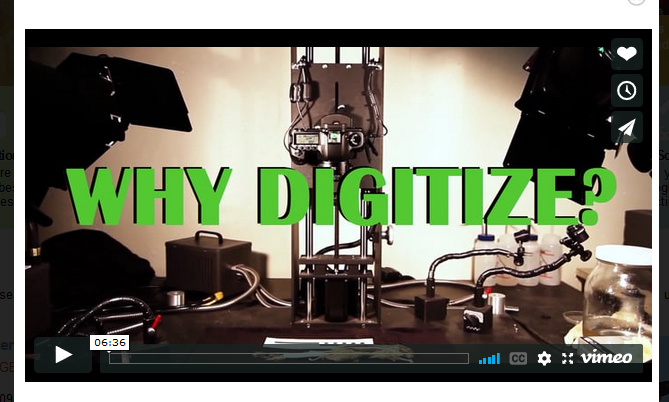 Why Digitize? Video: This video discusses the importance of natural history collections and digitization and the national digitization effort and iDigBio. You can find this video and more on the iDigBio Vimeo page.
Bio
diversity Spotlights: Since October 2014, iDigBio has promoted the importance of biodiversity by highlighting a different organism each month in our newsletter, The iDigBio Spotlight. Each article includes natural history information, current research, and links to relevant specimens in the iDigBio Portal. Find them all here.
Swag: iDigBio also has created some outreach materials (swag) including brochures, biodiversity bookmarks, and stickers. Contact us if you would like some to share.
The iDigBio Booth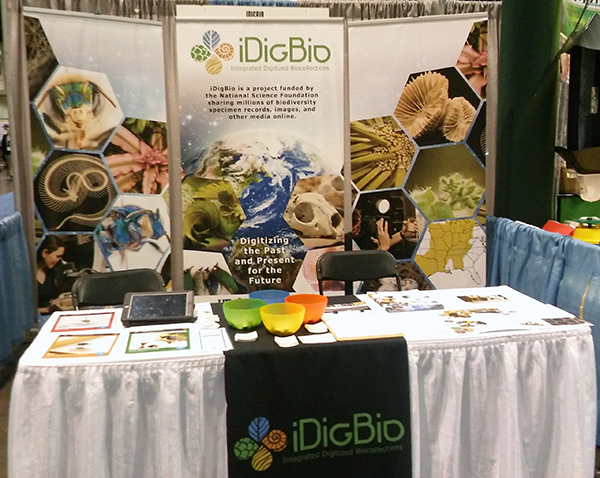 iDigBio's booth travels around the country going to conferences, schools, expos, and community events. Would you like iDigbio to participate in an event near you? Contact us!