Contributed by Libby Ellwood and Austin Mast (iDigBio-Florida State University).
The second annual Worldwide Engagement for Digitizing Biocollections (WeDigBio) event took place October 20-23, 2016 and built on the success of last year's inaugural event to expand the reach of citizen science transcription to new participants. Transcription is an essential part of the digitization process and WeDigBio involves volunteers in transcribing specimen records from natural history collections using online platforms designed for this task. The efforts of organizers, event hosts, and hundreds of global transcribers resulted in over 35,000 completed transcription tasks, 48 onsite events held in four countries (US, UK, Australia, and India), the WeDigBio twitter account averaging 7,900 impressions each day, and participants expressing their enjoyment and appreciation for WeDigBio. The event is about a lot more than just the numbers though. Behind these impressive statistics lie resources that were developed to make it easier for hosts to organize an event, new online tools for hosts and participants to interact, and the adoption of a more equitable way of counting transcription tasks across platforms.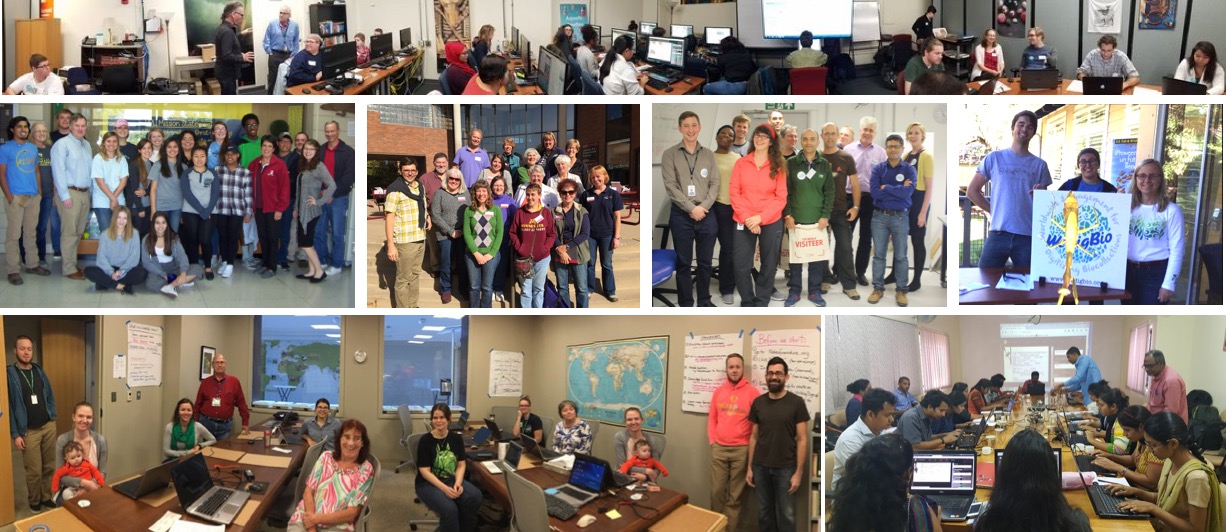 Top row: The Field Museum (Chicago, IL, USA); Middle row: Howard Payne University (Brownwood, TX, USA), Bell Museum of Natural History (St. Paul, MN, USA), The Natural History Museum (London, UK), St. Marks National Wildlife Refuge/Florida State University (St. Marks, FL, USA); Bottom row: Botanical Research Institute of Texas (Fort Worth, TX, USA), FRLHT-Trans-Disciplinary University (Bangalore, India)
Planning for the 2016 event was ongoing throughout the year and included an all-hands planning meeting in Gainesville, FL, in April 2016. As an inclusive event, one of our goals was to make it as easy as possible for hosts to organize an event at their museum, university, or public space (for example at the Monarch Butterfly Festival at St. Marks National Wildlife Refuge in St. Marks, FL, or the Cultural Plaza Festival in Gainesville, FL) and as such we took steps to improve the host experience this year. This included adding a direct link from wedigbio.org to a signup page where potential hosts can express their interest, an account on MailChimp where hosts can manage their volunteer's contact information and email updates, and updated resources on the website.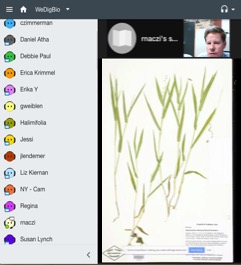 One of the most exciting developments this year was the addition of the Sococo multi-room video conferencing site. With Sococo, onsite event hosts could moderate a virtual room and invite participants from other onsite events, offsite participants, and the general public to join them. Hosts at the Australian Museum held the first WeDigBio event of 2016, then used Sococo to "pass the baton" across time zones to participants of the second WeDigBio event at The Natural History Museum London. The Botanical Research Institute of Texas, Indiana University, the Cheadle Center for Biodiversity and Ecological Restoration at the University of California Santa Barbara, the Field Museum, the Peggy Notebaert Museum at the Chicago Academy of Sciences, and others live-streamed their events to share highlights and present challenges to participants such as 'oldest collection date of a specimen'. The Cheadle Center also spontaneously hosted a virtual dinner party with guests in Tallahassee, FL, participating remotely over Sococo. The New York Botanical Garden did a stellar job with their Sococo room, hosting back-to-back presentations and Q & A by NYBG researchers James Lendemer and Rob Naczi who are using herbarium specimens in plant conservation research. In the screen capture above, online participants are shown as colorful avatars in the left column, the speaker is shown in a video window in the top center, and his presentation is in the main part of the image.
An important part of WeDigBio is accounting for the transcription work that is accomplished by participants. For WeDigBio 2015, transcription tasks were counted according to how each individual platform counted the work. In 2015, we worked with five transcription platforms, Les Herbonautes, Atlas of Living Australia's DigiVol, Smithsonian Institution's Transcription Center, Notes from Nature, and Symbiota, and each had a slightly different way of counting transcription work based on customized workflows involving validation, replication, and/or editing. However, as the event continues to grow, it becomes increasingly apparent that a standardized way of counting transcriptions is necessary. In 2016, we partnered with two additional transcription platforms, the North Carolina Museum of Natural Science's CitSciScribe and the University of Iowa Libraries' DIY History, and also made amendments to the way we count transcriptions. In our new method of counting, a transcription task is counted when a volunteer transcribes or validates a full record, i.e., all the fields of a record which usually include species name, locality, collector, date, and habitat. If another volunteer transcribes or validates the record, an additional count is received. Or, on the flip side, if only one of five values is completed, the record receives a value of one-fifth. In this way, volunteer work is more equitably accounted for across the platforms.
Another highlight of WeDigBio 2016 was the new interaction of the Libraries of Life Augmented Reality mobile app and the WeDigBio logo. The mantis appears above the WeDigBio logo on stickers, temporary tattoos, class handouts, signs—the possibilities seemed endless! And, as Austin Mast discovered, the bigger the logo, the bigger the mantis.  

Photos of the Libraries of Life app in action, @austin_mast, @ekrimmel.
2016 welcomed our first onsite event in India from Trans-Disciplinary University's FRLHT Herbarium in Bangalore! Participants in the event, shown below, transcribed specimen records of medicinal plants used in the Indian System of Medicine. We are eagerly seeking to reach new audiences in every corner of the globe. If you might be interested in hosting a WeDigBio event in October 2017, sign up here.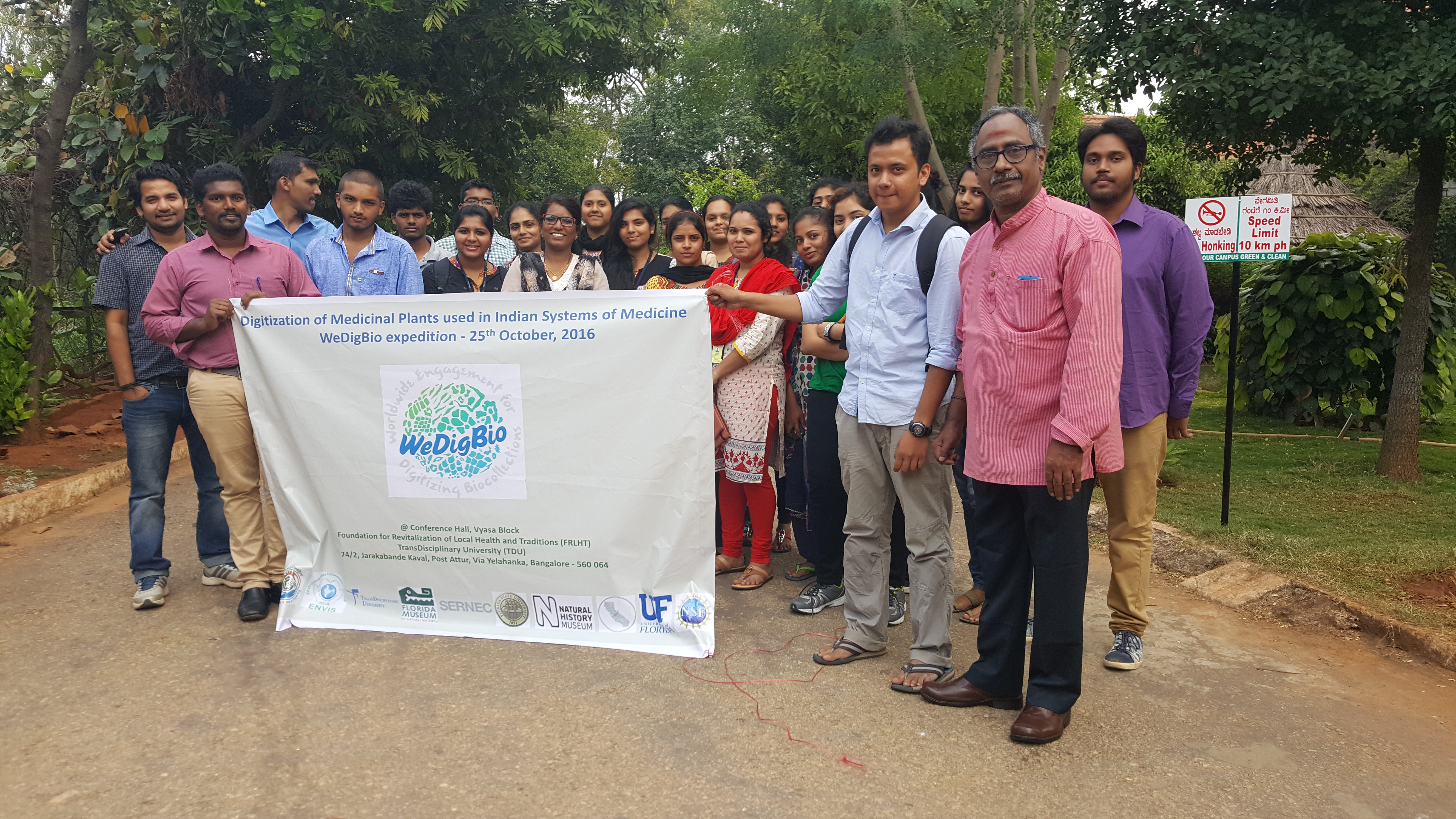 This year also saw the first projects to participate through the citizen science project management platform, Biospex. Biospex provides tools for the easy circumscription of specimen sets as "expeditions" and works well with Notes from Nature.  For example, WeDigFLPlants, a partnership between the Florida Native Plant Society and southeastern US herbaria to transcribe specimens collected in Florida produced four expeditions for several WeDigBio events. You may find Biospex useful for transcribing specimen records in your own collection!
For more details, photos, and highlights of the event, check out our Twitter feed (including amazing behind-the-scenes photos and interviews from @TranscribeSI) and Facebook pages, and our website. Future event updates will also be posted to each of those outlets. If you're interested in topics at the intersection of citizen science and biodiversity, iDigBio hosts two relevant working groups: the Interoperability for Public Participation in Digitization Working Group and the User Engagement for Public Participation in Digitization Working Group.  Contact Libby Ellwood or Austin Mast, if you are interested in joining those groups.  All are welcome.
Our sincere thanks to all event hosts and organizers, planners, transcription platform gurus, volunteers, transcribers, citizen scientists, followers, and everyone else who supports our efforts. You make WeDigBio possible!
Additional event summaries and blogs from our partner platforms and hosts, as well as the popular media:
Smithsonian Institution Transcription Center