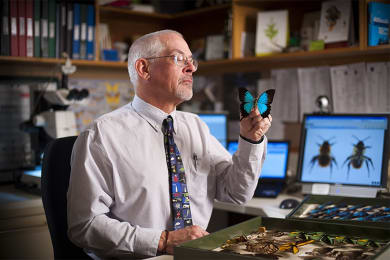 Dr John La Salle, an affable and charismatic scientist who paved the way in digital innovations, died unexpectedly on Sunday, May 27, aged 67.
Throughout his scientific career, La Salle made a significant contribution to insect taxonomy and spent a decade as director of CSIRO's Australian National Insect Collection in Canberra. In recent years, as director of the Atlas of Living Australia, he was instrumental in unlocking the information stored in Australian museums, herbaria, other collections and databases, and making this data more accessible and useable online.
He grew the Atlas of Living Australia into a rich database that is generating new efficiencies and possibilities for research, taxonomy, collection curation, natural resource management, policy development, land-use planning, education and citizen science.
Born in Pasadena, California in 1951, John collected insects from a very young age - images reflect him as early as six years old with a net collecting insects with his brothers. One of his hopes was that his great-grandchildren would have access to the same biodiverse environment that he was able to enjoy in childhood.
La Salle received his PhD in Entomology from the University of California Riverside in 1984 and published more than 140 papers together with 175 co-authors from 30 countries.
La Salle embraced digital technology and championed its contribution to science early on. He was interested in applying new technologies to better understand, monitor and manage Australia's animals, plants and microbes, especially in light of food security, emerging diseases and changing climates. He played a key role in establishing the Atlas of Living Australia in 2006, and became its director in 2012.
Now, in 2018, the power of big data and the impact of open source technology is apparent in many different sectors. La Salle was an early adopter of this technology and was instrumental in promoting open access and open source technology to bioinformatics. Under his guidance, the Atlas of Living Australia has been at the forefront of a transformation in biodiversity data management. Technology developed by La Salle's team at the Atlas of Living Australia is being used by 15 countries across the world to collect, manage and share biodiversity data.
La Salle was very proud of the Atlas of Living Australia team and its achievements. He was known to all his colleagues across CSIRO, and the international scientific community, as a lively personality with a love of people, a passion for the environment and a gift for languages and bringing people together.
He is survived by his wife Cigdem and their two sons Sam and Alex, and his two brothers, Mark and Skip.
Relatives, friends and colleagues are invited to attend a Memorial Service to be held on Thursday 21 June 2018 at Albert Hall, 100 Commonwealth Avenue, Yarralumla, commencing at 11.00am. Please advise your attendance via: https://form.jotform.co/81629018284864
Toni Moate is national collections and marine infrastructure director at CSIRO
https://www.canberratimes.com.au/national/act/vale-dr-john-la-salle-1951...