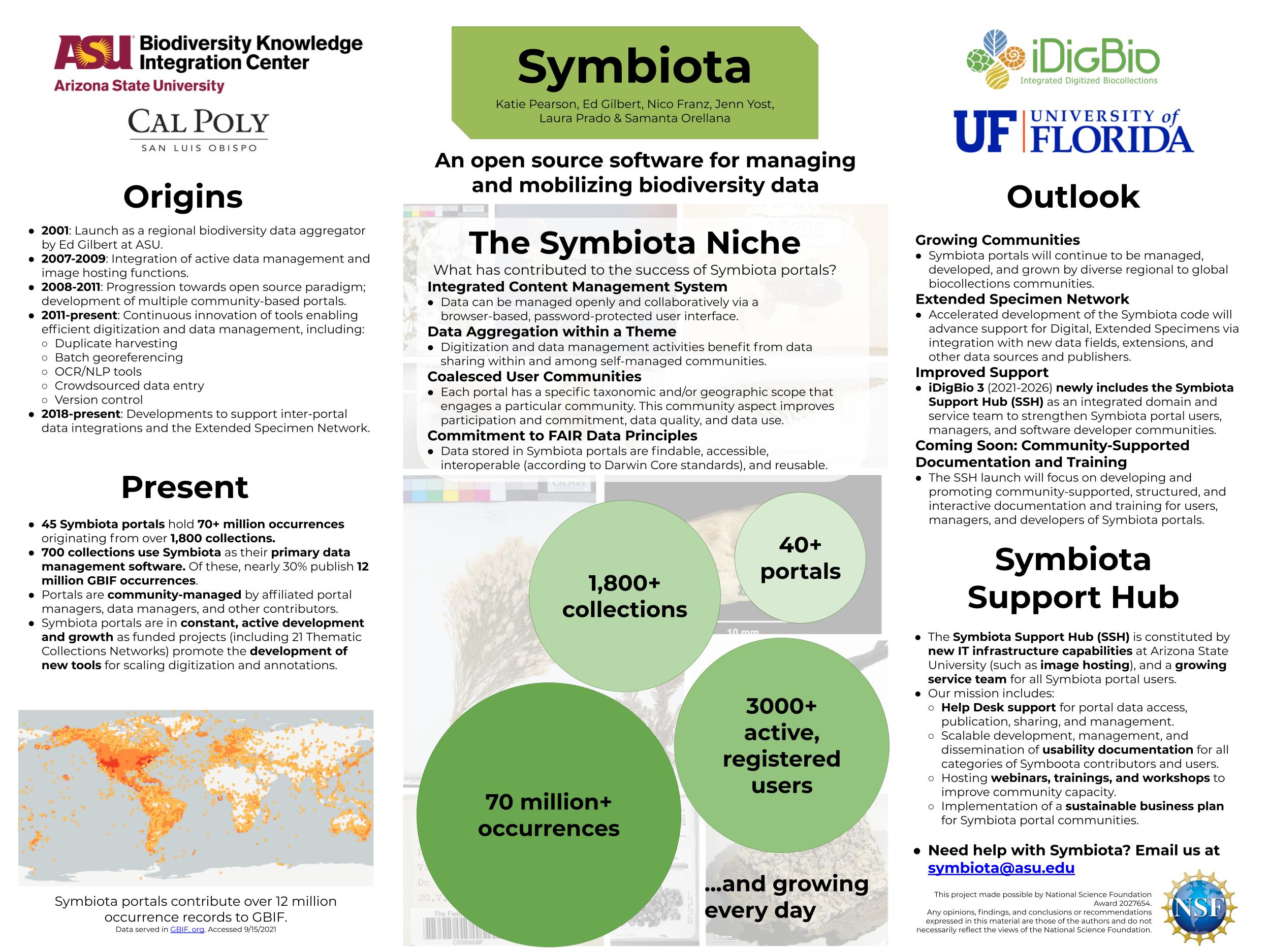 As of September 1, 2021, iDigBio is now in Phase 3 of its history, thanks to very generous support from NSF through the Sustaining Infrastructure for Biological Research (Sustaining) program. As the program title suggests, NSF is charging the collections community to continue the successes and progress in digitization, workforce development, data mobilization and use, and education and outreach that has been achieved through the ADBC program over the second decade of the 21st century and is supporting new Thematic Collections Networks through the Infrastructure Capacity for Biological Research (Capacity) program.
iDigBio will continue to include its original 5 domains and is pleased to now include the Symbiota Support HUB headquartered at Arizona State University as a 6th domain:
1. Administration, Sustainability, and Community Coordination Domain (UF; Gil Nelson)
2. Digitization, Workforce Development, and Citizen Science Domain (FSU; Austin Mast)
3. Cyberinfrastructure Domain (UF; Jose Fortes)
4. Promoting and Facilitating Research using iDigBio Data Domain (UF; Pam Soltis)
5. Education, Outreach, Diversity, and Inclusion Domain (UF; David Blackburn)
6. Symbiota Support Hub (ASU; Nico Franz)
We are especially happy to welcome Nico Franz, Ed Gilbert, Laura Prado, Jenn Yost, Katie Pearson, and the rest of the Arizona State crew as official members of the iDigBio team. Over the last decade, Symbiota, the open source software for managing natural history collections has enabled the discovery of over 70 million digital records and is used by over 700 collections as their primary data management software. There are currently nearly 40 stand-alone portals that serve data from more than 1,800 collections. Symbiota has been used by 22 TCNs funded under the ADBC program and has played a major role in iDigBio's work and activities. It has helped numerous under-resourced institutions to efficiently digitize and mobilize data.The new Symiota Support Hub is tasked with supporting all Symbiota based collections so that digital data continues to be produced and sent to upstream aggregators.
As iDigBio's sixth domain, plans over the next five years include: increasing the technological capacity of portal administrators, producing better training materials for users, responding to data manipulation requests for collections, implementing new tools and features across portals, supporting extended specimen data, and bringing more collections into the digital revolution.