Streamlining Collaborative Digitization: How to order and install multiple digitization work stations
By Melissa Tulig and Kimberly Watson
Digitizing tens of thousands of plant specimens within one institution is no small feat, especially if attempting to do so for the first time. Collaboratively digitizing ±1.2 million plant specimens across 10+ institutions with varying degrees of experience - well, this requires a little more organization and communication. As part of the Plants, Herbivores and Parasitoids Thematic Collections Network (TCN), scientists at the New York Botanical Garden (NYBG) are leading the plant digitization effort by providing experienced guidance and expert advice for all stages of the process, from set-up to product.
In addition to the ongoing digitization of our own specimens, NYBG is also responsible for assembling specimen imaging stations at any collaborating institution that has need. To accomplish this, Mike Bevans, NYBG Herbarium Information Manager for Digitization, spent months watching how digitizers worked, analyzing our in-house imaging rates, and observing workflow bottlenecks. Ultimately, he was able to design a specialized imaging station for use in herbarium and plant collections. It shoots standardized, high-quality images at a consistent rate of over 90 specimens per hour, and it is also less expensive than our older stations.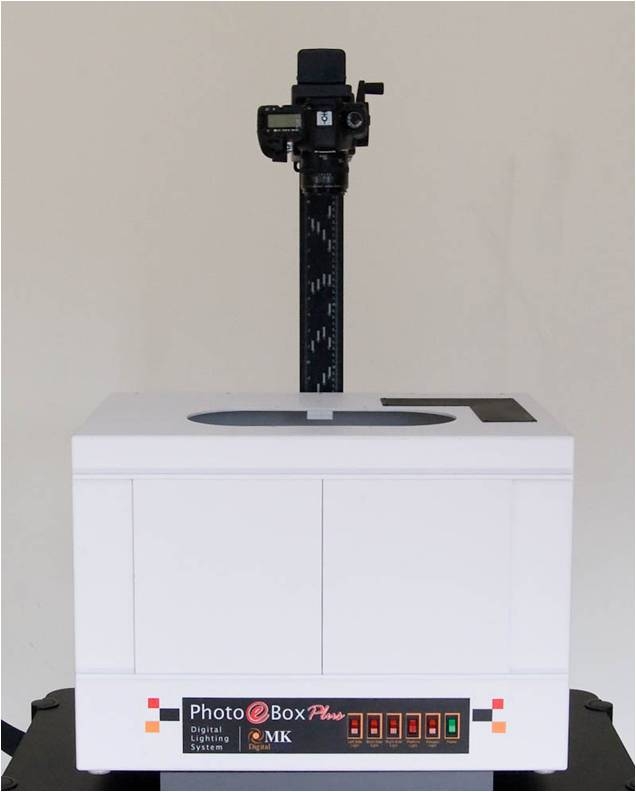 The imaging station consists of three main parts:
connected to a computer.
(See link to complete equipment list below)
Site visits:
When an institution is ready to set-up a new imaging station, a site representative will come from NYBG to facilitate the process. Although the basics of station assembly (hardware) require only 45 minutes, the details - positioning the camera and modifying the settings - can take hours.  Since proper (or incorrect) settings will affect every image created for the project, this step must be completed with meticulous attention to detail and product.  Thus, NYBG allocates two full days on-site to complete set-up.
Recommendations prior to site visit:
Despite two days for set-up, there is still very little time for errors or delays. Collaborators are requested to be fully prepared prior to the NYBG visit. A list of recommendations is as follows:
Create an equipment list. Include every item needed for assembly, with model numbers and hyperlinks to sites where each item can be purchased. Neglect nothing. A $5 bolt is as important as the $2000 camera, as is the wrench to tighten the bolt.
Order equipment ASAP. It takes ±2 months to get everything ordered and shipped. Anticipate delays: items may be out of stock, the person who places purchase orders may be on vacation, or a crucial part may get lost in transit.
Designate a working space: Make it as comfortable and ergonomic as possible. An imaging session may last several hours, so make every effort to reduce physical strain on the individual manning the station. The station may be installed at desk or counter height. Provide chairs that adjust to the appropriate height, or anti-fatigue mats for standing.
Hire staff. While waiting for equipment to arrive, advertise digitizer positions and start interviews. Ideally, staff should be hired in time to receive training during the site visit.
Determine the plan for long-term image storage. If the institution does not have one, plan a back up of external hard drives until images can be sent to the HUB or other repository.
Double-check the equipment. Make sure all parts function as they should and that all accessories are present and in good working order.  Check that electrical items turn on/off and that no light bulbs are broken. Contact NYBG with any questions.
Schedule the site visit. Once all equipment has arrived in good condition and staff has been hired, schedule a site visit for imaging station assembly and training.  
The Proverbial Guinea Pig:
NYBG made its first site visit on January 19-20, 2012. Richard Rabeler at the University of Michigan Herbarium (MICH) acted as host for NYBG representatives Kim Watson and Melissa Tulig.  Rich and his team could not have been better prepared. Day One was spent unpacking and assembling equipment, installing software, and training Rich how to manage the thousands of images they would be generating. Day Two was spent training his team how to digitize specimens.
Thanks to Rich's organization and preparedness, the visit went nearly flawlessly. There was one hitch: the photo-box Rich had received lacked a needed bulb and some accessories. Luckily, the camera settings were able to be modified to accommodate the absence, and training continued with minimal delay.   
By the end of the first month following installation at MICH, Rich and his team had already generated over 6,000 images and barcoded 9,700 specimens. The current average per week is 1500-2000+ images.  No-one could ask for a better success story to start off the plant digitization effort for the TCN Project!
| | | | |
| --- | --- | --- | --- |
| MICH staff member Anya Nona training to use the imaging station. |   |   | Rich Rabeler (MICH) and Kim Watson (NYBG) in front of the new imaging station.              (Photos by Rich Rabeler) |
For more information on NYBG imaging equipment or other specimen digitization questions, please see the following links:
PDF: 2012_NYBG_Imaging_Equipment_Specifications
NYBG Herbarium Image Editing Workflow
Using a Color Checker and Lightroom's Tonal Adjustment Tool to Ensure Proper Exposure
Standardized Digital Imaging and Archiving Procedures - TDWG 2011