Amanda Neill, Director of the Herbarium, Botanical Research Institute of Texas
August 15th, 2014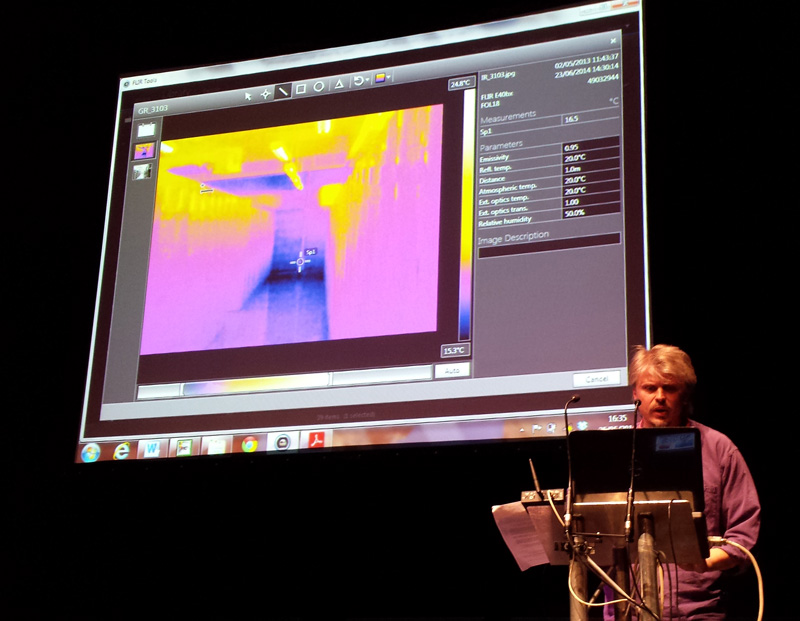 Larkin infrared thermal imaging demo-SPNHC 2014 DemoCamp
DemoCamp 2014 was held in Cardiff on Thursday June 26th and provided all of the live-without-a-net-demo elements that have kept these powerpoint-free sessions interesting and well-attended for five years: the latest and greatest in museum-related tools and technologies, world-premiere reveals of new websites and products, a who's-who-list of presenters, amazing visuals, plus audience interaction and fun props—as well as the pervasive frisson of potential catastrophic software failure and unforeseen connectivity issues.  In other words, exciting!
DemoCamp included tours of several natural history websites connecting expeditions, collectors, and specimens with the public. Rusty Russell gave two back-to-back demos of the Field Book Project and the Smithsonian's Historical Expeditions site, which both link to relevant records of physical collection objects.  Barbara Thiers demoed the Symbiota-driven lichen and bryophyte portals and introduced the new Lichens, Bryophytes, and Climate Change crowdsourcing transcription project.  In the category of record/dataset creation, management, and annotation, Andy Bentley premiered the beta versions of Specify 7 for the web and Specify Insight for the iPad.  Okka Tschöpe demoed AnnoSys, an integrated system for botanical annotation records in GBIF/BioCASE.  Paul Morris demoed the FilteredPush DataEntry plugin for indexing, locating, and cloning records that included, if you were paying close attention, a quick hack of Specify.
Two demos in particular set a new DemoCamp precedent for audience interaction and visual wow-factor. Mike Howe passed out 3-D glasses and stunned the audience with the GB/3D online fossil types website. The fullscreen digital model manipulation of an ammonite had the audience leaning back in their seats to avoid being struck by the giant rotating fossil.  Nigel Larkin demoed the applications of digital infrared thermal imaging for addressing museum heat and humidity issues and then passed the wireless infrared camera around the room with a warning that it might reveal audience members' undergarments.  Subsequently, he brought the camera to the SPNHC banquet and recorded a bit of the dancing, for a useful demonstration of the camera's sensitivity: youtu.be/f8V35EE1A1M.
All of the demos were recorded with AdobeConnect (screen and voice) and are available on the iDigBio DemoCamp 2014 wiki page , where you can also find technical information and abstracts for each demo.  Thank you to all the brave DemoCampers, the conference organizers, the SPNHC Professional Development Committee, and to iDigBio for sponsoring DemoCamp for the second year.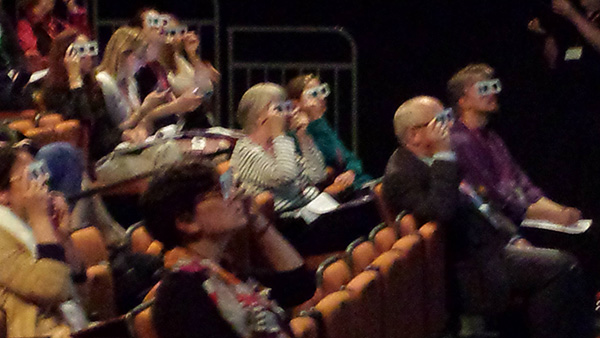 Howe 3-D ammonite demo-SPNHC 2014 DemoCamp