The 23rd Pacific Science Congress, successfully hosted by Academia Sinica, Taipei, Taiwan brought together scientists from a broad range of fields to discuss progress being made towards a sustainable future in Asia and the Pacific.  With "Science, Technology and Innovation" as the key themes, iDigBio was pleased to be a participant at the meeting.  The Pacific Science Congress is held every four years by the Pacific Science Association (PSA), a regional non-governmental, scholarly organization that advances science, technology, and sustainable development in the Asia and Pacific region by actively promoting interdisciplinary and international meetings, research, and collaboration.  This year's meeting saw 463 participants, including 58 students, from 25 countries.  Plenary speakers gave insights into the predicted and observed effects of global change on the Asia-Pacific region and the need for a sustainable future, developments in functional genomics for understanding health issues and big data metagenomics for understanding biomes, social rethinking of scientific research and the role of science in improving society, and inspiration from nature in technological innovations.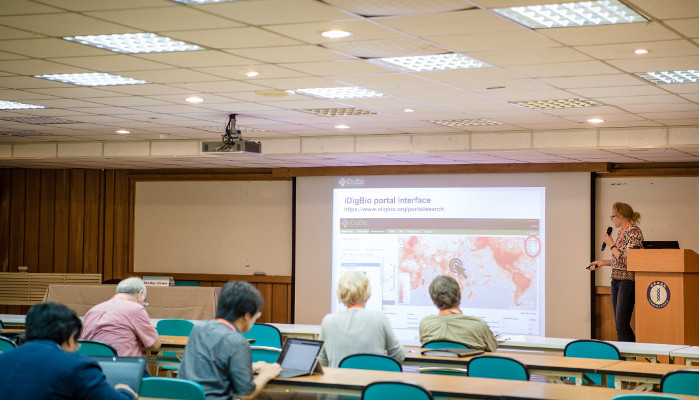 iDigBio hosted a small session entitled "Data and Digital Images: Progress, Tools and Scientific Need for Digitizing Pacific Biological Collections" iDigBio's Shelley James gave an outline of the iDigBio project and the data portal, and Dr Terry Donaldson from the University of Guam Marine Laboratory presented on "The Guam Ecosystem Collaboratorium's Biorepository Project".
WeDigBio was also represented in the poster session, calling on biological collections in the Asia and Pacific regions to participate in the October 2016 activities. Many enthusiastic conference participants dropped by the poster to learn more about this annual transcription event.   As a member of the Citizen Science Alliance, we hope to see Academia Sinica become more involved.
At the conclusion of the congress, a resolution was submitted to the Pacific Science Association for inclusion in The 23rd Pacific Science Congress Resolutions, "to encourage open access to, and mobilization of, primary biodiversity data from biological specimen collections housed in the Asia-Pacific region and elsewhere to ensure long-term access, discoverability, and use of both the physical collections and their associated data and products.  Vouchered biological collections represent a verifiable, repeatable, sustainable and persistent record of the biodiversity of the Asia-Pacific region across space and through time making the physical objects and their data invaluable for science, conservation, technology and innovation, policy development, and education."
iDigBio looks forward to future collaboration with the Asia and Pacific scientific communities.

-- Contributed by Shelley A. James