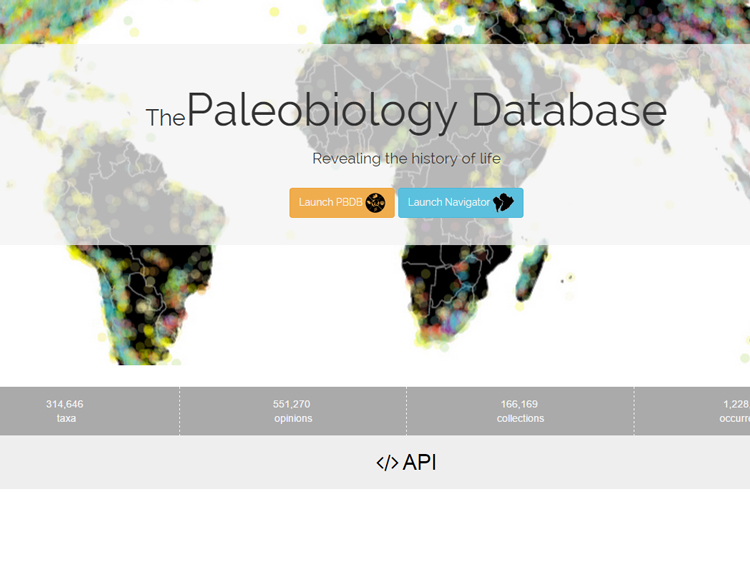 The Paleobiology Database Executive Committee is running a hackathon with the goal of creating exciting tools (web applications, R code, data analysis tools, data visualization tools, integration with other web databases, etc.) that use the Paleobiology Database API for research, education, or outreach.
When and where? March 20th-22nd, 2015, on the campus of UC Santa Cruz.
Who is invited to participate? Anyone with programming experience who wants to create cool applications that use data from the Paleobiology Database. People at any career stage, in any field of study, within or outside of academia, are welcome.
Matthew Clapham (UCSC), Jocelyn Sessa (AMNH), and John Czaplewski (Paleobiology Database programmer from Madison) will be on hand to help you get the information you want from the Paleobiology Database.
The database contains information on the distribution of fossils in time and space (both present-day and past geography). Each of the >1.2 million records has data on the rock type and environment, and potentially on fossil preservation, collecting information, and other data. There is also information about the taxonomic relationships of more than 300,000 fossil organisms.
We have a limited amount of money to offset participant costs for people outside of the San Francisco Bay area. Because we would like to have a diverse group of participants with different skills and interests, please complete the form referenced by the link below with some information about yourself and a couple sentences about your background and potential goals for the hackathon. We are especially interested in people who work in fields not traditionally associated with the Paleobiology Database and in attracting women, underrepresented groups, all career stages (including graduate students), and people from inside or outside of academia.
To apply: http://goo.gl/forms/4b6mjJ4Ntv
 We set up the form to get some idea of how many people might be interested in participating, what topic they would pursue, etc. If you're interested, please fill out the form with a couple sentences describing your background and interests. There may also be some remote participation functionality (probably something simple) for those who are interested but who aren't able to make it.
Deadline for applications: Feb 28, 2015. **Note extended application deadline**
Questions? Email Matthew Clapham (mclapham@ucsc.edu).