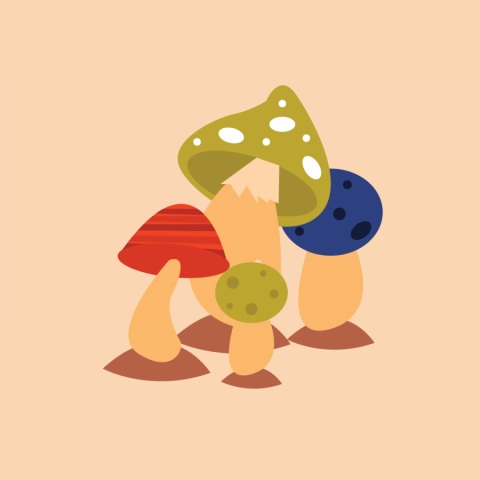 By Serina Taluja, Assistant Technograph Editor
March 7, 2019
The study of the vast natural world around us is something humans have participated in since long before the term "ecology" was coined. Similarly, people studied things like plants, animals and fungi for thousands of years before words like "botany," "zoology" and "mycology" were developed.
The last and probably least acknowledged of those areas of study, mycology, is also one of the most under-staffed natural history and science fields. While there are roughly 30 botanists per plant species in the world, there is an estimated 300-plus fungi species for every single mycologist in the world.
However, the field is lucky to have researchers like Dr. Andrew Miller, who is the director of the herbarium and fungarium here at the University. Miller co-authored the largest checklist of North American fungi of all time. This proto-checklist was published in November 2018 in the journal, Mycologia, which is a peer-reviewed scientific journal which publishes papers on all aspects of fungi.
The work to create this massive list started at the New York Botanical Garden with herbarium director Barbara M. Thiers, who was exposed to mycology at a young age as her father was a mycologist.
"I grew up with fungi, and while I didn't study fungi formally, I'm currently in charge of the second largest collection of fungi in the country at the New York Botanical Garden," Thiers said.
This ongoing interest prompted Thiers to begin a digitization process of all herbaria and fungi collections in the U.S. Digitization is a movement which is currently sweeping natural history collections around the world, with the aim to provide interaction and learning about these specimens on a  global scale.
"The reason that Miller and Bates could create this checklist was because I started this project," Thiers said. "In 2012, I received a three million dollar grant from the National Science Foundation to permit about 30 herbaria nationwide to digitize their holdings of macrofungi. And three years later, Andy got a companion group to digitize the microfungi."
All of these collections were digitized and put in the mycology equivalent of Google, which is called MycoPortal.
"We could generate this list because my colleague and I are actually the hosts of the online database MycoPortal. Most of the collections in MycoPortal are from North America actually, and there's about four and a half million specimens recorded currently," Miller said.
Once all of the collections across the U.S. had been digitized, Miller and his co-author, Dr. Scott Bates, could begin compiling the list.
"Actually making the list didn't take that long, it only took maybe a year to create, although we started thinking about this kind of project about eight years ago," Miller said.
Miller and Bates had estimated, when this project was first discussed, that there were around four million fungi specimens that belonged to the U.S. These specimens were spread all over the country in many herbaria, so getting everyone on board with digitizing them in MycoPortal was key.
"Once the specimens are digitized, it's a very straightforward work flow. All you have to do is search for North America and you can find all the information you need to make a list like this," Miller said.
While it might have been a simple process, this is still a massive list to create, including nearly 45,000 species. And this list is far from finished.
"An important thing to remember is that we called this a proto-checklist for a reason; it'll need to be cleaned up and added to as time goes on," Miller said.
This list not only provides the field of mycology with a basis of what has already been documented, collected and discovered, but it also a reference point for mycologists who may believe they have found a new species in North America.
"How are you supposed to know if you've found something new if you don't know what you have to begin with?" Miller said.
The list also still needs to be double-checked for things like synonymous names or different names for the same species of fungus. These synonymous names are frequent in both mycology and plant biology, and it is imperative they are accounted for so that communication about various species across the country is easier.
"We're excited for this list to encourage people to go out and find more of a type of fungus that perhaps has only been collected once. Right now, about a third of the list only has one specimen associated with it, and it would be great to change that," Miller said. "The list is also a useful tool for students just starting in mycology, as it can act as a reference point for things like identification, systematic, and taxonomic studies."
By providing a baseline of knowledge for North American mycologists, this list may also encourage the expansion of the field itself.
"Having this baseline will make it possible for us to track progress toward increasing our knowledge, will allow us to fill gaps in knowledge, and will make it more likely that fungi are included in broader biodiversity surveys," Thiers said. "I expect that fungi will receive more attention from researchers outside of mycology as a result."
While the field of mycology may have a small headcount, it has a lot it can teach us about our global environments. This list will help move the field forward and give mycologists around the world the new and exciting task of making additions to the list. Miller's proto-checklist acts as both a big step for mycology and for human understanding of the natural world.
https://dailyillini.com/special-sections/2019/03/07/mycology-ever-expand...