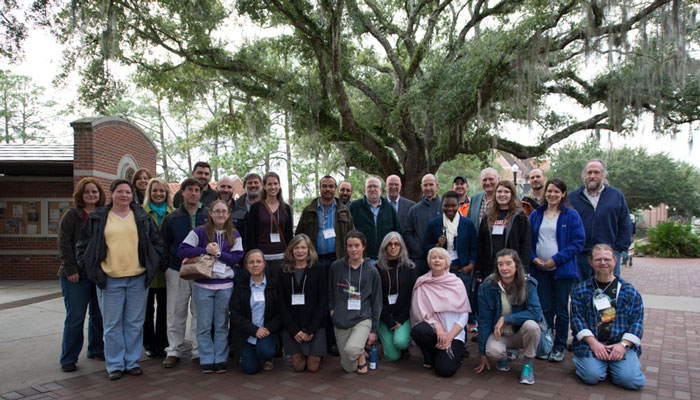 Any doubt about the importance of small herbaria or the enthusiasm of their curators was certainly dispelled at the recent Mobilizing Small Herbaria workshop held at Florida State University the week of December 9th.  Co-sponsored by iDigBio, the Robert K. Godfrey Herbarium at Florida State, the North American Network of Small Herbaria, and the Small Collections Network (SCNet), the event brought together about 30 collections professionals from 25 institutions representing 16 states, all focused on strategies and processes for digitizing the collections held in smaller herbaria. More information about the workshop, including recordings of the sessions (coming soon) and PDF files of the proceedings, are available at the workshop's wiki.
The primary goals for the workshop included:
Encouraging, enabling, and facilitating the digitization of small herbarium collections, to include recording, imaging, and serving specimen data,
Encouraging collaboration and interaction among small herbaria across the United States,
Expanding the number of data portals of the North American Network of Small Herbaria (NANSH),
Encouraging attendance at the upcoming iDigBio-sponsored small herbarium workshop to be held in conjunction with Botany 2014, and
Fostering expansion of SCNet.
The workshop kicked off with a reception the evening of December 9 to allow participants time to socialize and get acquainted. Gil Nelson welcomed participants to Tallahassee on behalf of iDigBio and Austin Mast, director of FSU's Godfrey Herbarium, welcomed them to Florida State.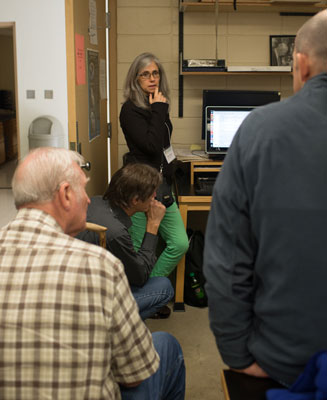 Tuesday morning began with an introduction to iDigBio and the National Science Foundation's Advancing Digitization of Biodiversity Collections Program (ADBC), followed by five fascinating case studies of smaller herbaria that developed strategies to begin digitization activities at their institutions, often in the face of limited resources. Austin Mast (FSU), Richard Carter (VSC), Anna Monfils (CMC), Kari Harris (STAR), and Don Trisel (FWVA) offered valuable insights, strategies, and fund-raising tips. Moderated discussion following these introductory presentations focused on challenges to digitization in small herbaria. Though conversation on this topic was wide-ranging, most agreed that the major impediments to beginning and sustaining a digitization program resolved to four major issues:
Time,
Money,
Staffing, and
Initiative.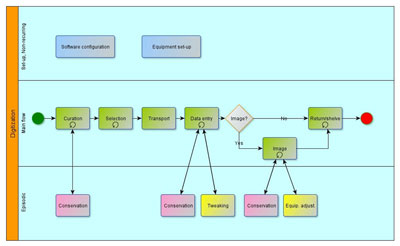 The remainder of the first day and part of the second was devoted to strategies for preparing infrastructure to support digitization. The segment began with a detailed overview and conceptual organizer for designing and developing digitization workflows and protocols, especially as related to herbarium digitization. Andy Bentley and Theresa Miller introduced attendees to Specify collections management software, including techniques for installing Specify from a pre-written script, followed by Ed Gilbert's introduction to Symbiota's data portal software and the North American Network of Small Herbaria.  Gil Nelson highlighted the availability of open source, custom software developed by the Robert K. Godfrey Herbarium (FSU) at Florida State University and revised by Valdosta State University's VSC herbarium to run against its Specify database.
Following the consideration of database technology and recommendations, workshop content turned to imaging stations, cameras, light stands and boxes, and the best available software for image processing. Joanna McCaffrey concluded the first day with a detailed consideration of imaging station components and recommendations for evaluating and purchasing cameras, lenses, software, and related imaging accoutrements. Joanna's considerations are included in her very helpful document iDigBio Imaging Equipment Recommendations, which is available from the workshop wiki.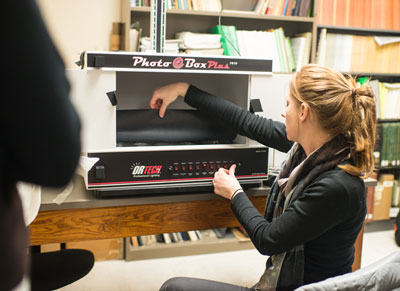 We were delighted to have Kim Watson join us from the New York Botanical Garden, a major collaborator with ADBC and iDigBio and a recognized leader in herbarium digitization. Kim provided an overview of OR Tech's Photo-e-Box Bio, pioneered for herbarium imaging by NYBG. She offered strategies for setting up an herbarium imaging station, followed by an overview of Adobe Lightroom and its use in managing imaging workflows.
Kim's presentations transitioned to a round-up of ancillary digitization tools and processes. Deb Paul outlined the importance of, and available tools for georeferencing, to include recommendations for ways to incorporate GeoLocate into herbarium digitization, the availability of OpenRefine for easily and efficiently cleaning spreadsheet data in preparation for uploading to Specify or Symbiota, the place for Optical Character Recognition (OCR) in herbarium digitization, and the ongoing work of iDigBio's aOCR Working Group to make the use of OCR more effective. Richard Carter addressed pre-digitization curation and shared a custom-designed Word/Excel mail merge method for creating specimen labels simultaneous with data entry into Specify.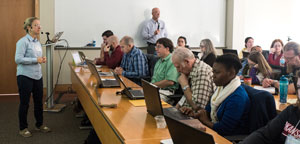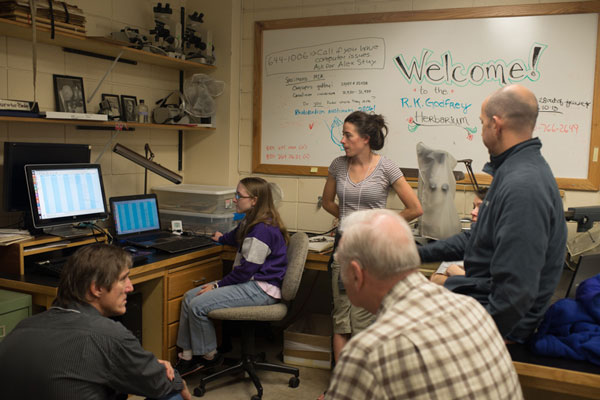 Following lunch on the second day participants migrated to the Godfrey Herbarium to see five demonstration and display stations focused on hands-on techniques with several imaging and databasing workflows. Several copy stands and cameras were available as well as a Photo-e-Box Bio demonstrated by Kim Watson. Jessica Bartek, student and Specify databasing technician from Valdosta State University demonstrated Specify workflows, assisted by Andy Bentley and Theresa Miller, and Ed Gilbert led hands-on sessions featuring Symbiota. These small group activities offered plenty of time for detailed questions and discussion.
At the close of the workshop, all attendees were subscribed to the North American Network of Small Herbarium (NANSH) Working Group as well as iDigBio's digitization listserv to ensure continued conversation and support.