After many months of hard work in collaboration with our partners at GBIF, we are excited to announce that the new and improved iDigBio US Collections List has officially launched as of this week.
This latest development for the first time enables shared data management across iDigBio and GBIF, in addition to facilitating a unified, more efficient, and more exhaustive list of US Collections.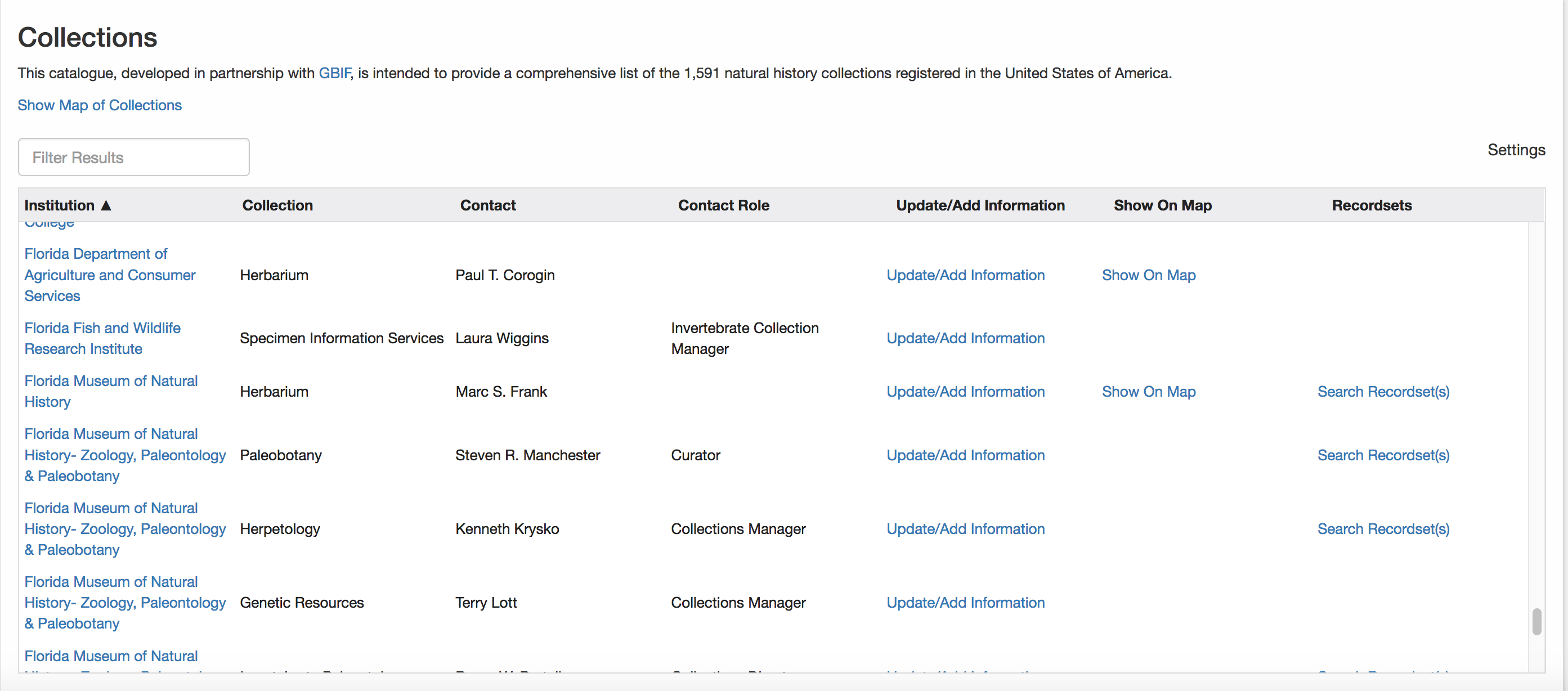 While the frontend user experience of the Collections List page remains virtually unchanged, the real innovation has been happening under the hood. The new home for the US Collections List is now on the GBIF Registry, an index of biological collections from around the world. Previously, the iDigBio US Collections List was maintained internally; our US Collections List and the entries for US-based collections in the GBIF Registry were operating separately, effectively maintaining two separate lists of biodiversity collections residing in the United States. This collaborative merger has eliminated that redundancy, ensuring consistency, completeness, and quality in metadata for US collections, as well as establishing a centralized hub for collections staff, iDigBio personnel, and GBIF personnel to manage these data.
This is a massive improvement from the previous management for our US Collections List, which required manual review of submissions, tedious editing of JSON, and finally pushing the revised code into production. The new integration with the GBIF Registry makes modifications much more seamless, with changes being applied at the click of a button.
iDigBio's US Collections List contains information on nearly 1,600 US-based biological collections, and now all of these collections are listed in the GBIF Registry alongside over 6,200 collections from around the world.
iDigBio is not the first organization to partner with GBIF and the GBIF Registry for sharing collections information: Index Herbariorum, a global index of 3,100 herbaria and their 12,000 associated personnel, also seamlessly shares information with the GBIF Registry. iDigBio proudly joins the club of biodiversity informatics organizations sharing data with GBIF, contributing to a centralized, unified, more comprehensive, and more up-to-date list of biodiversity collections around the world.
None of this would have been possible without our ACIS staff here in Gainesville, nor would it be possible without the help of the wonderful personnel at GBIF who have worked tirelessly with us since 2019 to get this project off the ground.