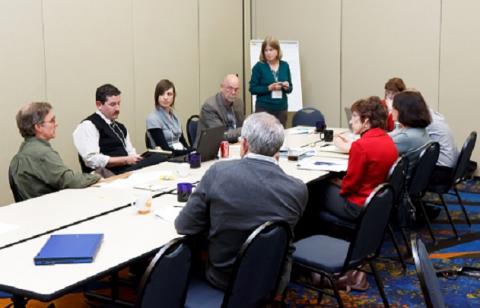 The 2011 summit to kick-off the iDigBio project concluded on December 1st, 2011. By all accounts, this endeavor was a tremendous success, and enabled us to initiate a detailed dialog with representatives from the Thematic Collections Networks (TCNs) and other Advancing Digitization of Biodiversity Collections (ADBC) projects. Participants provided useful insight into ongoing activities, projected progress, and resources available to the community. We also clarified specific needs within the community, participant roles and expectations, and procedural requirements that will help to shape the way forward for iDigBio, the TCNs, other data contributors, and partner organizations.
A Summit Summary and Participant Survey Results have been posted to the iDigBio forums for your review. The Summit Summary includes links to all presentation and breakout session documentation, the iDigBio resource list, the iDigBio project scope statement, a set of questions and answers, a list of upcoming action items, and planned workshops and working groups. Comments are open and feedback is welcome.
Subsequent to the 2011 summit, preparation has begun for a key IT Standards workshop in late March 2012. This workshop will help select, define and extend the standards and cyber-infrastructure necessary to establish the iDigBio Specimen Portal and facilitate interconnectivity between data contributors and the portal. This workshop is expected to generate several IT working groups to finalize key deliverables and documentation; products will be shared on iDigbio.org. To add to this, we are also in the planning stages for additional workshops to address digitization needs within the US paleontological collections community and to identify technology gaps related to biocollections digitization. Further, in keeping with our pledge to involve the broader community, we are initiating a joint effort to engage Citizen Scientists and to advance Outreach and Education through training, exhibits, scholarships, and opportunities to interact with and improve the quality of iDigBio specimen data.
To facilitate and encourage participation in these various activities and initiatives, a high-level project roadmap will be maintained. The roadmap will be regularly updated and expanded as more details become available. Contact iDigBio if you would like to take part in any of the workshops or working groups outlined in the roadmap or Summit Summary. This is a community effort, and your involvement is welcomed!
Two final bits of news: Digitization experts Gil Nelson and Deb Paul are presently engaged in site visits to different digitizing institutions to evaluate, document and benchmark tools and processes for biocollections digitization. We look forward to being able to share the results of their analysis in the coming months. Lastly, the inaugural issue of the iDigBio monthly eNewsletter is scheduled for release in February. The eNewsletter will summarize project milestones, blog posts, events, training activities, and key community announcements. Make sure you sign up for the iDigBio Listserv (instructions on Page 5 of the iDigBio Summit Summary) to receive the eNewsletter!