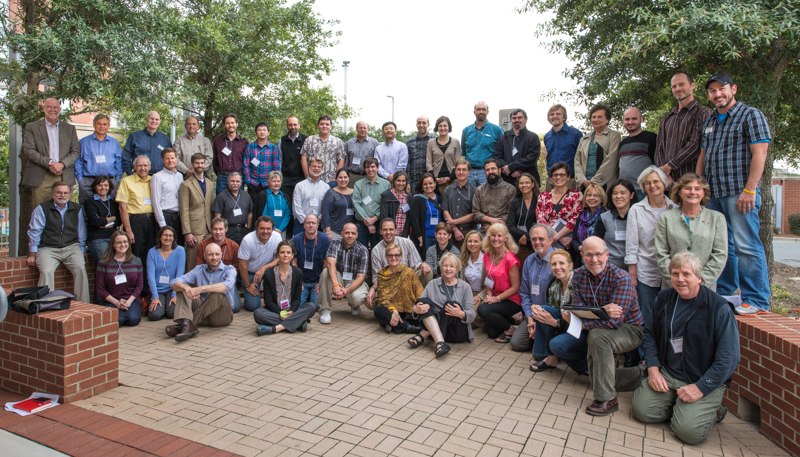 11/21/13 by Suzette King, iDigBio Communications Coordinator
Summary
The iDigBio Summit III was held in Tallahassee, Florida, at the Aloft Hotel, November 18-21, 2013. Sixty attendees from more than 31 institutions met and focused on shared goals, challenges and opportunities, and collaboration among stakeholders. They presented concepts in a variety of innovative and inspiring ways. All participating organizations and stakeholders were well represented.
In the Tuesday morning session, the iDigBio, RDCN, and TCN Principal Investigators and senior personnel gave lightning presentations that summarized some of their individual achievements and activities. The format was especially successful in updating everyone on current progress and inspiring conversation and collaboration.  Afternoon sessions the same day and following morning were dedicated to specific functioning aspects of the projects (such as available IDigBio resources; education outreach and public participation; submitting data, etc.).
Arguably the highlight of the summit were the Wednesday afternoon Demo Sessions. These were often hands on and displayed the product of ongoing efforts.
Presentations
The following tables provide access to the Slide Presentations and Adobe Connect recordings for the various sessions.
Lightning Presentations (Tuesday Morning)

Concurrent Presentations/Discussion Groups (Tuesday Afternoon)
| Topic | Presenter | Presentation | Multimedia |
| --- | --- | --- | --- |
| Embarking on the Path to Sustainability - Are there effective economic models that might be useful? Methods to secure institutional support for staff and infrastructure. Long term technological vision for the next generation of digitization. Who and what organizations need to be included in funding efforts. | Larry Page/Deanna Stouder | Breakout Session Presentation, |   |
| Broadening Diversity – Discussion focused on ameliorating low participation of underrepresented populations within careers of the biological sciences. Namely African American, American Indian and Hispanic or Latino. | Gil Nelson | https://www.idigbio.org/content/broadening-diversity-biological-sciences-reaching-out-underrepresented-populations-0 |   |
| Research Applications I: Ecological Niche Modeling – Specimen data now available have tremendous potential for ecological niche modeling. | Neil Cobb/Pam Soltis |   |   |
| iDigBio Nuts & Bolts: How to Submit Data – Steps needed to ingest data into iDigBio, expected formats, reporting back to provider. | Alex Thompson/Greg Traub | https://www.idigbio.org/content/idigbio-nuts-bolts-data-integration-and-ingestion |   |
| Education, Outreach and Public Participation – Current and new opportunities extending from first steps in specimen digitization through the many uses of the ultimate data resource. | Bruce MacFadden/Libby Ellwood | https://www.idigbio.org/content/education-outreach-and-public-participation |   |
| iDigBio Workshops & Resources - How to propose a workshop. What workshops, hackathons, courses are needed. What is available on the iDigBio Wiki and what resources you would like to see developed? | Deb Paul/Gil Nelson | Breakout Session Presentation, |   |

Concurrent Presentations/Discussion Groups (Wednesday Morning)
| Topic | Presenter(s) | Presentation | Multimedia |
| --- | --- | --- | --- |
| The Art and Science of Project Management - Discussion of balancing the scientific and artistic (technical and people skills) in project management. Strategies and tactics for adapting to situations and driving things forward. | David Jennings | https://www.idigbio.org/content/art-and-science-project-management |   |
| iDigBio: Appliances Present & Future - Demo of current iDigBio appliances and capabilities. How users can collaborate and contribute to the set. | Renato Figueiredo | https://www.idigbio.org/content/idigbio-nuts-bolts-appliances-present-and-future |   |
| Community Building: Collaboration & Opportunities - A "clearinghouse" for information sharing may assist in expansion of digitization efforts. Fostering communication across TCNs. | Rich Rabeler/Joanna McCaffrey | |   |
| Keeping the Sustainability Ball Rolling - Continuation of the previous day with recommendations for feasibility study for commercial uses. | Larry Page/Deanna Souder | Breakout Session Presentation, |   |
| Taxonomic Names/Catalog Names - Strategies to remedy incorrectly identified specimens or outdated nomenclature by using automated approaches. | Robert Lücking | https://www.idigbio.org/content/after-digitization-%E2%80%A6taxonomy |   |
| Research Applications II: Multidisciplinary Research Use Cases - "Big Data" provides new frontiers for biodiversity research. | Pam Soltis/Reed Beaman |   |   |

Concurrent Exhibits and Demo Sessions (Wednesday Afternoon)
| Topic | Presenter(s) |
| --- | --- |
| iDigBio BETA Website Playground – Test driving the website's new look and features. Feedback for future development. | Joanna McCaffrey |
| iDigBio BETA Portal Playground – Test driving the portal's new look and features. Feedback for future development. | Alex Thompson |
| Georeferencing Localities to Track Fossil Communities Through Time – Collecting suitable data for paleo-ecological niche modeling and paleo-biogeographic studies. Some of the problems and bottlenecks encountered. The graphic display resulting. | Una Farrell |
| Addressing Broader Impacts with Specimen-based Learning Tools – Review of NIBA's 2010 key objectives and InsectARium, a specimen-based learning application using augmented reality. | Melody Basham |
| Tri-Trophic TCN Interaction with Discover Life – Utilizing Discover Life for locality data cleaning, data discovery and error checking and collection of metadata from images. A resource with very low overhead. | Rob Naczi/Rich Rabeler/Katja Seltzmann |
| Using OCR/NLP Capabilities within the LBCC data portals | Ed Gilbert |
| Crowdsourcing Capabilities Built into the LBCC Symbiota Portals – Data entry module designed for crowdsourcing with an established workflow. | Ed Gilbert |
| MycoPortal & Notes from Nature Demo – Integrating ancillary data and images with specimen data. | Matthew Foltz |
| Zooniverse Microplants Project – Crowdsourcing quantitative analysis of phenotype data with citizen science. | Robert Lücking |
| Biodiversity Information Serving Our Nation (BISON) – Find, explore and download species occurrence records. | Elizabeth Martín |
Guided Field Trips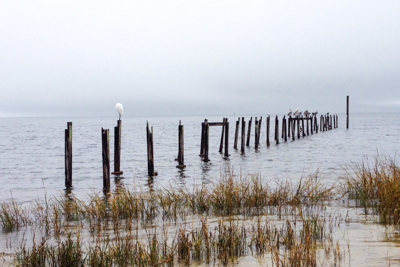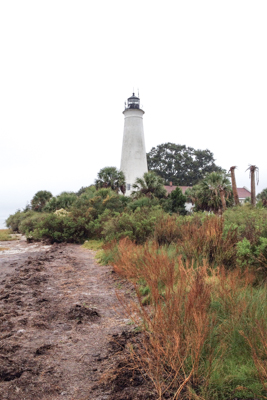 St. Marks Wildlife Refuge Trip - Established in 1931 to provide wintering habitat for migratory birds, it is one of the oldest refuges in the National Wildlife Refuge System. It encompasses 70,000 acres spread out between Wakulla, Jefferson, and Taylor counties, and includes about 43 miles along the Gulf Coast of northwest Florida. (Monday, November 18). In the 30-minute trip from the hotel to St. Marks, iDigBio Summit III visitors Betty Dunckel, Shari Ellis, Lucille McCook, Larry Page, Gil Nelson and Deborah Paul, learned a lot about the Florida karst and got to know each other just a bit more in the process. It was a cloudy cool day at St. Marks in the Florida Panhandle. Birds were out in abundance enjoying the peace and quiet. The alligators were hiding (but we know they were there)! We spent several hours enjoying the refuge. Species we spotted or heard include wild pigs, heron, egret, bald eagles, osprey, gallinue, passion flower, rattle box, and lotus. Yes lotus! Binoculars brought some distant birds into focus, but there's still the contentious matter of Avocet or Long-tailed duck? (If you'd like to contribute the scientific names of birds seen, please do so).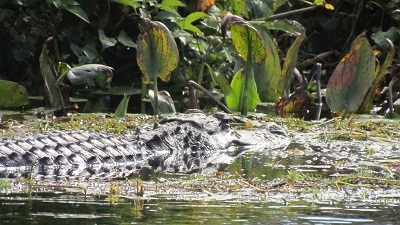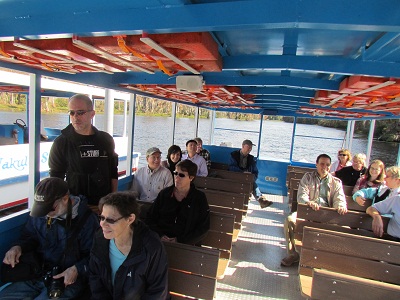 Wakulla Springs Boat Tour- After a two-day conference, packed with presentations and engaging conversations, twelve of us signed up for a trip to one of Florida's beautiful natural springs found at Wakulla Springs State Park. Home of one of the largest and deepest freshwater springs in the world, this park plays host to an abundance of wildlife, including alligators, turtles, deer, and birds. Daily guided riverboat tours provide a closer view of wildlife, and glass bottom boat tours are offered when the water is clear. A nature trail offers a leisurely walk along the upland wooded areas of the park. The Wakulla Springs Lodge was built in 1937 by financier Edward Ball and is open year-round. Wakulla Springs State Park and Lodge is listed on the National Register of Historic Places and is designated as a National Natural Landmark.  Our party of 12 included Larry Page, Gil Nelson, Deb Paul, Hank Bart, Wayne Elisens, Chris Lui, Judy Skog, Una Farrell, Libby Ellwood, Sandy Brantley, Matt Foltz and Rich Rabeler.
We climbed aboard the 10:40 a.m. hour-long boat trip down the Wakulla River.  For you movie buffs, think of the scenery in the movie The Creature from the Black Lagoon. That movie was filmed here. One of the participants shared it was the most relaxing hour, spent in abundant nature, that he'd spent in years. With the temperature reaching 76 F , the alligators were out, along with turtles, egrets, pileated woodpeckers, and for many of us, a record number of manatees. There were more than 15 spotted. Flowers are still happy here in Florida in November too, and we were treated to spider lilies, purple aster, and many more.
Information on eleven self-guided field trips was also provided to participants in the Summit agenda.
Conclusions
Initial response has indicated that the Summit was a valuable tool for fostering collaboration as well as knowledge exchange.  
There was agreement that there has been substantial progress in terms of digitization, education and outreach as well as collaboration. Valuable tools have been created to test the ability to capture 3-D images, flat images and text. Systems for managing crowd sourcing are being carefully considered and have potential. Portals and portal features have made significant strides in usability and graphic presentation of data. A number of attendees expressed a need to more actively address communications needs in terms of messaging, communication plans, distinguishing external and internal audiences and designing audience specific communications. The iDigBio team has been pro-active, recently hiring a communications manager, Suzette King, who began work in Gainesville on November 14, 2013. Another pressing area of interest was long-term sustainability of the digitization effort. There are some very promising economic models to consider and a feasibility work group was formed.