iDigBio's third annual Retreat was held on November 20, 2015. For the second consecutive year, the Learning Center at the Austin Cary Forest Campus provided a beautiful backdrop to a productive day.  The Retreat provided an opportunity for the diverse staff at iDigBio to celebrate the past year's accomplishments and brainstorm about the future.  With staff spread across different departments at the University of Florida and Florida State University, the rare opportunity to be together for an entire day provided personal and professional benefits for all.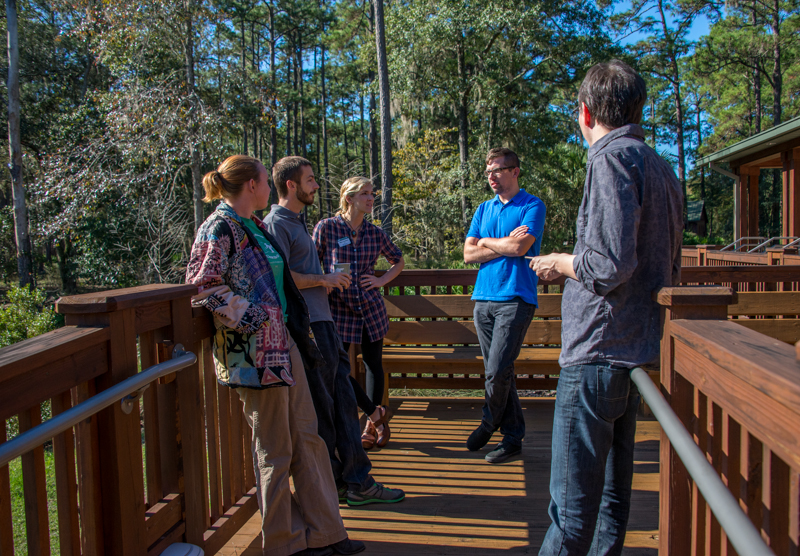 The Project Manager's report noted key accomplishments for year four including expanded research opportunities, collaboration efforts, partnerships, and specimen portal upgrades.  Partnerships with national and international digitization organizations continue to help in defining best practices to increase the quality and quantity of data. iDigBio continues to be a leader in digitization workforce development through training workshops and webinars.  In addition, increased interest in digitization efforts was evident through increased social media attention, website visitation, and overall portal usage.
 The future was discussed as iDigBio waits in anticipation of their NSF funding award for another five years.  NSF has communicated the importance in completing digitization efforts and increasing efficiency of obtaining more data and better quality data.  Continued expansion of digitization training, increased use of portal data for research initiatives and collaborative efforts were also recurring themes in discussing future sustainability.
Another goal is to broaden the portal's visitor demographic and engage more diverse audiences.  The majority of portal visitation is by scientists focusing on specific research goals. Incorporating simplified tools such as common names for searching the portal and providing interactive opportunity like annotation are just two possibilities discussed to increase visitation. Pros and cons for adding common names and annotations were discussed from biological and IT perspectives.
Preliminary Summit V survey responses were also analyzed during the Retreat. The majority of responses were positive and suggestions for ways to improve the Summit will be considered in the future planning of these events. One common theme was the desire for TCNs and iDigBio to increase collaboration efforts to promote each other.  In addition to the afternoon's group discussions, the afternoon provided time for socialization and team building.