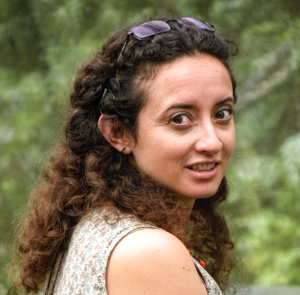 Claudia Segovia, a Graduate Student working with Dr. Pam Soltis on the iDigBio project, has been awarded the 2014 Association for Academic Women "Lockhart Dissertation Fellowship," which honors an outstanding female graduate student. Claudia works in the Molecular Systematic and Evolutionary Genetics Lab at UF's Florida Museum of Natural History. 
Claudia's research interests include molecular systematics of plants, especially tropical, and conservation genetics of endemic species. Claudia, who was raised in Quito, Eçuador, obtained her Bachelor's degree at the Catholic University of Eçuador and her Master of Science degree in environmental and plant biology at Ohio University. In 2009, she became a Ph.D. candidate in the biology department at the University of Florida. 
Claudia is particularly interested in the Andean paramos—the high elevation, neo-tropical ecosystems now occupying less than 2% of the northern Andes and characterized by high biodiversity, large numbers of endemic species, and isolated distribution as a result of large-scale destruction. Claudia is researching the genetic composition of the Andean paper tree, Polylepis, as an essential component of comprehensive conservation planning. Her research is among the first to use genetic divergence and uniqueness to identify areas of conservation importance in Eçuador. She hopes it will be instrumental in the development of restoration programs across the Eçuadorian highlands.
The Association for Academic Women (AAW) at the University of Florida named the Lockhart Dissertation Fellowship after Dr. Madelyn M. Lockhart who was the Dean of the Graduate School and International Studies in 1985 and was elected President of the Southern Conference of Graduate Deans in 1992. Dr. Lockhart traveled extensively in Africa and her research has appeared in more than 50 publications and technical reports. She served on the USAID Committee on Africa from 1985 to 1991. Retiring from UF, Dr. Lockhart continues to serve as a consultant to government and education agencies.
Claudia loves travelling, trekking expeditions, and spending time with her biologist husband and their two children. After completing her Ph.D. she plans to teach in Eçuador.