More than 60 paleontologists representing 41 institutions assembled in New Haven, CT the week of September 23rd, 2013 to share ideas, protocols, preferences, and strategies. This was iDigBio's most populous workshop to date, with an assortment of excellent presentations ranging from digitization workflows and imaging techniques to data model requirements, strategies for education and outreach, features of the two ADBC-funded paleo-related Thematic Collections Networks (TCN), issues in managing digitization personnel and resources, and an overview of 3D scanning technology, with ample opportunities reserved for helpful discussion.
The workshop began Monday evening with a reception and dinner in the Peabody Museum's Great Hall of Dinosaurs, co-hosted by the Peabody and iDigBio. There was plenty of time for mixing and mingling, and for making and renewing acquaintances. Gil Nelson welcomed the group on behalf of iDigBio before deferring to Peabody Museum director Derek Briggs, who offered a brief overview of the museum and encouraged attendees in their pursuit of collections digitization. Tim White, Director of Collections and Operations at the Peabody also welcomed the group, as did Susan Butts, Senior Collections Manager in Invertebrate Paleontology. Nelson used the opportunity to commend the workshop planning team—Susan Butts (Yale Peabody Museum), Una Farrell (University of Kansas), Austin Hendy (Florida Museum of Natural History),Talia Karim (University of Colorado), Chris Norris (Yale Peabody Museum), and Jessica Utrup (Yale Peabody Museum)—for their countless contributed hours and unfettered organizational prowess.
The workshop agenda, pdf files of the presentations, and recordings of the proceedings are available on the workshop wiki for easy download or viewing. A number of participants attended remotely and contributed valuable comments and questions.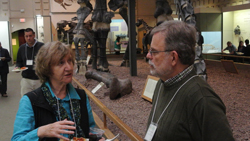 The first full day of the workshop began with several sessions highlighting the strategies and key features to consider for organizing and sustaining paleo digitization initiatives, including the importance of education and outreach for building a cadre of constituents to support collections sustainability, and ways in which paleontology collections can integrate with existing digitization initiatives. Una Farrell provided an overview of PaleoNiches, the first paleo-related TCN and Dena Smith (University of Colorado) highlighted plans for the Fossil Insect Collaborative, one of the newest TCNs.
Susan Butts rounded out the morning emceeing a round of workflow-related lightning talks during which speakers were allowed a single Power Point slide outlining their workflow and up to 5 minutes to explain it. Longer talks followed, highlighting existing and successful workflows for vertebrate and invertebrate paleontology and paleobotany, and the importance of pre-digitization curation. Gil Nelson highlighted the continuing work of the iDigBio DROID4 working group, which is focused on developing a set of paleontology-specific workflow documents to add to those completed by previous DROID groups. Plans call for completing this assignment by the end of 2013.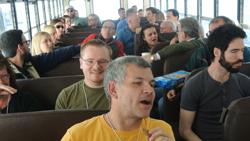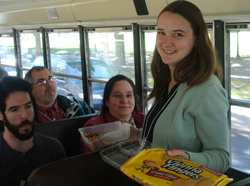 At mid-afternoon participants were transported to the Peabody Museum in a big, yellow school bus (complete with bus cookies to maintain sustenance during the short drive over) and were treated to an afternoon of collections tours by several members of the Peabody's collections staff. Attendees were divided into small groups for the tours, which included entomology, botany, invertebrate paleontology, vertebrate paleontology, paleobotany, and vertebrate zoology.
At least 10 Peabody staff members served as guides and hosts, rendering the tours one of the most enjoyable and informative parts of the workshop.
The first half of the second full day focused on databases, database issues, database systems, and data model issues especially relevant to paleontological databases. Larry Gall highlighted key attributes of EMu, Julie Rousseau addressed Arctos as the database system of choice for the University of Alaska, and Talia Karim and Una Farrell outlined their use of Specify. Jim Beach, director of the Specify Software Project, attended the entire workshop and led an instructive discussion session about the Specify data model and how it could be made more useful for paleontologists. It became apparent through a show of hands that a large number of paleo collections is using or plans to use Specify as collections management software, which led to a proposal for a paleo-specific Specify workshop to be held spring 2014.  
Jessica Utrup and Una Farrell launched the afternoon with strategies for georeferencing localities and collection objects, with special emphasis on issues related to paleontology. Jessica and Una, who completed iDigBio's first Georeferencing Train-the-trainers Workshop, succeeded in condensing 5 days of intensive training into 45 minutes of critical highlights.
The remainder of the afternoon focused on strategies and techniques for imaging paleo collections, including sessions on digital imaging basics presented by Roger Burkhalter, 3D scanning technology by Binil Starly, photomicrography of specimens in amber by Dave Grimaldi, and methods for photographing paleobotany and micropaleontology specimens by Margaret Landis. A series of imaging lightning rounds and ensuing discussion ended the second day. The tight agenda allowed time only for highlights of this complex subject. Based on feedback from the participants, plans are now underway to develop a paleo imaging workshop for spring 2014 to cover a broad range of paleo-related topics from 2D imaging and 3D surface scanning to CT scanning and 3D printing.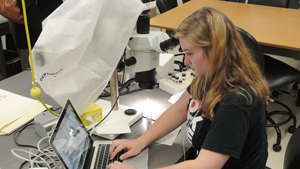 Workshop attendees concluded that there is still much work to be done for paleo collections digitization and are interested in continuing the discussions started at the workhop. There is special interest in developing guidelines for standard views for fossil images, standards for databasing slabs as containers, and best practices for concealing or redacting data from records of sensitive collecting sites. All of these will be addressed in a series of virtual meetings that will begin prior to the end of 2013.