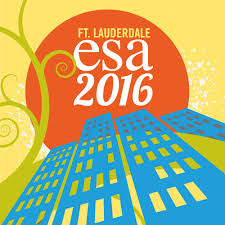 This was originally a guest post from PLOS Ecology Reporting Fellow, Caitlin McDonough, on research from the Ecological Society of America Scientific Meeting in Ft. Lauderdale, Florida, August 7-11, 2016 on the PLOS Ecology Community blog.
 
Leveraging the Power of Biodiversity Specimen Data for Ecological Research at ESA 2016
While ecologists spend their graduate days troubleshooting code, writing manuscripts, and fighting with dataloggers, they often trace their roots back to a love of natural history–an acknowledgement of a childhood curiosity sparked by museums, camping trips, and backyard bug collections. This curiosity ties us ecologists to a long line of scientists, taxonomists, and collectors; we imagine that we could have sailed on the Beagle, or climbed Chimborazo, or that we would have happily canoed the wild Allagash River to botanize with Kate Furbish. On Wednesday morning, a group of 21st century ecologists presented a modern twist on these natural history dreams, with research in collaboration with these taxonomists, botanists, and collectors of the past ( presentations, video recordings, and more can be found here.)
iDigBio (Integrated Digitized Biocollections) organized this session, which brought together a diverse array of ecologists who have leveraged the power of biodiversity specimen data to approach 21st century problems in taxonomy, conservation biology, and climate change research. Each project relied on some form of biodiversity specimen data — from herbarium specimens to insect collections to marine collections — for applications ranging from restoration ecology to unraveling cryptic speciation, or creating species distribution models to tracking patterns in phenology. Recent efforts to digitize biological specimen data have sparked a renaissance in their use — pressed plants and pinned bees that once sat neglected in a dusty corner are now accessible to researchers thousands of miles away. In many cases, the 19th century collectors would likely recognize these research goals as they too were interested in species distributions, recorded phenological events, and made observations about interactions between herbivores and plants. But, Thoreau did not geotag his field notes, and Linneaus might be surprised to find his herbarium specimen available as a jpeg.
The importance of making biodiversity specimen data digitally accessible was clear from the start of the session. Pamela Soltis noted that there are over 1,600 natural history collections in the U.S. with somewhere between one and two billion specimens. But iDigBio estimates that only 10% of biodiversity specimens are digitized. Throughout the session, presenters noted both the benefits of accessing the digitized data and the challenges of working with taxa and trophic levels that were underrepresented in the digital specimen world.
Katja Seltmann lamented the lack of digitized parisitoids collections, and called out a bias towards plants and pollinators. Joan Meiners, who uses digital natural history collection specimens to investigate native bee conservation, showed a graphic of the low proportion of digitized bee specimens at major U.S. insect collections. The next speaker, Francois Michonneau, topped both of their complaints with an example of a historic sea cucumber collection that had been preserved in pieces, the equivalent of an ornithologist placing a beak and talons in a glass bottle and calling it a bird collection.

Left to right: Emily Meineke, François Michonneau, Deborah Paul, Lucas Majure, Pamela Soltis, Katelin Pearson, Joan Meiners, Elizabeth Ellwood, Amanda Gallinat, Kevin Love (photo by: Jamie Cromartie, Stockton University)
It is clear that the biodiversity specimens that are digitized are inspiring new research. Emily Meineke shared the origin story of her herbaria research: her project began in her kitchen. While flipping through old specimen data online during a procrastination jag, she noticed herbivory damage captured in one of Linnaeus' specimens. With a little more digging, she found evidence of herbivory in many specimens — leaf mines, chewing damage, and galls — as well as actual insects preserved in the old leaves. Another example of unintentional data captured in herbarium specimens is Amanda Gallinat's fruit phenology study. She found over 3,000 specimens comprising 55 species in seven major New England herbaria that contained mature fruit pressed among the plant material. Just as Meineke realized that herbaria offer unprecedented opportunities to understand what factors drive herbivory rates across large spatial and temporal scales, Gallinat was able to assess patterns in fruiting across native and invasive species at a regional scale from the 19th century to the present. Meineke has begun surveying for herbivory damage in the Harvard University Herbarium collection, but she is also working to make this a citizen science project called Bite Marks in the Zooniverse. Soon everyone will have the opportunity to look at herbivory damage while procrastinating in their kitchens!
In addition to the diverse research that has emerged from digitized biological specimens, this session provided some practical advice for all ecologists. Pamela Soltis presented Charlotte Germain-Aubrey's project "Using museum data for species distribution modeling: The case of plants in Florida" and provided a thoughtful behind-the-scenes look at the building of a maximum entropy model. She deliberately explored the process behind decisions about climate data (e.g. average climate vs. climate data from the year of collection for each specimen), the area in which the model trains, smoothing response curves, and the number of background points.
François Michonneau closed his talk with a great overview of his best practices for instituting data quality checks in R code workflow. While these skills are typically missing from our training, he stressed the importance of building a culture of documentation and replication, recommending courses from datacarpentry.org. Katelin Pearson showed that the collector community — a group that is regularly in the field, well-trained to recognize patterns and norms, and communicate with other experts — currently lacks the protocols and the semantics to document outliers in a consistent, meaningful way. This community has great potential to detect outliers in phenology, distribution, ecology, behavior, morphology, but at the present there is no direct feed between the collectors and ecologists who are tracking changes or outliers. Finally, Libby Ellwood closed the session with an overview of iDigBio's citizen science projects to engage the public in the work of digitizing the many, many biological specimens that are not yet a part of the digital record.
 
About the Author

Caitlin McDonough MacKenzie is a PhD candidate in the Primack Lab in the Biology Department at Boston University. She spends her field seasons in Acadia National Park, Maine studying leaf out and flowering phenology and patterns of historical species loss across plant communities. Her field methods include three ridge transects that are conveniently located adjacent to beautiful running trails and carriage roads. Away from Acadia's granite ridges, she's interested in underutilized sources of historical ecology data including herbarium specimens, field notebooks, photographs, and old floras; the potential for citizen science in phenology research; and the intersection of science and policy.  (Follow Caitlin on Twitter @CaitlinInMaine)