The Education and Outreach Workshop, held in Gainesville, FL from January 15-17, 2014, brought together representatives from each TCN to broaden our knowledge of E&O opportunities, resources, and strategies. Education and outreach are critical components of iDigBio TCNs. These activities are as wide-ranging and diverse as the TCNs themselves, and have likewise engaged a variety of students. Classes of K12 students, citizen scientists, lifelong learners and others around the country have gained a better understanding of biodiversity and the digitization process thanks to the education and outreach efforts of TCNs. During the workshop keynote speakers, breakout groups, panel discussions, and demonstrations provided participants with the ability to share knowledge among each other and learn from experts in the field.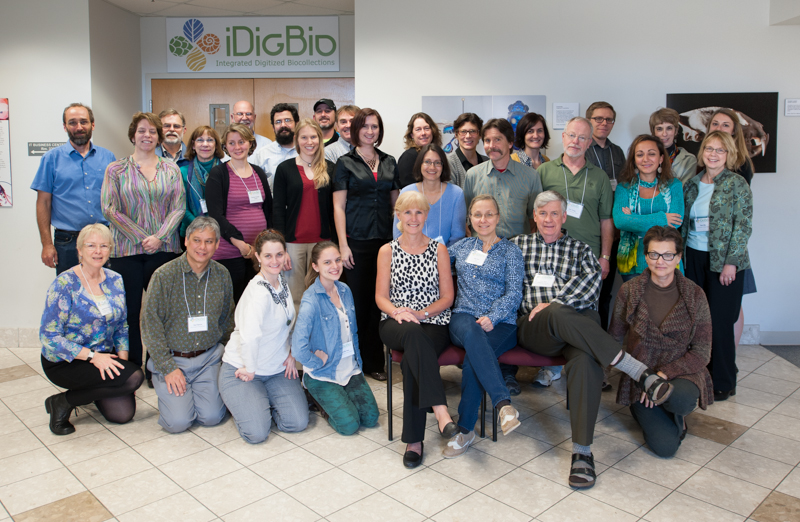 The workshop kicked off with a splendid reception at the Florida Museum of Natural History. Amidst beautiful butterfly collections, participants mingled and began conversations that set the stage for a productive two days. We jumped right in the following morning with Keynote Presentation by Kent Crippen, UF College of Education. His presentation covered the depth of involvement that true collaboration entails and the mutually beneficial interactions between scientists and STEM educators. Following Kent, each TCN presented a lightning talk of their current and planned E&O activities that was truly impressive. iDigBio's own Deb Paul was the next Keynote and she focused in on the extensive educational content that iDigBio has incorporated into workshops, hackathons, conferences and other activities.
The afternoon session began with a full-group panel discussion led by Barbara Thiers (NYBG) and Gil Nelson (iDigBio) on the topic of broadening participation. Drawing from their expertise and experiences working with atypical or under-served populations of learners, they led the group through an engaging discussion of ways to extend educational opportunities to nontraditional groups.
Following this, attendees chose to participate in breakout groups based on Theme - Plants, Invertebrates, Vertebrates, and Fossils. Through these various avenues of exploration, several themes and goals emerged. Many TCNs are considering the best way to draw people in without being a "dog and pony show" that only showcases the most bizarre specimens of a collection. People are often drawn to the human side of biodiversity research, so perhaps incorporating the stories behind specimens and their collectors, folk knowledge, and specimens that are of local interest could provide a deeper experience for student groups of different types. Further, bringing specimens and their stories to life through videos created in house or by partnering with established organizations (NatGeo, Discovery Channel, etc.) increases accessibility and appeals to students young and old.
Tanya Dewey (University of Michigan and Animal Diversity Web) opened up the second day with a Keynote, "Engaging K12 learners with authentic research". Her remarkable work has engaged inner city youth in Detroit in urban ecology projects. Among other topics, she uses the historical context of ecosystems, and changes to ecosystems, to teach biodiversity lessons to students who would otherwise not be exploring these central scientific concepts in their own backyards. This segued nicely into a panel discussion, moderated by Joe Cook (University of New Mexico, AIM-UP), Shari Ellis (University of Florida, iDigBio) and Charlotte Germain (University of Florida, iDigBio) on Engaging Undergraduates and Graduate Students. This session covered everything from the early steps of getting students involved, to working with them, and evaluating their experiences. Both Tanya's Keynote and the panel discussion delved into the decision that high school, and older, students face to pursue internships and jobs in the sciences. The decision often comes at the expense of a  (higher) paying job and can be against cultural norms of career choices.
The goal of the following two sessions was to encourage participants to learn from and collaborate with other TCNs. In the first session, six demonstrations were set up to highlight resources and tools utilizing digitized specimens:
Next, participants were divided up into small groups to design interdisciplinary activities related to their TCNs. Many great ideas came out of this session, including the following:
Blog sharing. Guest posting on another TCNs project blog.
Visualize data. Utilize available data from your own, and ideally another, TCN to create figures of patterns, species ranges, or particular research questions
Engage seniors. Reach out to the AARP or your local retirement organization to invite retirees to join in iDigBio activities.
Workshops. Educate the educators of TCNs through iDigBio-sponsored workshops.
Expand augmented reality to TCNs. Make cards for each TCN highlighting several species and their natural history traits on interactive cards that are compatible with smart phones and tablets.
Once again participants chose breakout groups to attend, this time based on Audience: K-12, Informal and Lifelong Learners, Citizen Science, Women and Under-represented Minorities, Program Evaluation, and Social Media. An interesting narrative came out of these sessions as well as tangible resources and goals.
Due to state requirements, testing, and strict curriculum standards, collaborating with K-12 educators can be a difficult arena to enter into. However, reaching the multitude of school-age students can be done by providing lesson plans that fit established curricula, working directly with publishers of classroom curricula, and creating materials for after school programs. Establishing ties with other groups such as GED students, community interest clubs, and retirees helps to reach other, potentially more flexible members of the local population. Social media tools can and should also be employed to increase the breadth of outreach and engage new users.
Program evaluation is a helpful (and required!) component of each TCN. In order to make the most of evaluation, think about what specifically you want individuals to gain from the program, and what will be done with the data you gather. Will the data be used to improve programs? To use in reports to NSF? For feedback to the institution? Evaluation tools are available from the HUB and from NSF's User-Friendly Handbook for Project Evaluation, and NSF's resources for Evaluating Informal Science.
The workshop ended with a rousing summation, led by Bruce MacFadden (University of Florida, iDigBio). Outcomes of the workshop and near-term goals were outlined, including: an upcoming NSF trends and tips webinar (stay tuned to the iDigBio website for more info), augmented reality cards for each TCN, development of iDigBio stories that align with specimens and/or collectors, K12 lesson plans that will populate the iDigBio website, an announcement to hire an E&O point person, and the creation of an iDigBio map of points displaying involved institutions. There was also discussion of a word cloud that would aid in the development of a new term to describe the emerging field of digitization and associated subjects.
Accompanying notes and documents can be found on the iDigBio E&O Workshop wiki.