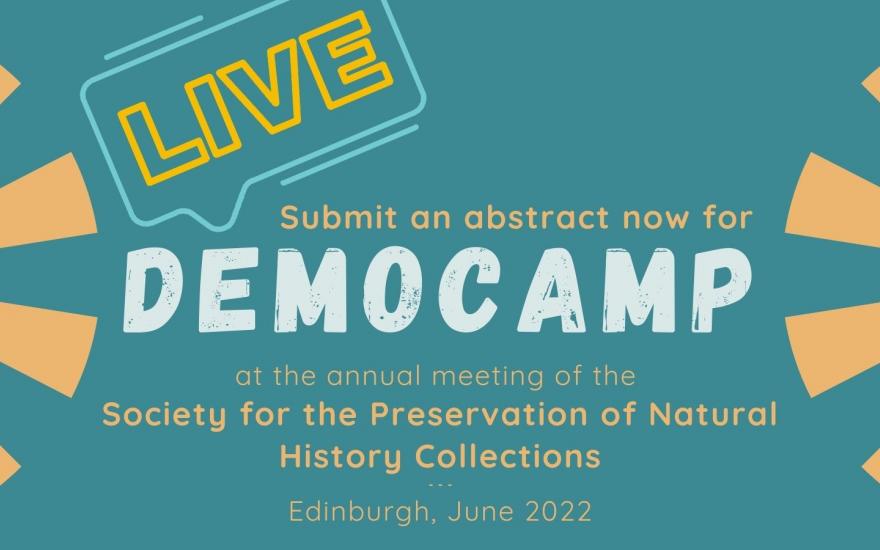 We invite you to submit an abstract for presentation at the DemoCamp session of the SPNHC 2022 Conference in Edinburgh, Scotland hosted by the National Museums of Scotland and the Royal Botanic Garden Edinburgh. Since its debut at SPNHC 2009, DemoCamp has provided a venue for software developers, biodiversity informaticians, digitization managers, and collection managers to convene and share innovative approaches for the use of technology to enhance the management and use of natural history collections.
Computer demonstrations are welcomed in any technologies relevant to natural history scientists, collections managers, or biodiversity information managers. Technologies demonstrated may include, among others, collection management software, georeferencing applications, programs for analysis of data, computer vision applications, natural language processing, data visualization, etc. Presentations should feature the latest developments and innovations in currently available products or software as well as ongoing research and prototypes (as long as they are functional and can be demonstrated live). The live demonstration aspect of DemoCamp helps provide focus on technologies which are currently functional and available to the community and will raise awareness of new and improved technologies. The DemoCamp session is an opportunity for technology creators to interact with existing or potential technology adopters and to exchange ideas with users and other technologists. Presenters are encouraged to present content and concepts that are relevant to the SPNHC community. DemoCamp abstracts will appear in the conference proceedings.
The DemoCamp session is strictly for the live demonstration of software technology. PowerPoint, slides, or other "canned" presentation formats are not permitted. The DemoCamp format gives each presenter 15 minutes for a presentation plus 5 minutes for questions. Demonstrators must provide their own laptops with all necessary software installed. A projector and internet connection will be provided.
Abstracts must be submitted by January 28, 2022 and should be prepared and submitted according to the guidelines defined on the conference abstracts website at https://spnhc2022.com/abstract-submissions/, with a copy sent to the session organizer, Jason Best at jbest@brit.org. Questions may also be directed to Jason via email.
For further information and deadlines, please visit the SPNHC 2022 website at https://spnhc2022.com/
We look forward to receiving your submission and seeing you at SPNHC 2022!
Regards,
Jason Best (session organizer)
Caitlin Chapman (session co-organizer)
Erica Krimmel (session co-organizer)