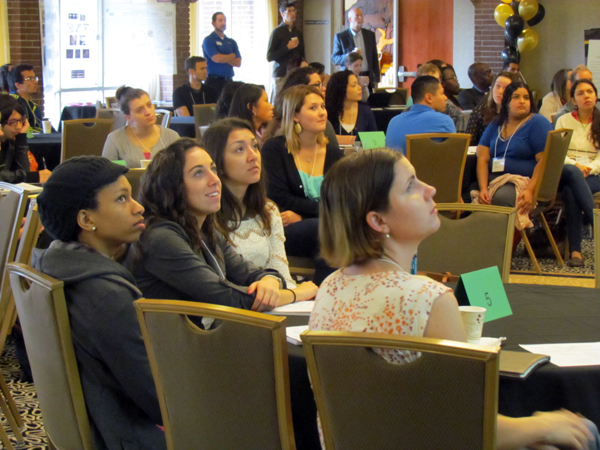 Nearly 40 students turned out on a foggy Saturday, February 1 for iDigBio's first
Careers and Graduate Study in the Biological Sciences
workshop, held at the University of Central Florida's (UCF) Live Oak Center. Funded by an NSF workshop grant awarded to Florida State University, the event was designed to broaden the participation of minority and non-minority students in organismal biology and the biodiversity sciences. Attendees composed an outstanding group of inquisitive undergraduates and recent graduates as well as faculty from a variety of post-secondary institutions in central Florida, including Bethune-Cookman University, Keiser University,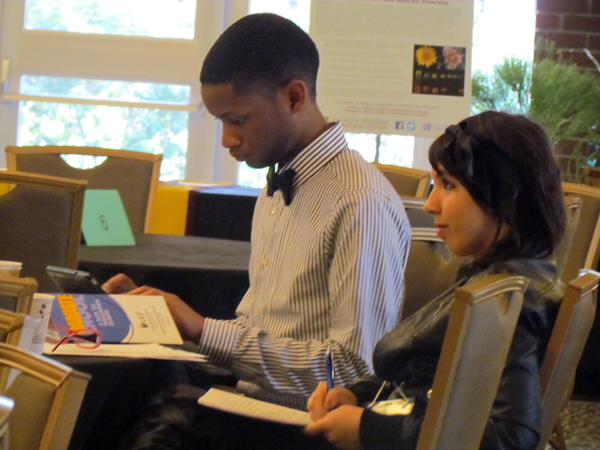 Seminole State University, University of Central Florida, University of Florida, University of South Florida, University of Tampa, and Valencia College.  Students were treated to a content-rich agenda with an excellent cadre of presenters. Workshop structure provided abundant time for personal interaction and students were strongly encouraged to develop relationships with workshop facilitators, all of whom had previously committed to serve as mentors and to maintain contact with students following the workshop.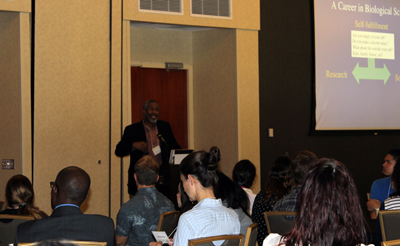 The keynote talk was provided by Dr. Scott Edwards, a division director at NSF and the Agassiz Professor of Organismic Biology at Harvard University. Dr. Edwards recounted his first experience with biology through a childhood fascination with birds and offered a broad circumscription of the challenges and opportunities in the modern biological sciences. He encouraged students to recognize the equal importance of self-fulfillment, research, and society in deciding and pursuing a career as he described his own journey into biology and pointed out that people come into the field in many ways. Dr. Edwards encouraged students to ask questions and engage the speakers and other facilitators. 
The theme of early fascination followed by a lifelong career was echoed by Dr. Hank Bart, Professor of Ecology and Evolutionary Biology and Director and Curator of Fishes at Tulane University Museum of Natural History, and Gabriella Hogue, collections manager of fishes at the North Carolina Museum of Natural Sciences. Dr. Bart described important factors leading to a passion for biology as a career, outlined the costs associated with various degrees, and highlighted the financial support many institutions offer to masters and doctoral students. Hogue focused on the lure of field work in her role as collections manager, recalling the personal opportunities and excitement she has experienced on numerous collecting expeditions.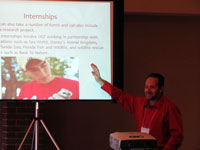 The morning was rounded out by several breakout sessions, two focused largely on content for freshmen and sophomores and two for juniors and seniors. Frank Logiudice, undergraduate  coordinator in biology at UCF, outlined strategies for preparing for a biology major and Amy Bickel of UCF's College of Graduate Studies, offered a series of research-supported strategies for improving study skills, many of which contradict traditional practices. Michael Aldarondo-Jeffries, Director of McNair Scholars and RAMP at UCF addressed upper division students on preparing, applying, and finding financial resources for graduate school.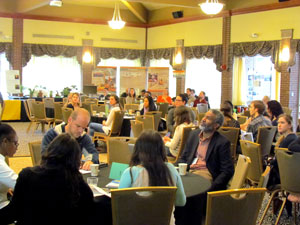 Lunchtime activities were dominated by interaction and provided opportunity for students to ask personal questions and take advantage of the collective knowledge of the facilitators. One or more speakers served as table hosts at each of the several round, 10-seat dining tables, generating discussion and encouraging students to reflect on the morning. Following a 30-minute lunch, post-doctoral fellows and graduate students representing the Florida Museum of Natural History (FLMNH) and the University of Central Florida circulated among the tables, sharing 10-minute personal vignettes with participants and highlighting their own pathways to and passions for the biological sciences. For many participants as well as facilitators, these lunchtime discussions and interactions turned out to be among the most enjoyable and helpful activities of the day. With a two-to-one participant-to-facilitator ratio, students were able to pair off with a single facilitator or engage in small group discussion focused on specific issues. iDigBio is pleased to acknowledge UCF graduate students Josh Castro, Molly Grace, and Christina Toms and FLMNH collections managers and post-doctoral fellows Charlotte Germain-Aubrey, Austin Hendy, Blaine Marchant, Ryan Moraski, Aldo Rincon, Rob Robins, and Claudia Segovia-Salcedo for providing personal vignettes and creating an array of displays highlighting various disciplines within the biological sciences.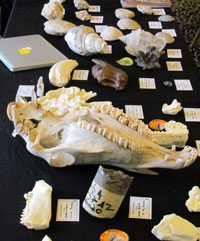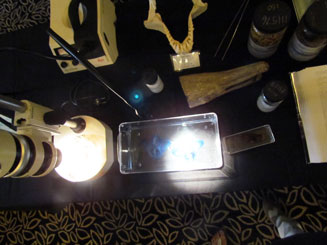 Immediately following lunch, participants were encouraged to circulate the room, visiting the displays and demonstrations, all staffed by faculty, collections managers, and post-doctoral fellows. Display stations featured botany, entomology, ichthyology, paleontology, ecology, and molecular biology, as well as academic and undergraduate research displays from Bethune-Cookman University, iDigBio, and UCF.  iDigBio and FLMNH used the opportunity to announce the availability of ten scholarships to the Florida Museum of Natural History for an opportunity to shadow working scientists within the collections.
Afternoon activities kicked off with Dr. Kim Schneider, director of the Office of Undergraduate Research at UCF, who encouraged students to seek out internships and research opportunities within their undergraduate studies and pointed out the importance of these activities, basing at least part of her admonitions on personal experience. Virtually all Florida universities offer undergraduate research opportunities.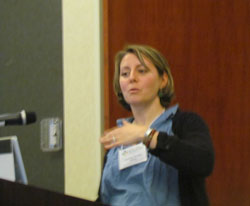 Dr. Charlotte Germain-Aubrey, post-doctoral fellow at the University of Florida, offered a counterpoint to the pathways to biology expressed in the morning sessions, pointing out that she, like many others, found their way into the biological sciences later in life rather than from early childhood experiences. She emphasized the importance of being open to developing interests as well as following one's passion, regardless of the stage of life when that passion is expressed.  Dr. Germain-Aubrey followed these opening remarks with a focus on opportunities for national and international travel in the quest for biological research and understanding, underscoring her talk with numerous images from field expeditions from around the world.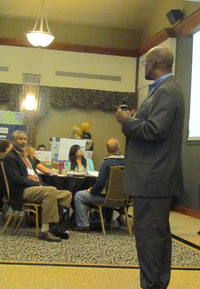 The final presentations of the day included inspiring interpretations of the important and exciting challenges facing the modern biological sciences. Dr. Roland Roberts, associate professor of botany at Towson College and a National Science Foundation program director, addressed the continuing challenges of describing biodiversity, pointing out that there are about 1.8 or 1.9 million currently known species on earth, but that we really don't know how many species there might actually be. He referenced numerous well-informed estimates, some of which suggest that there may be many millions more to discover, and that we are losing species faster than we can describe them, dispelling any conception that there is little left to discover about the earth's biodiversity.
Dr. Roberts provided an excellent introduction for Dr. Pam Soltis, Curator of Molecular Systematics and Evolutionary Genetics at FLMNH,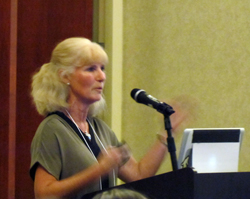 who provided a capstone for the day with a fascinating overview of the challenges inherent in assembling and visualizing the tree of life. She focused on the opportunities for using DNA-based genomic studies to discover and elucidate the evolutionary history of organismal lineages through time, with the goal of achieving a more complete understanding of the ecological interconnectedness of life on earth. She also highlighted iDigBio's goal of enabling the digitization of 1 billion museum specimens over a 10-year period, demonstrated the use of these data for understanding vascular plant distribution in Florida, and pointed out that modern biology is an exciting, dynamic field with numerous opportunities for exploration, innovation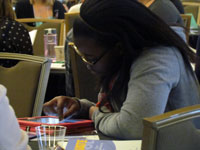 in DNA sequencing, making advances in computation and computer applications, devising novel methods for visualizing evolutionary lineages, and discovering countless new uses for phylogenetic data.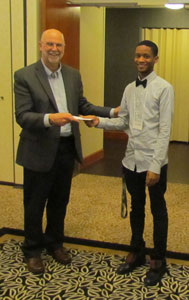 Following the final talks of the day, ten randomly selected participants were awarded $25.00 Amazon gift cards (and were encouraged to use their newfound treasure to purchase a biology book!), before adjourning to an early evening reception with plenty of food and ample opportunity for continued interaction with facilitators.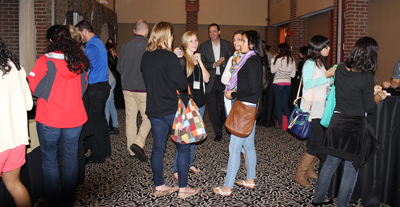 Workshop presentations were recorded using Adobe Connect and are available in their entirety on
Vimeo
.