Contributed by: Molly Phillips
The iDigBio team was fully immersed in this year's Virtual SACNAS National Diversity in STEM Conference hosting a virtual BioBlitz, symposium session, and conference exhibit! Our participation began by organizing a virtual SACNAS BioBlitz the week before the conference. The BioBlitz was hosted through iNaturalist  and co-organized by iDigBio staff and Miguel Ordeñana from the Natural History Museum of Los Angeles County. We also organized a webinar introducing observations, BioBlitzes, and the iNaturalist platform before the event to help anyone new to the concept get started. The actual BioBlitz took place 14–18 October and resulted in 1,864 observations, 936 species and had 79 observers and 433 identifiers. We sent SACNAS swag to show our appreciation for the top 3 contributors. This was the first virtual BioBlitz we have organized, and we are looking forward to improving and evolving this concept for future events!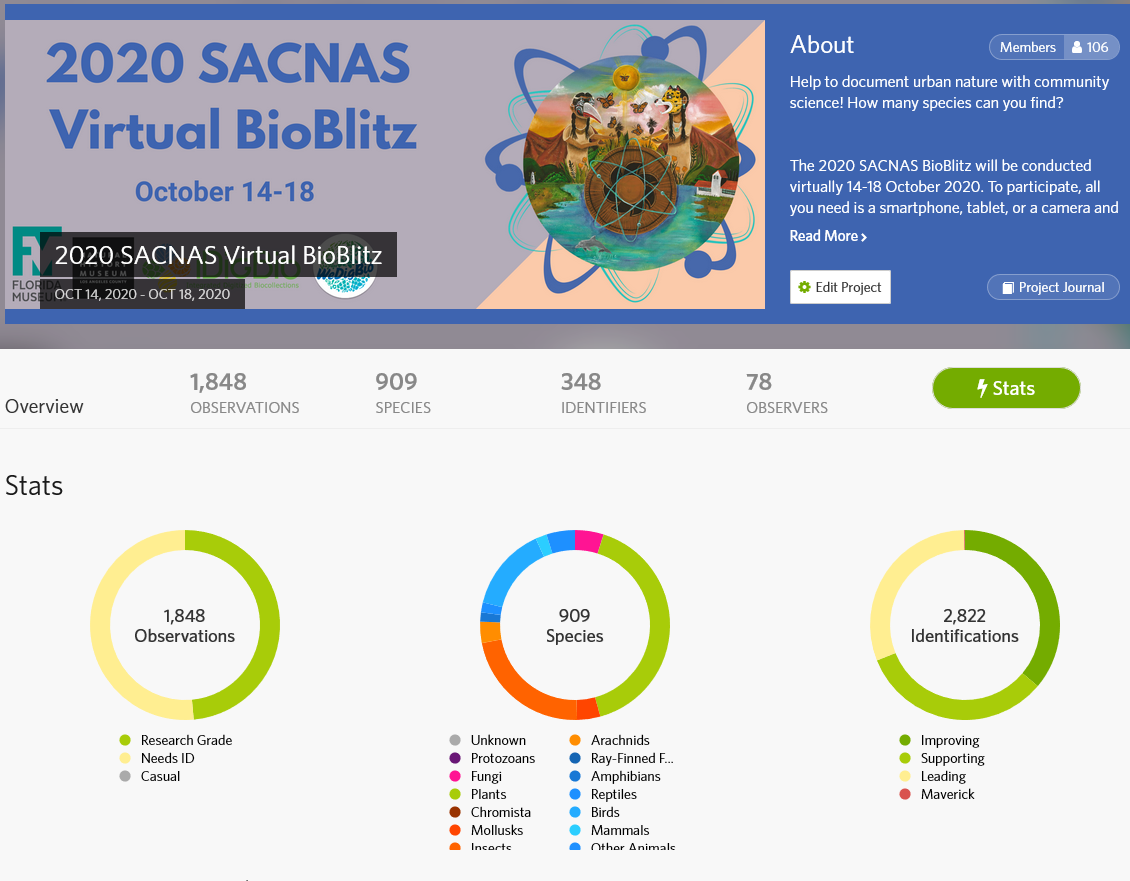 The iDigBio team also organized a conference session entitled "Understanding Biodiversity in a Changing World." The session introduced the ~50 participants to a variety of research topics related to biodiversity and anthropogenic change.  The symposium featured four speakers with diverse backgrounds and career paths and the Q&A and discussion focused primarily on the variety of careers available in places like natural history collections. You can listen to recorded presentations here.
A huge thank you to our BioBlitz organizers (Miguel Ordeñana, Libby Ellwood, and Alnycea Blackwell) session presenters and panelists (Scott Edwards, Shane Campbell-Staton, Miguel Ordeñana, and Jeanette Pirlo) and our exhibit team (Makenize Mabry, Fritz Pichardo Marcano, Pam Soltis, Dave Blackburn, Alnycea Blackwell, Jeanette Pirlo, and Erica Krimmel).