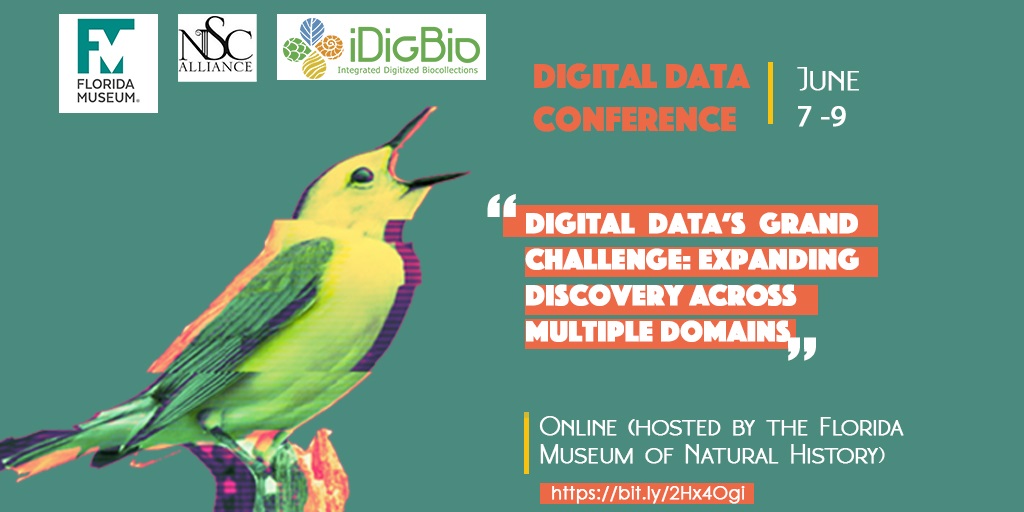 Fifth Annual Digital Data in Biodiversity Research Conference
The Florida Museum of Natural History in collaboration with iDigBio and the Natural Science Collections Alliance is pleased to announce the fifth annual Digital Data in Biodiversity Research Conference, to be hosted virtually 7-9 June 2021.
Please watch for further announcements and program developments via several listservs and on this announcement page. The conference will again provide an important opportunity to explore digital data tools, techniques, research protocols, discoveries, and outcomes across all biodiversity research domains. For further information or to ensure that you are on the conference email list, please contact Gil Nelson (
gnelson@floridamuseum.ufl.edu
) or Jill Goodwin (
jgoodwin@floridamuseum.ufl.edu
) at iDigBio.
Registration:
Digital Data Conference Registration Fees*: 
$100.00 for professionals
$50.00 for students. 
Optional registration fees will support the digital format technology, the editing and publication of abstracts, and keeping the conference sustainable. 
*Registration fees are optional but encouraged. When registering, those who wish not to make a financial contribution to the conference will have that option. Although registration is optional, your registration information, even if you opt out of the fee, will allow us to keep you updated about conference activities.
Abstract Submissions:
Options for submission include: discussion, oral, or poster presentations.For more information about submission requirements, visit the
conference wiki page
.
Discussion sessions may be up to one hour long and will be scheduled within the concurrent session blocks. These may begin with a presentation or introduction followed by discussion or may be completely devoted to open discussion.
Submitting abstracts: The abstract submission link will be sent via Eventbrite after you register for the conference. Contact us if you have problems finding the link after you register.
Abstract submission deadlines: 23 April 2021
Topics: The 2021 conference hopes to attract presentations focusing on the use of digitized specimen data in the following areas.
Grand Challenges and Expanded Uses of Digital Biodiversity Data 
Human/public health
Biotechnology
Infectious disease transmission and mitigation
Food, soil, water security
Bioinspired design
Artificial Intelligence (AI)
Machine learning
Data mining/parsing
Computer vision
Genomic Data
eDNA
Vouchers for genomic samples
Landscape genetics
Biodiversity genomics
Conservation
Ecological and natural resource restoration
Environmental justice
Preservation of ecosystem services
Invasive species/agriculture
Traditional Knowledge
Enhancing Digital Records
Digital specimen record
Extended specimen concept
Influencing Policy
Climate change
Environment
Air and water
Keynote and Plenary Speakers for this year's conference include (please return to this page to see the complete list of plenary speakers as others are added):
Alina Zare - Professor of Electrical and Computer Engineering and Director of the Machine Learning and Sensing Lab, University of Florida
Brian Stucky - Assistant Scientist at the Florida Museum of Natural History
David Pecor - Museum Specialist, Walter Reed Biosystematics Unit
Katja Seltmann - Director of the Cheadle Center for Biodiversity and Ecological Restoration, UC Santa Barbara