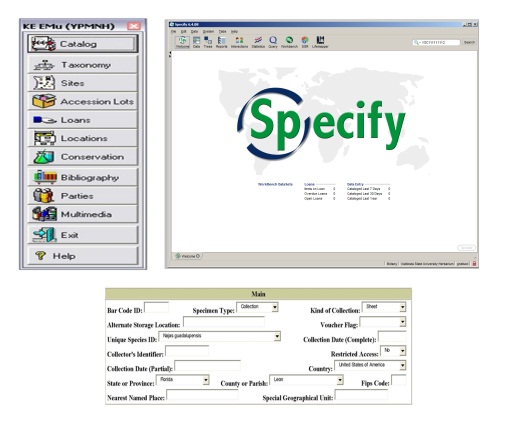 Biological Collections Databases, Tools, and Portals
Launching a biological collections digitization program requires careful selection of a database management system, portal option, aggregator, and associated data enrichment tools. Numerous database systems, data publication portals, and other productivity tools are in use across the collections community, all of which vary in cost, installation requirements, storage methods, approaches to data processing, and other important features. iDigBio has begun the process of reviewing the various systems, tools, and data portals in current use, with the goal of building an annotated list of available products. The reviews below include brief descriptions of features, installation and maintenance requirements, cost, ease of use, and other components that collections managers might find useful when evaluating them for fitness.
We are including a broad range of products in these reveiws. Since some of the included tools and software fall into more than one category, we have elected to group them together on a single page, denoting respective categories in parenthetical statements below the the product name. Locating all of these related products in a single, easy-to-access presentation seems a helpful strategy.
We are aware that some of these software packages, online tools, and portals are in wide use across our community. We also know that new and existing users of this software have numerous tips, tricks, accolades, and criticisms to share.
We welcome developer comments and additions to our reviews and request suggestions about other important products that should be included in our list. Comments may be added to this post, or you may contact iDigBio.
Collections Management Databases
Product
Developer
Worksheet
Arctos
(Database/Portal)
Arctos
Multi-Institution, Multi-Collection Museum Database
Arctos Worksheet
Arthropod Easy Capture (AEC)
(Collections Management)
AMNH
NYC
Arthropod Easy Capture Worksheet
BRAHMS V7
(Database/Portal)
Department of Plant Sciences
Oxford UK
BRAHMS Worksheet
Electronic Museum (EMu)
(Database)
Axiell (formerly KE Software)
Canada / Sweden
EMu Worksheet
Specify 6 & 7
(Database)
Biodiversity Research Center
University of Kansas
Specify Worksheet
Symbiota
(Database/Portal)
Symbiota Software Project
Global Institute of Sustainability (GIOS)
Symbiota Worksheet
 
Portals and Aggregators
Product
Developer
Worksheet
VertNet
(Portal/Aggregator)
Museum of Vertebrate Zoology
University of California, Berkeley
VertNet Worksheet
 
Data Enrichment Tools
Product
Developer
Worksheet
Salix
(Data Enrichment Tool)
Salix Software Project
Arizona State University Herbarium
Salix Worksheet
 
Image Repositories
Morphbank V3
(Image Repository)
Morphbank
Florida State University
Morphbank Worksheet