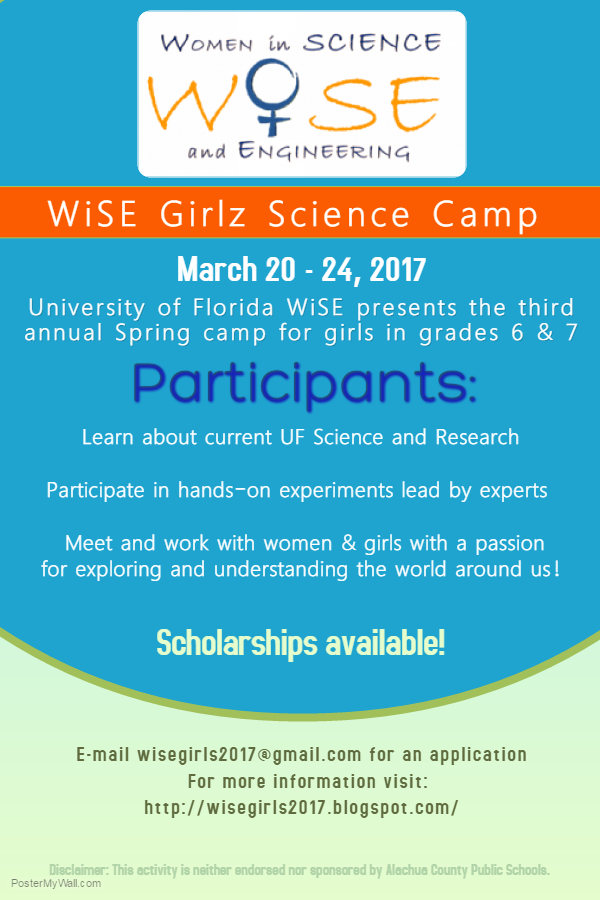 The WiSE Girlz Spring Camp was designed for middle school girls from public schools in Alachua county who are interested in pursuing careers within STEM disciplines. It provides them with an opportunity to meet scientists from University of Florida's research community, hear about on-going research and participate in hands-on experiments and educational workshops. 
By whom: Women in Science and Engineering (WiSE) at UF
For whom: up to 15 selected 6th and 7th grader middle school girls
What: experience exciting real-world science during spring break and become science advocates in the community.
This camp will include:
·  hands-on experiments directly in STEM (Science, Technology, Engineering and Mathematics) departments at UF
·  educational workshops with scientists and engineers on campus
·  follow-up mentoring as the girls present themselves as science and engineering advocates
Five days filled with fun activities: collecting plants and bugs, building a telescope, meetings with scientists and students alike, creating a lasting network between the girls and the University of Florida. 
After camp: Back in their schools or communities, the girls will present what they learned through talks, articles in local school papers, or a video. The possibilities are endless!
This experience will: demystify the prospects of a scientific career for girls, expose them to a range of scientific disciplines that they might not have considered or be aware of. 
Cost: $10 per day fee, financial aid available to cover the $50.
The camp is comprised of the full 5 days (9am-5pm), with possibility of before- and after- camp care, and cannot be attended partially. Invitations space is limited.
Application:
Applications for the WiSE Girlz Science Spring Camp are due as soon as possible.
The application package can be obtained from your science teacher/community leader or by using this drop box link:
Start Date:
Monday, March 20, 2017 (All day)
to
Friday, March 24, 2017 (All day)
Location:
UF Building 105, Room 310