Contributed by: Libby Ellwood, Austin Mast, Robert Bruhn and Kevin Love
WeDigBio, Worldwide Engagement for Digitizing Biocollections, has become a community science mainstay for natural history collections. Each October, participants rally to digitize collections and associated media in onsite events and via global contributions to online platforms. This April, with many people around the world sheltering in place, we decided to try something new. In this new, online only version, WeDigBio Lite tapped into our time at home and perhaps a desire to virtually transport ourselves to another time and place. From 16-19 April 2020, over 135,000 digitization tasks were completed on DigiVol, DoeDat, Les Herbonautes, Smithsonian Transcription Center, Notes From Nature, Castaway and Reading Nature's Library. For a bit of perspective, our former biggest event, WeDigBio 2019, saw a total of 77,000 completed tasks. These annotation, transcriptions, and classifications came from a whopping 55 countries.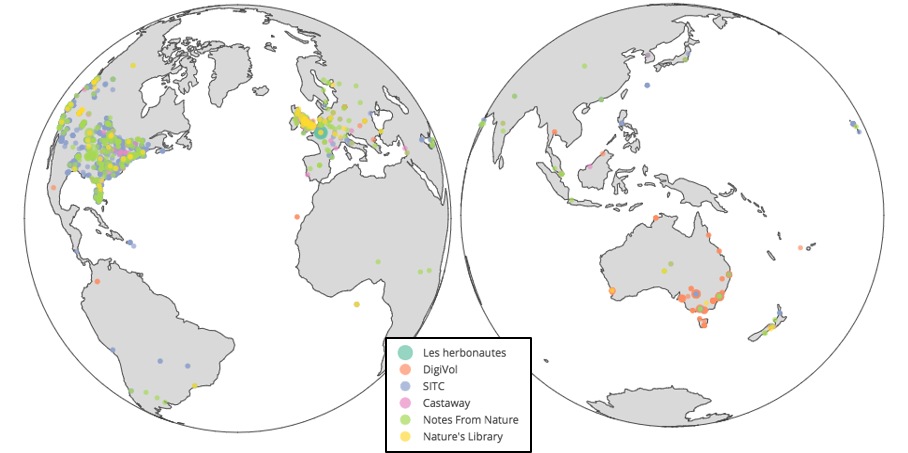 Location data from reports.wedigbio.org/2020-lite. Visit for additional visualizations and to download data.
In addition to the fact that many of us find ourselves with some flexible time on our hands at the moment, several other factors also contributed to this huge jump in activity.
We welcomed DoeDat, a platform with several European partners including Botanic Garden Meise and Luxembourg National Museum of Natural History. DoeDat supports projects in English, French, Dutch, and German. Along with veteran platforms Les Herbonautes and Reading Nature's Library, the addition of DoeDat helped expand the presence of WeDigBio in Europe.
The Australia-based DigiVol powered a host of expeditions, including invertebrate paleontology catalogs from the Natural History Museum of Utah, and CSIRO (Commonwealth Scientific and Industrial Research Organisation) introduced us to the addicting velvet ant mimicry game.
The Smithsonian Transcription Center's #volunpeers transcribed hundreds of pages of scientific field notes and almost 2,000 pages from the Smithsonian collections.
Notes from Nature had their second biggest day ever during WeDigBio Lite thanks in part to events focused on the Plants of Arkansas and a host of other targeted efforts. They also offered Zoom presentations given by researchers involved with Notes from Nature projects.
Reading Nature's Library and Castaway also saw about a doubling in transcriptions, even with recent raised baseline activity.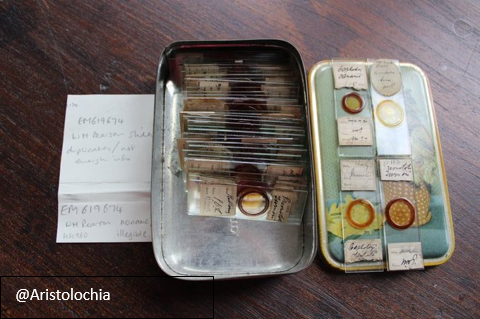 A peak at just a few of the hundreds of slide labels transcribed on Reading Nature's Library.
Mark your calendars – the full WeDigBio 2020 Event will be held 15-18 October. During that time, please plan to join us with onsite events at your museums, universities and libraries, and all over the world from living room couches and kitchen tables. Sign up for our mailing list to be kept abreast of WeDigBio activities, onsite host information, and event details.
A huge thank you to all of the digitization platforms, community scientists, online event organizers, social media gurus, technical and administrative support people, and everyone else who contributed to making this the most successful event yet. We'll leave you with this heartening testimonial from a student at the University of Florida:
"This activity really engaged me as it is something that I have learned quite a lot about over the last couple months. In addition, I have understood the importance of documenting and digitizing specimen records as I have had to georeference many of them. This gave me a newfound appreciation for the work conducted in Herbariums and Natural History Museums around the world who have people tirelessly working on these types of activities.  Even after documenting these ten species, I really felt the desire to do more as I now understood the far-reaching results of my actions."
See you in October!