What: Insect collection curation issues and extending collaborations
When: Thursday, November 14, 2019, 2-3PM (EST)
Where: http://idigbio.adobeconnect.com/room/  select "Enter as guest," enter your full name, and click Enter room.
The first LightningBug (LB) webinar in August provided an overview of the robotics and software. https://idigbio.adobeconnect.com/_a1130716096/pduqijon9c64/?proto=true. We will establish a project website for background information and updates (lightningbug.tech). This upcoming webinar/meeting focuses primarily on insect curation issues and collaborations. A major difference between LightningBug and the "Beyond the Box" concept is that LightningBug does not include any robotics in handling specimens. Pre-capture curation, staging specimens, and post-capture curation are all performed by humans. For LightningBug to work efficiently collections need to determine how best to prepare their specimens and curate post-capture specimens that may not have been fully processed. It will also cover a summary of comparable work done at CSIRO and NHM as well as networking collections to collaborate on refining the process and using LightningBug in novel ways.
Webinar Presenters: Nelson Rios, Mark Hereld, Rob Guralnick, Nicole Fisher, Crystal Maier, Larry Gall and Neil Cobb
Webinar Agenda
1. Summary of four key parts of LightningBug
2. Collaborations in research use of images and CSBR planning
3. Testing LightningBug in collections.
Taxonomic considerations
Pre-capture considerations
Post-capture curation considerations
Prioritizing LightningBug for legacy vs incoming fresh material from campaigns (collecting event and taxonomic QR code labels).
Possibilities for research and education using image suites.
Optional integrated workflows - genetic digitization
4. Developing a Global LightningBug Network: Collections, informatics, robotics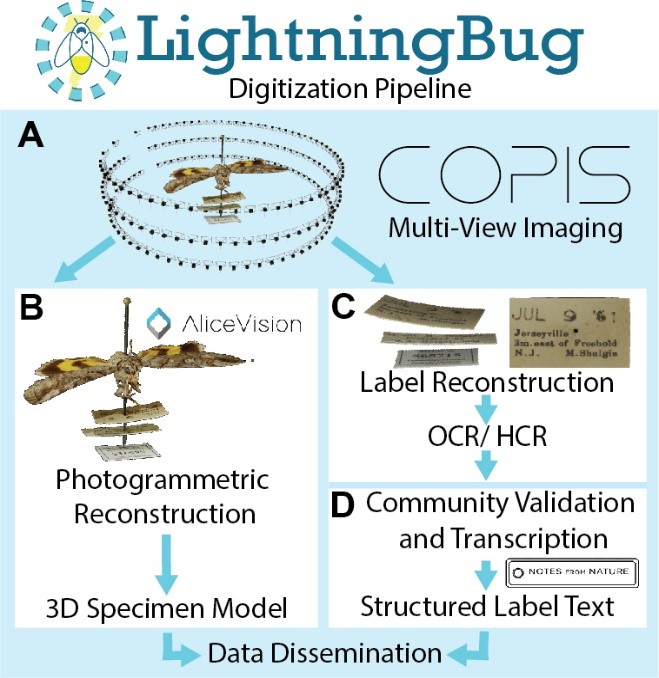 Before the meeting please test your connection:  https://admin.acrobat.com/common/help/en/support/meeting_test.htm  Get a quick Adobe Connect overview: http://www.adobe.com/products/adobeconnect.html   Please enter the Adobe Connect room 15 minutes before the meeting to test your mic and cam, then you can come back at the start of the meeting.
Start Date:
Thursday, November 14, 2019 -

2:00pm

to

3:00pm

EST
Remote Connection URL:
http://idigbio.adobeconnect.com/room/