Source:
http://www.lsa.umich.edu/eeb/news/ci.digitizingtheumherbariumcollectionsmacroalgalupdatetue25aug2015_ci.detail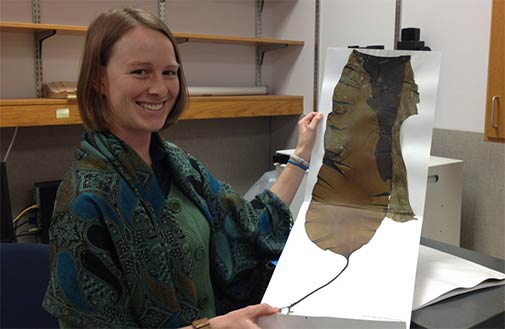 Samantha Winder, project coordinator, shows an algal specimen. Photo courtesy of the University of Michigan Herbarium.
A third article was recently published by the University of Michigan in their series on the University of Michigan Herbarium's digitization efforts.
This installment focused on the herbarium's participation in the TCN the Macroalgal Herbarium Consortium: Accessing 150 Years of Specimen Data to Understand Changes in the Marine/Aquatic Environment which represents a consortium of 49 herbaria from across the country that have come together to digitize more than 1 million algal specimen records. This digitization initiative is important because macroalgae serve as the foundation for many aquatic ecosystems and are a valuable economic resource. Many species are also sensitive to environmental change so have the potential to serve as indicator organisms.
Read the original press release to learn more about the University of Michigan Herbarium's contributions to the macroalgal TCN.