Source:
http://www.lsa.umich.edu/eeb/news/ci.digitizingtheumherbariumcollectionsgreatlakesinvasivespeciesupdatewed9sep2015_ci.detail
Release Date:
Friday, September 11, 2015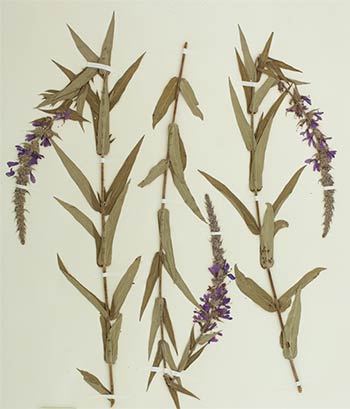 Purple loosestrife. Image courtesy: U-M Herbarium.
The University of Michigan recently published their fourth installment in a series of articles highlighting the University of Michigan Herbarium's digitization efforts and participation in ADBC.
the University of Michigan Herbarium is collaborating with more than 20 other entities across seven states and Canada, to document the occurrence, through space and time, of aquatic non-indigenous fish, mollusk, algae, and plants from North America's Great Lakes as part of the Great Lakes Invasives TCN.
In the first six months of the project, we have imaged more than 32,000 plant specimens and over 4,000 mollusk lots (batches); and the imaging of fish specimens is currently underway. Another advantage of this effort involves examination of the herbarium specimens of the target genera and updating names where necessary, a task started by Rabeler as part of the tri-trophic project. Our support from the National Science Foundation runs through the end of May 2017.
To read more about the project visit the original press release.
With excerpts from the project abstract by Ken Cameron, University of Wisconsin, Madison.