Release Date:
Friday, September 19, 2014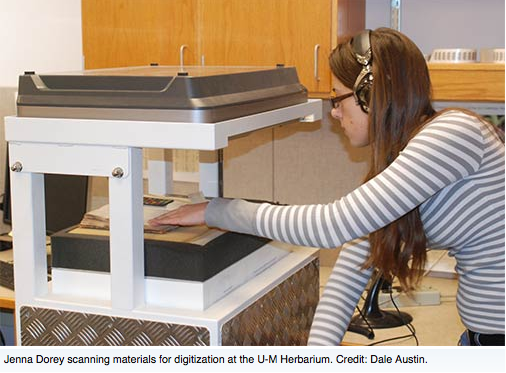 Two of the six NSF grants recently awarded through the Advancing Digitization of Biodiversity Collections Program involve collaborators from the Department of Ecology and Evolutionary Biology at the University of Michigan.
Rich Rabeler, an associate research scientist with the U-M Herbarium, and Thomas Duda, an associate professor with the Museum of Zoology, are part of the TCN: "Documenting the Occurrence through Space and Time of Aquatic Non-Indigenous Fish, Mollusks, Algae, and Plants Threatening North America's Great Lakes". The goal of the new Great Lakes TCN is to digitize 1.73 million specimen records that represent 2,500 exotic species including fish, clams, snails, mussels, algae and plants. This project is one of the first efforts to digitize cross-kingdom taxa and could provide national standards for similar projects in the future.
Diarmaid Ó Foighil, a professor and EEB Chair, and Taehwan Lee, the Mollusk Division collection coordinator, are also part of the new TCN: "InvertEBase: Reaching Back to See the Future: Species-rich Invertebrate Faunas Document Causes and Consequences of Biodiversity Shifts." The goal of this collaborative project is the digitization of more than two million specimens and their locality data from ten arthropod and mollusk collections housed at seven U.S. museums.
To read more about the University of Michigan's participation in two of the new TCNs read the original article from the department of Ecology and Evolutionary Biology.