National Museum of Natural History, Smithsonian Institution, Washington, DC
May 2-4, 2023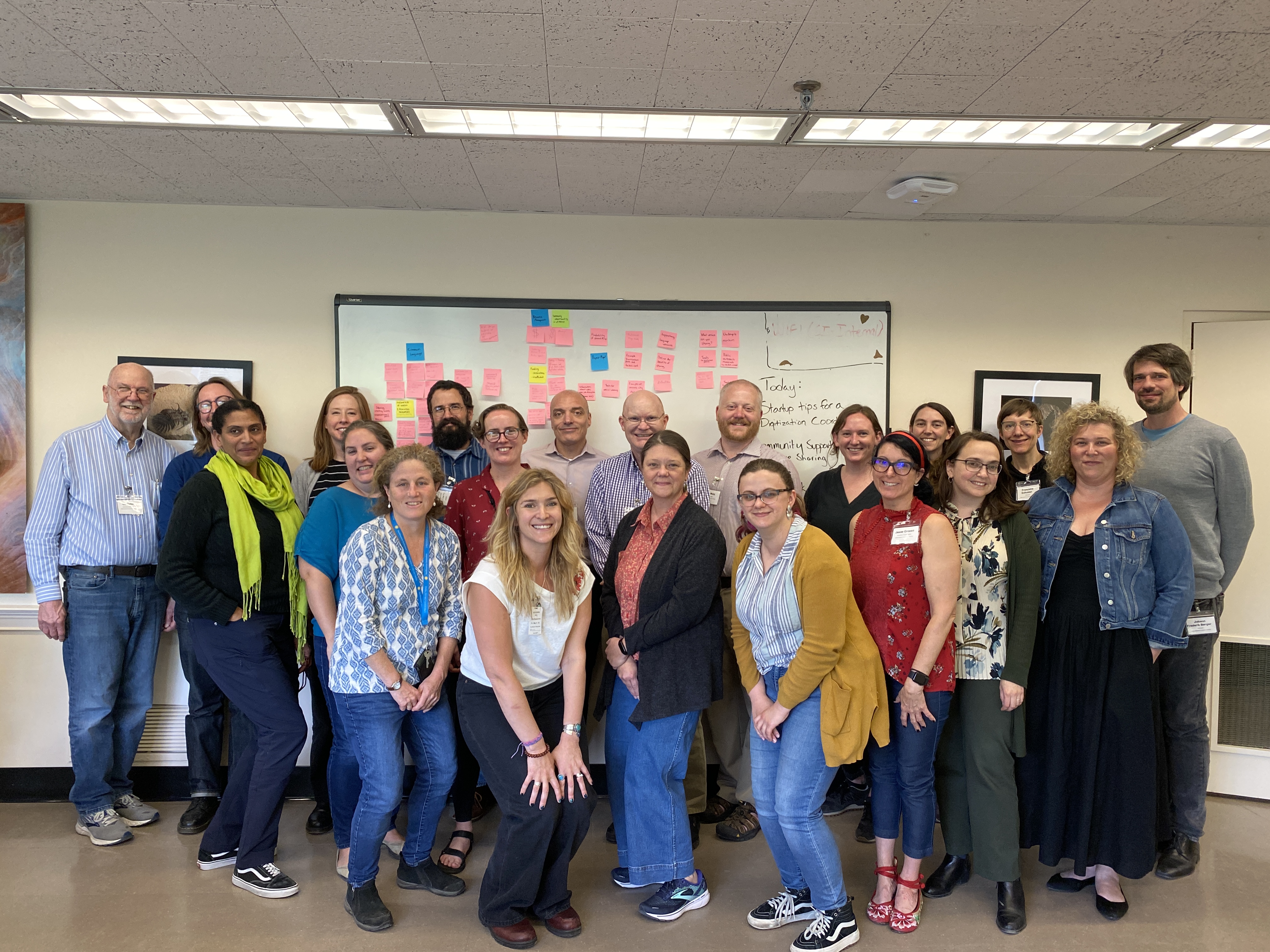 Many larger museums and archives such as the Smithsonian's National Museum of Natural History, Smithsonian's Libraries and Archives, London's Natural History Museum, and Museum für Naturkunde, Berlin have begun to implement a centralized approach to digitization of the collections by creating Digitization Coordinator positions. This new effort has initiated a singular vision for digitization which incorporates priorities, workflows, and resources to greatly improve the efficiency and throughput of digitization in collections. Smaller institutions, such as the Natural History Museum of Utah, are now starting to see the benefit of creating a more structured cross-disciplinary approach to digitization,  allowing for better awareness and resourcing of the digitization needs in the museum. Over a 100 people attended the Digitization Coordination symposium at BioDigiCon2022. It became evident that collections throughout the US are looking for ways to improve their efficiency, access, and usability of their collections.
To expand on the interest in the topic, the 2023 Digitization Coordination workshop was designed to bring additional institutions together with the hope of creating best practices documents to guide institutions and faculty in organizing a unified digitization vision within their institution. iDigBio sponsored participation of 30 natural history professionals from the US, Berlin, and London. The workshop was co-sponsored and hosted by the Smithsonian National Museum of Natural History. Once together in person it was evident more was needed for this effort to be successful. Cultural changes within institutions and between institutions need improvement to help provide the community holistic views of what has been accomplished to date and plans for the future digitization efforts. 
Day 1 of the workshop was dedicated to presentations from natural history institutions highlighting coordination of their digitization. Presenters were asked to give their perspective on what digitization coordination currently looks like within their institution, including: importance of digitization; how digitization plans/ priorities are established; how coordination works; what strategies are used to coordinate efforts to be cross-functional and break silos; what investment and leadership buy-in looks like; strategies for selling digitization to leadership; challenges for coordination; selling digitization for discovery; and benefits of coordination at a global level.
Presentations were given by:
Smithsonian Institution – National Museum of Natural History (NMNH)

Smithsonian Institution – Digitization Program Office (DPO)

Smithsonian Institution – Libraries and Archives (SLA)

Natural History Museum London (NHM)

Museum für Naturkunde (NfM)

Natural History Museum of Utah (UMNH)

Milwaukee Public Museum (MPM)

University of Colorado – Boulder (UC Boulder)

Indiana University (IU)

Yale University (Peabody Museum)

Harvard University (MCZ and HUH)

Field Museum (F)

New York Botanical Garden (NYBG)
At the end of Day 1, workshop participants were asked to record on sticky notes, the topics, common challenges, and other patterns they observed throughout the institutional overview presentations.
Day 2 morning was dedicated to presentations on project management and strategy, in addition to topics of coordination and leadership. Two global projects, Arctos and DiSSCo, were also discussed as examples of multi-institution coordination.
Workforce Development and Strategic Planning

Project Management, Coordination, and Leadership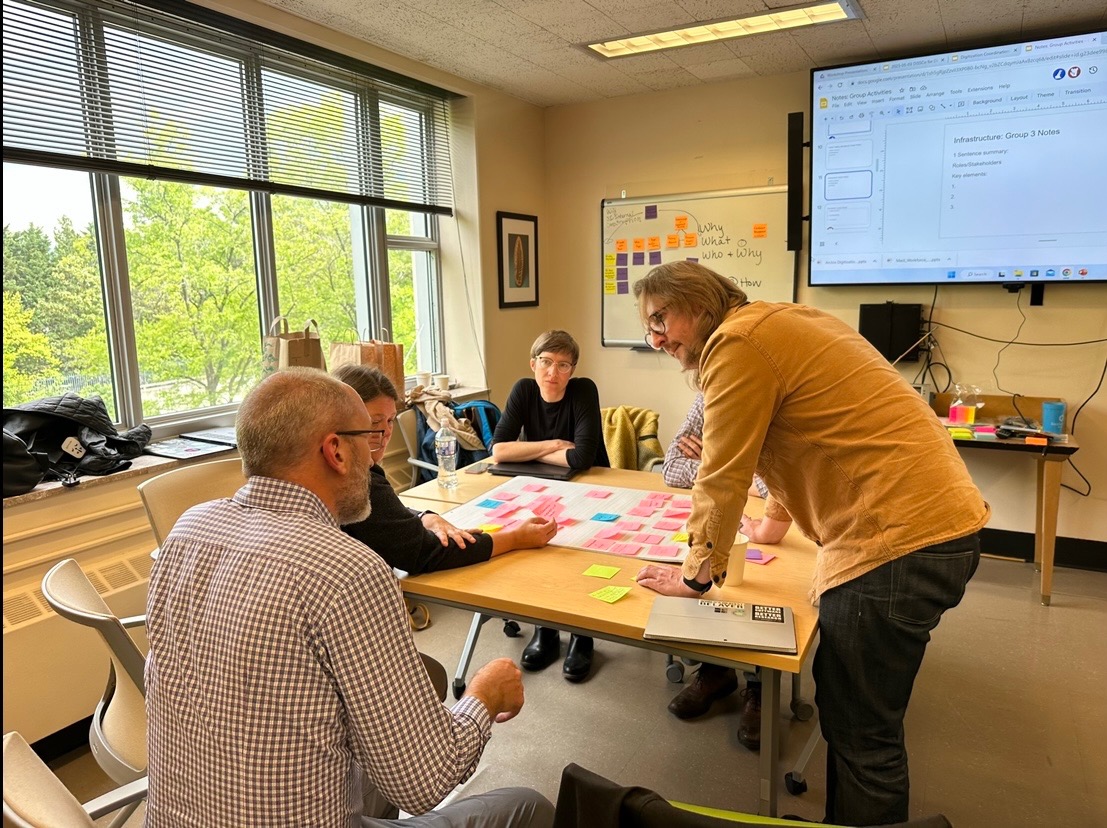 Day 2 afternoon began the important group discussions of digitization coordination. Sticky notes created at the end of Day 1 were sorted into thematic groupings to establish a series of priority topics for discussion, and to expand upon in the workshop deliverables. Workshop participants broke out into 4 groups, covering one topic each, to identify key elements of the assigned topic. Topics included:
Advocacy - In order to advocate effectively, we must find a way to connect our collections to the "common ground" that people will relate to.  Advocacy should stay positive but respond to the challenges of digitizing.  Themes can include cost effectiveness and economic benefit, strategic planning, vision and case studies.

Staffing - we recommend a single institution-wide digitization coordinator/program manager who is empowered and has senior stakeholder support. As discussed by many Day 1 presentations, this scenario creates the best potential for an effective digitization program.  The digitization coordinator fosters innovation and discovery, communicates and advocates broadly across their organization as well as externally, and implements an appropriate staffing and resourcing model.

Infrastructure - Digitization infrastructure requires integration and interoperability/coordination of systems, people, policies, and best practices to implement and enable the data lifecycle and realize the Digital Extended Specimen.  Key elements include cyberinfrastructure (devices, networks, integration, interoperability, humans), policy (data asset management, FAIR, sustainable digital infrastructure, rules), management (people/governance), best practices (data lifecycle).

Prioritization – digitization prioritization can be established by combining factors such as the specific projects that bring in money, the day-to-day digitization that is part of collections management, and the strengths of the collections and stakeholders. Prioritization is influenced by strategic plans, laws & community expectations, infrastructure, and sources of funding. It needs to be both flexible and changeable, but adherent to its foundation.  Ideally prioritization is a written plan.
Additional priority topics were highlighted in the initial exercise as critical to successful digitization coordination: funding, culture, management, and shared resources. Some, like funding, were addressed across the breakout groups, while others highlighted a need for additional workshop activities (e.g. planning for shared resources) or future discussion.  
Day 3 began with a discussion of startup tips for a digitization coordinator. Workshop participants were divided again into 4 groups, with the task of creating 5 tips for a new digitization coordinator. Common tips included surveying and understanding your existing infrastructure and collections, getting a clear idea of the goals of your stakeholders and leadership, connecting with your digitization community, and developing a prioritization list.  Lastly, always stay flexible.
The workshop then moved to the discussion on future plans beyond the workshop. Throughout the three day workshop it became evident more was needed than solely a general best practices document. Coordination of digitization efforts within Natural History Collections is multifaceted with many different stakeholders. Collaborations between different institutions and different countries would only strengthen the impact and sharing of knowledge. Participants agreed that a community network focused on information and resource sharing amongst people working in digitization coordinator roles or associated efforts was needed. The group set goals to  create a "Digitization Coordinator Network" (DigiCoord Net) to help address these needs in the community. The DigiCoord network would utilize a space in GitHub for centralizing information and use Slack as a communication platform. Workshop activities will also be summarized into a series of publications and presentations, providing entry points, education, and outreach to different stakeholder groups. 
To view workshop presentations and details, go to the workshop Wikipage.
Participants:
Frederik Berger - Museum für Naturkunde

Emily Braker - CU Boulder Vertebrates/Arctos

Jacqueline Chapman - Smithsonian Libraries and Archives

Lauren Cohen - iDigBio

Jillian Goodwin - iDigBio

Sharon Grant - Field Museum

Jesse Grosso - iDigBio

Helen Hardy - Natural History Museum London

David Jennings - iDigBio

Holly Little - Smithsonian National Museum of Natural History

Laurence Livermore - Natural History Museum London

Austin Mast - iDigBio

Gary Motz - Indiana University

Gil Nelson - iDigBio

Sylvia Orli - Smithsonian National Museum of Natural History

Nelson Rios - Yale Peabody Museum of Natural History

Vincent Rossi - Smithsonian Digitization Program Office

Franziska Schuster - Museum für Naturkunde

Rebecca Snyder - Smithsonian National Museum of Natural History

Kira Sobers - Smithsonian Libraries and Archives

Patrick Sweeney - Yale Peabody Museum of Natural History

Kimberly Watson - New York Botanical Garden

Alyson Wilkins - Natural History Museum of Utah

Jen Zaspel - Milwaukee Public Museum

Breda Zimkus - Harvard University

Diane Zorich - Smithsonian Digitization Program Office