Source:
http://www.news.wisc.edu/23123
Release Date:
Tuesday, September 16, 2014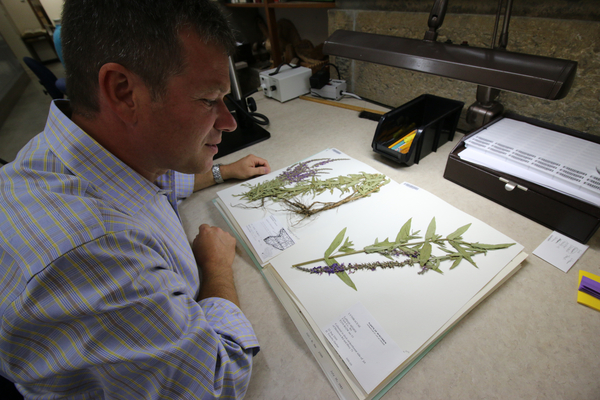 Kenneth Cameron, director of the Wisconsin State Herbarium
Photo: David Tenenbaum/University of Wisconsin-Madison
University of Wisconsin - Madison News reports on the digitization efforts of the Wisconsin State Herbarium housed at the University of Wisconsin - Madison. Kenneth Cameron, the Wisconsin State Herbarium Director, is the leading principal investigator of an NSF funded digitization project centered around digitizing specimens and data from wetland plants, mollusks, and fish from the Great Lakes basin.
The Wisconsin State Herbarium is partnering with 29 other institutions (from 8 states and Canada), and together they plan to digitize 1.73 million specimens related to Great Lakes invasive species. The reason for the focus on invasive species is that the Great Lakes basin has already had catastrophic impacts on many important industries like fisheries, tourism, and shipping due to invasive species, and invasives are an important issue for the region both economically and ecologically.
The grant that makes the Great Lakes Invasives digitization project possible is part of the National Resource for Digitization of Biological Collections through the Advancing Digitization of Biological Collections program and all data and media resulting from the project will be available through the iDigBio portal.
To read more about digitization at the Wisconsin State Herbarium and the UW-Madison Zoological Museum read the full news article.