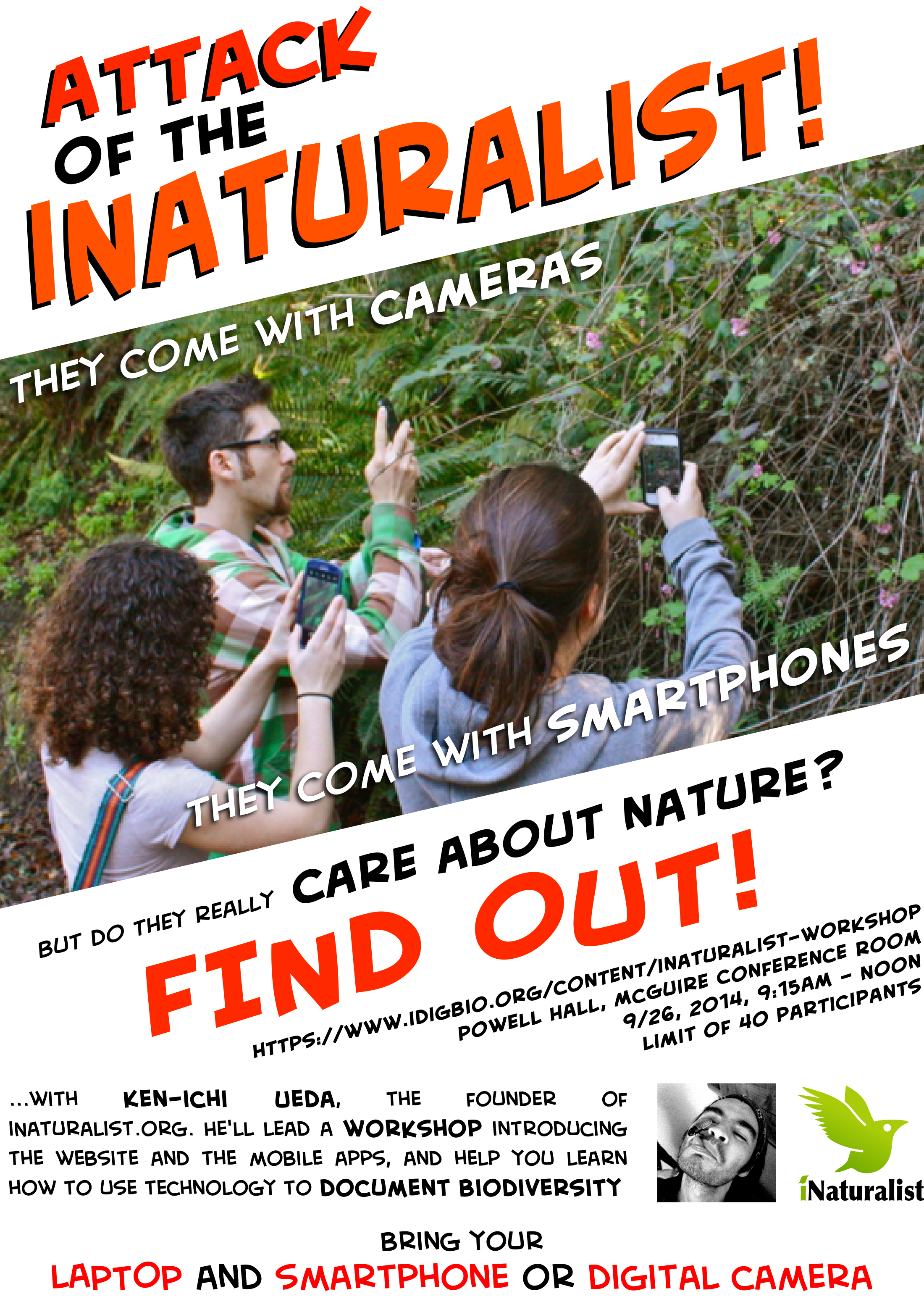 FLMNH and iDigBio are hosting an iNaturalist half-day workshop Friday, September 26th, in the McGuire Conference Room.
For an iNaturalist tutorial click here.
"iNaturalist is an online social network of people sharing biodiversity information to help each other learn about nature. It's also a crowdsourced species identification system and an organism occurrence recording tool. You can use it to record your own observations, get help with identifications, collaborate with others to collect this kind of information for a common purpose, or access the observational data collected by iNaturalist users."(http://www.inaturalist.org/pages/about)
Come learn about iNaturalist from Ken-ichi Ueda, co-founder and director of the website/application. There will be a short introduction (with refreshments) followed by a chance to get outside and use iNaturalist in "the field". The workshop will then move back indoors so participants can learn about uploading their field observations and other tasks in iNaturalist.
What: iNaturalist Workshop
Topic: Introduction to the website/application iNaturalist
Presenter: Ken-ichi Ueda, co-founder and director of iNaturalist
When: 9:15am to 12:00pm EDT Friday, September 26, 2014
Where: McGuire Conference Room, enter Powell Hall using the side door next to the picnic tables, you will be directed to the conference room
Who: Florida Museum of Natural History and iDigBio staff. Limited space for 40 participants.
What to bring: Laptop, smartphone or digital camera, and iNaturalist Tutorial.
There are limited spaces for this workshop. Please RSVP for the event here!
Start Date:
Friday, September 26, 2014 -

9:15am

to

12:00pm

EDT
Location:
McGuire Conference Room, Powell Hall, University of Florida