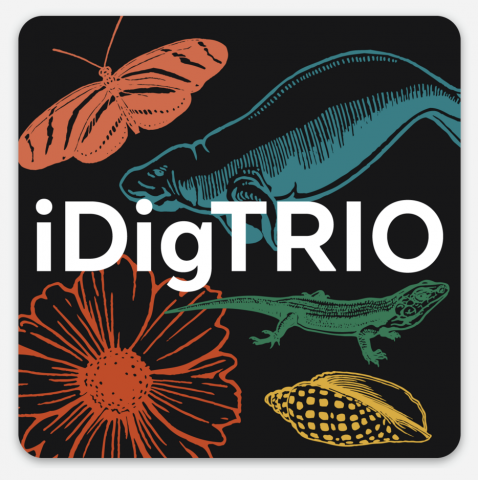 Shyla Davison
The fifth annual iDigTRiO Biological Sciences Conference and Career Fair took place at the University of Florida (UF) and virtual activities from February 14-19, 2023. The iDigTRiO conference is aimed at collegiate and pre-collegiate students associated with TRIO programs around the United States but is open to all undergraduate and high school students as well as student-associated professionals.  
The mission of the iDigTRIO Conference is to provide opportunities to first generation, limited income, and marginalized students (Black, Latin/x, Indigenous, other students of color, and students with disabilities) to explore careers and graduate programs in the biological sciences. Through intentional programming and networking, we seek to support future leaders in science and build a sense of community for their academic, personal, and professional journeys. iDigTRIO initially came from a collaboration among staff and students from the University of Florida Office of Academic Support (OAS), iDigBio, and the Florida Museum (cofounders are Dekendrick Murray, Molly Phillips, and Adania Flemming). With the aim of being as inclusive and responsive to rapidly changing global and local health concerns as possible, we created a hybrid conference experience with both in-person and virtual offerings. (Photo of students gathered around a Minorities in Agriculture booth at the iDigBio Resources Fair).
The online mentoring and in-person shadowing took place on February 14th,15th,17th and 18th, while the main in-person event took place on February 16th at Reitz Union. The in-person event consisted of a resource fair, keynote speakers, workshops, discussion panels, and a student research presentation. Over 100 people attended the in-person event. During the conference, students also had the opportunity to tour the UF campus, the Florida Museum of Natural History, and the campus gardening and food program Field and Fork. These tours allowed students to explore the campus as well as career opportunities within a museum. The tour of Field and Fork gave students an opportunity to learn about sustainable agriculture and food systems, and how these programs can help a community. (Photo of student learning about alligators).
Forty-four faculty and staff from a variety of departments at UF and from agencies around Gainesville signed up to mentor students and lead job shadowing events. These job shadowing events included wildlife and ecosystem ecology lab tours and discussions, aquatic biology sampling, food science and nutrition career discussions, museum careers discussions, and much more!  
We would like to give a special thank you to our keynote speakers, workshop leaders, panelists, and student research presenters. Our keynote speakers were Dr. JC Buckner from the University of Texas at Arlington and UF's Dr. Jeremy Waisome. The panelists included James Brown, Dennis Parnell,  Lameace Hussain, Jieli Wegerif, Maya Victor, and Mikayla Agbamuche who led discussions on navigating college and graduate school. The workshop leaders included James Brown, Jennifer Towers, Erin Rice, and Adania Flemming who led workshops on finding funding and applying to college and graduate school.  
We also extend a huge "Thank You!" to this year's presenters, mentors, tablers, facilitators, and participants. We also thank our conference sponsors, including iDigBio, the UF Office of Academic Support, Black in Natural History Museums, UF Biodiversity Institute, and Florida Museum of Natural History, as well as our partners including the Thompson Earth Systems Institute, the UF Center for Undergraduate Research, and UF McNair Scholars Program. Finally, thank you to our conference planning team, Adania Flemming, Molly Phillips, Dr Angeleah Browdy, Muata Kamdibe, Andrea Tham, Libby Ellwood, Shyla Davison, Dinara Mukhtarova, Dr Samesha Barnes, Dr Dave Blackburn and Maria Duarte!