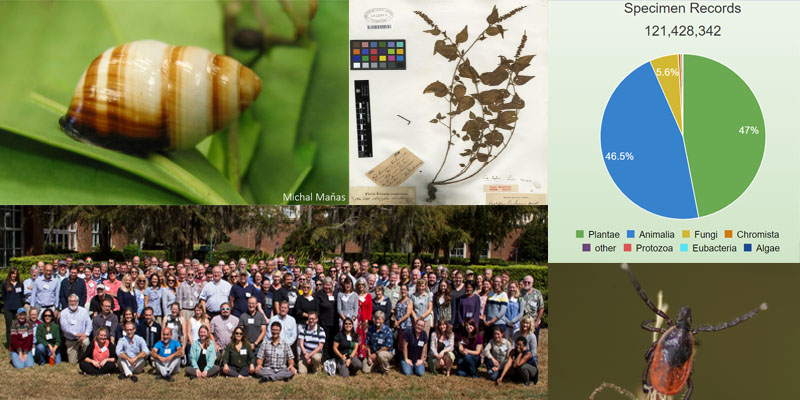 Last year was a significant year for iDigBio. We welcomed a new PI and bid farewell to another as we made eight excellent additions and reassignments to our staff, some to replace recent departures and others to help us implement important tasks associated with newly established positions. Dr. Bruce MacFadden, iDigBio PI for education, outreach, diversity, and inclusion since the beginning of the project, stepped down at the end of December to pursue his other projects and was replaced by Dr. David Blackburn. Bruce has been an involved PI for iDigBio and champion for the program. He has been especially instrumental in our efforts at broadening representation in our activities and will be sincerely missed. We are delighted to have David bring his enthusiasm, energy, and passions for museums to the project. We are fortunate to have him.
During February, we were pleased to have Alnycea "Allie" Blackwell join us as Project Assistant to assist with workshop logistics and provide integral support to our Education, Outreach, Diversity, and Inclusion program. Allie has enjoyed a very quick start and her skill set has proven invaluable.
Our cyberinfrastructure team is now fully staffed with the addition of three system administrators/programmers. Nicholas Rejak is a software engineer with experience in numerous domains, including ontologies and information retrieval in the library sciences, an excellent parallel for developing ontologies and extracting biodiversity data from specimens. Ron Canepa holds a degree in microbiology and has 13 years of combined public and private experience, including a focus on bacterial genome assemblies, data management, and analytics.  Chris Wilson has been a software developer and systems administrator for over 25 years and holds a degree in Computer and Information Science. His broad experience in website hosting has already proven extremely beneficial through the implementation of iDigBio portal optimizations. All three have shown remarkable persistence and skill in quickly learning and maintaining iDigBio's core infrastructure. 
Caitlin "Cat" Chapman joined iDigBio in July as Biodiversity Informatics Coordinator. Cat has an educational background in biology, specifically entomology. Her wealth of experience with the SCAN TCN contributes heavily to her role facilitating mobilization of biodiversity data and media to be served through the iDigBio portal. 
Erica Krimmel joined iDigBio's office at Florida State University (FSU) in late summer. She is a biodiversity information scientist with deep experience in digitization and data management for natural history collections. We are pleased that she is bringing this knowledge to iDigBio as its Digitization Resources Coordinator. Erica is certainly no stranger to our community. 
Jillian "Jill" Goodwin, formerly a Program Coordinator at FSU, has rejoined the Florida Museum's iDigBio staff as iDigBio Conference Manager, a newly funded position. Jill will continue to oversee the annual Digital Data in Biodiversity Research Conference. She will also provide leadership for the Biodiversity Summit 2020 as well as future Summits and major conferences. In her spare time, she will also provide planning and support for iDigBio workshops. 
Cap-stoning an obviously productive staffing year, we are also very pleased to have Libby Ellwood back with iDigBio following a stint at La Brea Tarpits Museum in Los Angeles. Libby has agreed to serve as our newly funded Global Communications Manager and provide leadership in developing and implementing a strategic plan for concrete engagement with our numerous international collaborators, initially to include GBIF, ALA, DiSSCo, and the Smithsonian's National Museum of Natural History. 
We are delighted with the talent represented above and confident of pursuing our 2020 activities with a team that remains as strong, passionate, and committed as ever. 
In addition to adding new staff, iDigBio has been lucky to have three new Thematic Collections Networks (TCNs) and six Partners to Existing Networks (PENs) join the community. We look forward to working with these new groups.
Best Regards,
Gil Nelson
Director of iDigBio
Florida Museum of Natural History
University of Florida