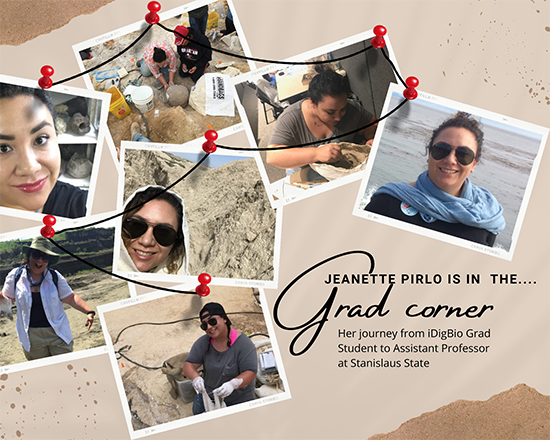 If you could describe your stint at iDigBio in a tagline, what would it be? Why?
Transformative! As an iDigBio member, I found opportunities to expand my professional network and skill set. The people I met through iDB have become mentors and friends. The professional development gained through my participation has directly resulted in my confidence for the future. The students I've had the honor to mentor and learn from throughout my time at iDB solidified my passion for mentoring and seeking ways to use my own social capital to benefit those still developing theirs. 
What was the best part of being an iDigBio student?
The travel! Knowing that conference travel was covered eliminated a massive barrier that allowed me to focus on the conference and bring all of energy to the group. Financial barriers, especially in the context of conferences, creates additional stress that prevents students from fully interpreting and enjoy the professional development that comes with attending conferences. Not having that added stress, I was able to fully involve myself in the activities, speak plainly and honestly with people interested in iDB, grad school, or research in general. The benefit did not end at the conclusion of the conference. Sharing my travel experiences during outreach events was also a great way to connect with others like me that only dreamed of going to places like New Zealand. The opportunities for travel through iDB had positive ramifications throughout my entire network, showing it is possible to do the work you enjoy while not having to worry about the financial side. iDigBio's investment in me benefitted more than one person. 
What are some things you learned while working for iDigBio?
iDB gave me the space to hone my presentation and public speaking skills and confidence. I learned how to communicate more effectively with the non-academic public and engage them in the conversations surrounding natural history collections. It gave me a platform to connect with other collections staff around the world and discuss problems and the creative solutions that come from a diverse community.  
During your time with iDigBio, what were your most noteworthy achievements here?
The iDigBio-Summer Internship Program is one of my greatest achievements. Logistically, it has been a huge effort, balancing the work with my research, which was outside the scope of the program. However, the benefits of the program have made the effort worth it. Working and hearing from our mentees about their experience and the skills they've gained through the internships once again reinforced my commitment to mentoring. Seeing the mentees' success either from completing their research, presenting at conferences, accepting grad school offers, and even winning their own research grants, shows the impact that paid research opportunities have on students from diverse backgrounds. My hope is that through this work, we will see more and more collections offering (well) paid opportunities to students with little to no research background, expanding the collections skill set to many more. 
What advice would you give to your younger self?
It will work out the way it needs to work out. Pay attention to the skills you're learning, not to the missed opportunities. Those skills can be applied to the work you're passionate about in a new and creative manner, allowing you to pursue your goals on your own, knowing you have the skill set to develop the research from start to finish. Learn as much as you can from those around you, and share what you've learned with others.
 What are you most looking forward to in your new job?
 I cannot wait to teach and work with students! I have a list of research and grant ideas that center student learning opportunities and I cannot wait to put those into practice. I look forward to sharing the skills learned through iDB and sharing collections with a community that does not have an easily accessible collections building on campus. I look forward to developing collections through experiential courses, teaching the entire process throughout the course and seeing how the students apply the collection literacy skills to their own goals.