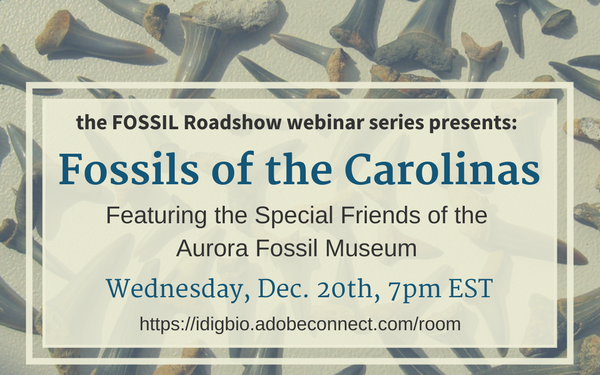 Ready for another great webinar episode on fossil identification? This episode is hosted by the Special Friends of the Aurora Fossil Museum, and will feature fauna from the Pleistocene, Pliocene, and Miocene from both North and South Carolina.
Join us on Wednesday, December 20th, at 7:00 pm EST at https://idigbio.adobeconnect.com/room for this special online event. To participate, use your browser to navigate to the link, then write your full name in the box, and enter the room as a guest. You may be asked to download the Adobe Connect plug-in for the program to function. Once it has downloaded, open the plug-in to enter the room!
You do not need a microphone or webcam to participate, but you will be able to ask questions throughout using a chat box.
https://www.myfossil.org/event/fossil-project-webinar-fall-2017-series-f...
Got questions? Email fossil@flmnh.ufl.edu
Start Date:
Wednesday, December 20, 2017 -

7:00pm

to

8:00pm

EST
AdobeConnect URL:
https://idigbio.adobeconnect.com/room