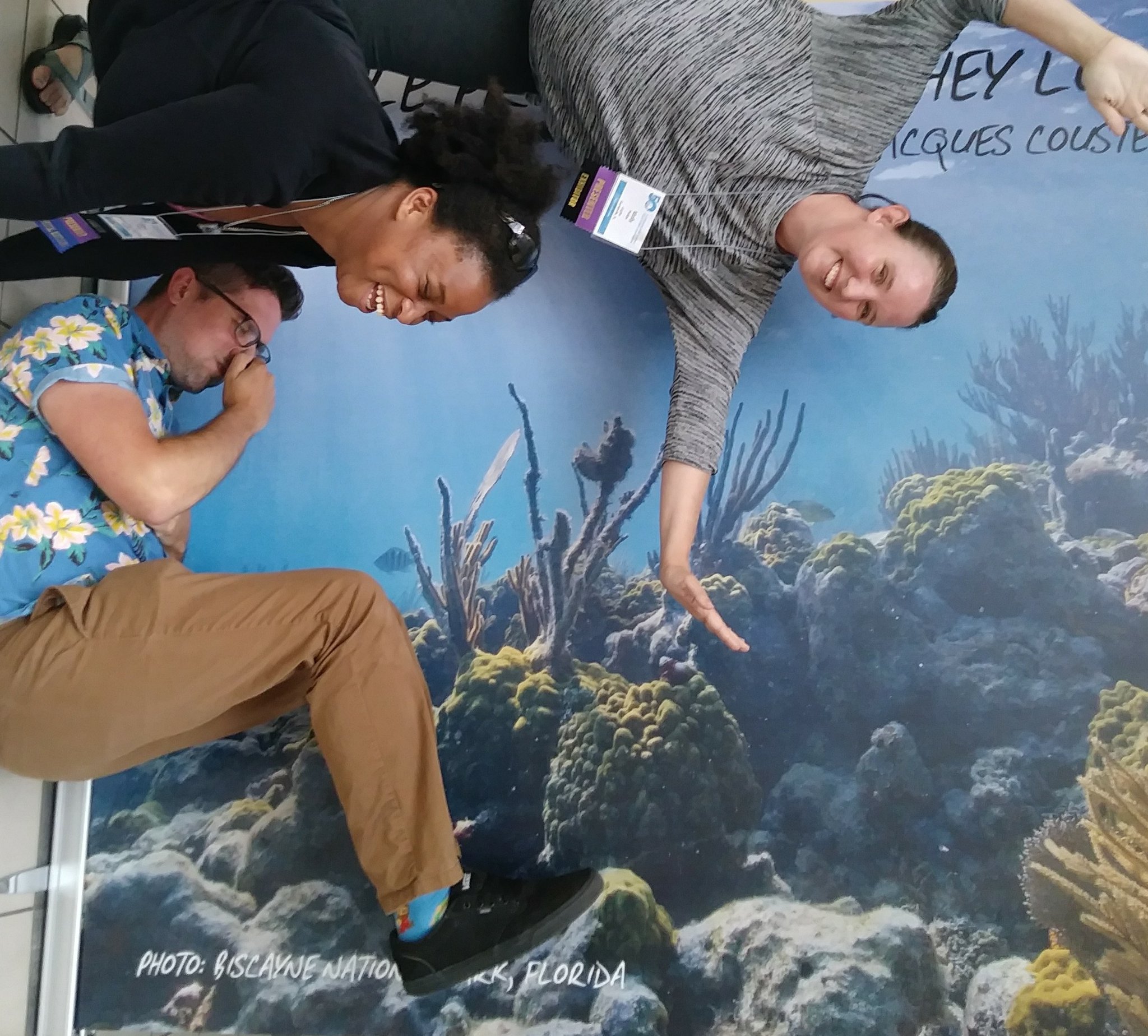 The Florida Marine Science Educators Association, FMSEA is a professional association of individuals and organizations devoted to the cause of marine education in Florida. The annual conference provides an opportunity for teachers to collaborate and network with presenters, exhibitors, and other teachers. According to the Past President, Earnie Olsen, in the FMSEA year-end report, "the knowledge shared at FMSEA conferences and ideas generated ultimately allows marine educators in Florida to teach, and protect what we love: the ocean".
iDigBio staff member Molly Phillips and iDigBio graduate students, Randy Singer and Adania Flemming presented and ran an exhibit at the 2018 FMSEA conference held 3-6 May in Ft Lauderdale, Florida. There were approximately 180 participants at the conference eager to learn and share ideas to be used in formal and informal education. The iDigBio exhibit promoted ADBC educational materials including the Libraries of Life cards, example lesson plans using digitized natural history collections, and 3D printed marine specimens, as well as physical deep sea specimens from the Florida Museum Ichthyology Collection.
iDigBio presented a 55-minute session which was divided into three categories. Adania Flemming first introduced participants to the idea of going behind the scenes of a museum through digitized Natural History Collections. Her presentation included an introduction to uses of museums beyond the small fraction of specimens visible in public exhibits. She explained the process of digitization and its importance in allowing the collections to be shared online for use or as a tool to connect educators to museum personnel. She introduced the iDigBio project and it's portal as one example of many aggregated collections, where teachers, and scientists can find digitized collections. Adania also demonstrated how teachers could access the education tab on iDigBio, which contains lesson plans aligned to standards and materials for educators.
Next Randy Singer introduced the Okeanos Explorer project which systematically explores our largely unknown ocean for the purpose of discovery and the advancement of knowledge. He demonstrated how teachers could choose to have their classes either join Okeanos livestream for marine discovery with a plethora of scientist in the field or view previously recorded footage. Randy explained how marine science educators could use this resource to cover a range of concepts on ocean education, including exploring biogeography, ecology or geology within the deep sea. Participants then watched a short example video where they were asked to document all species found on the highlighted deep sea expedition.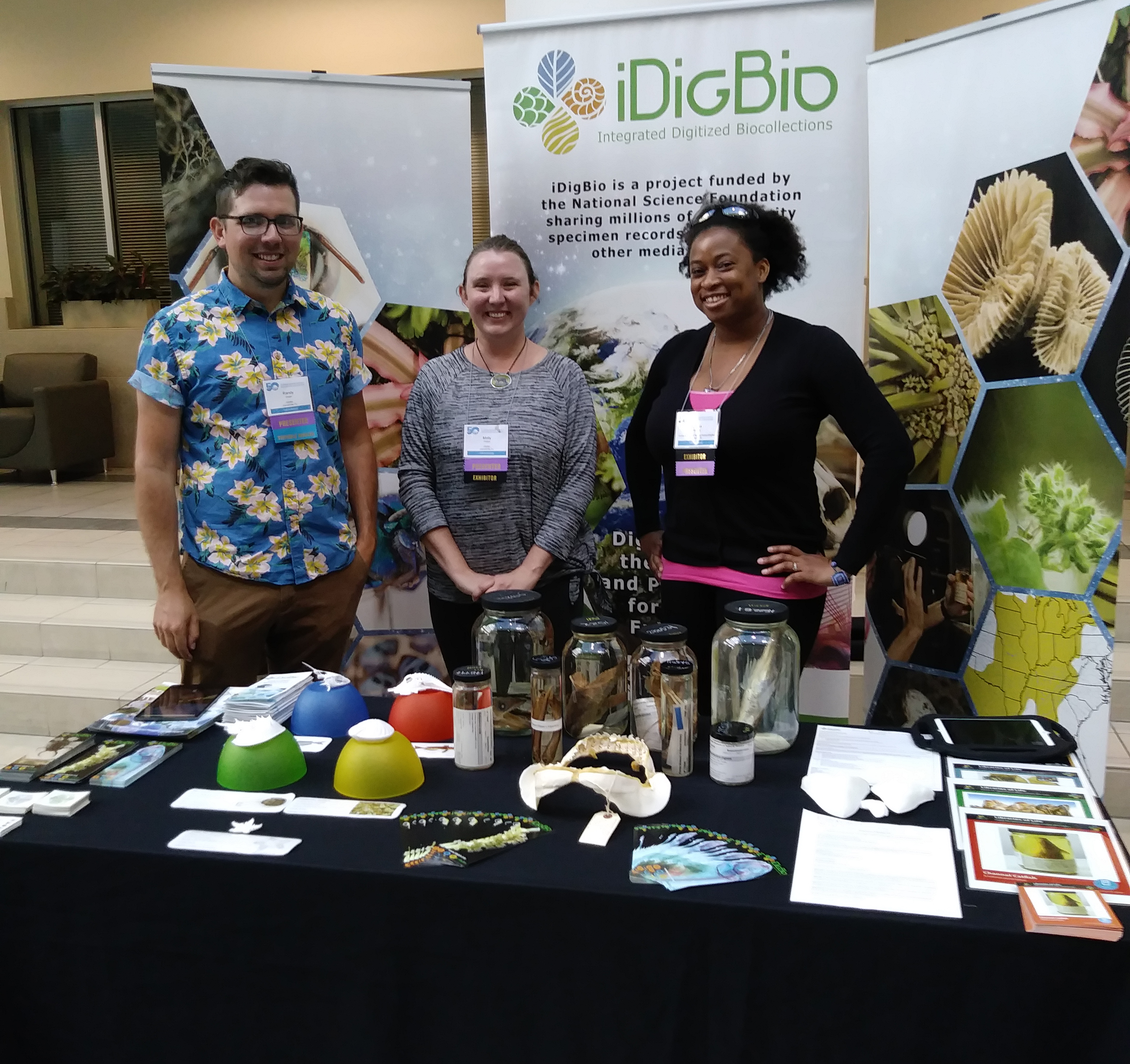 Molly Phillips then introduced the lesson plan created by the three presenters where students use the iDigBio portal to look for organisms found on the Okeanos expedition. Molly also did a demo of how to navigate the portal using different types of searches to find data. Participants were able to ask questions as they navigated through the portal and looked at the various forms of information and interactions one could have with the portal. Molly, Randy, and Adania had an interactive wrap up which illustrated how the portal could be used to enhance lessons in a formal or informal situations, both of which included the benefit of having students search the exact portal scientists across the globe are using. Many of the participants from the presentation stopped by the booth to ask further questions and examine the resources iDigBio brought which could be easily incorporated into their lesson plans on ocean education. The conference was indeed a fulfilling experience and opportunity for iDigBio to connect with one of its key audiences, science educators.