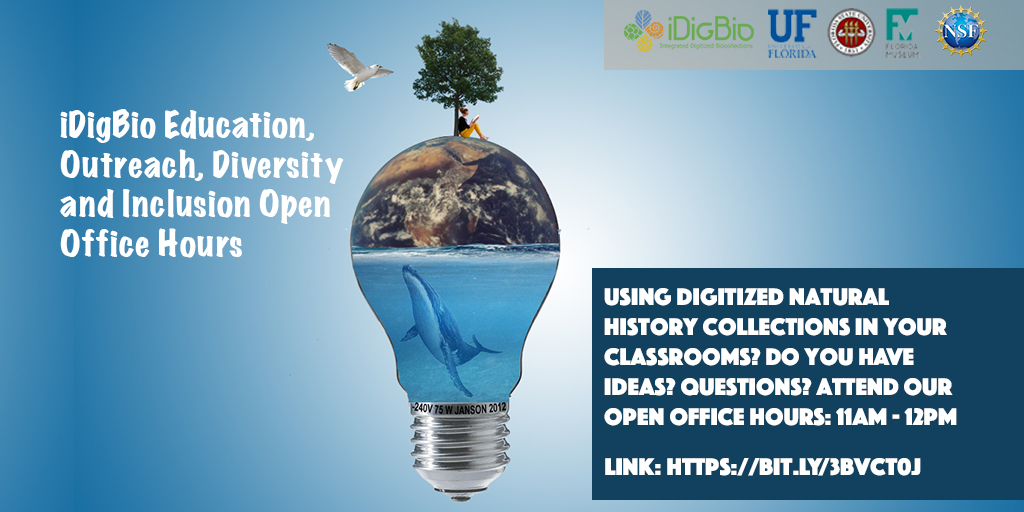 This is an online drop-in session where anyone is welcome to bring their questions or ideas relating to education, outreach, diversity, and inclusion (EODI) with digitized natural history collections. This session is open to educators looking for resources or that have questions about using digitized natural history collections in their classrooms, as well as collections professionals that have ideas or need help creating resources of their own. Participants are welcome to drop by for only part of the hour. This session is hosted by iDigBio's EODI team.
Each month we will feature a free online resource with a 10-15 minute demo followed by discussion.
September 3, 2020: oVert 3D Resources with David Blackburn
October 1, 2020: WeDigBio 2020 with Libby Ellwood
November 5, 2020: Biodiversity Literacy in Undergraduate Education (BLUE) with Anna Monfils
December 3, 2020: Biological Collections in Ecology and Evolution Network (BCEENET)
Want us to feature your resource? Contact us!
Zoom link: https://ufl.zoom.us/my/idigbio.eodi
Start Date:
Thursday, June 04, 2020 -

11:00am

to

12:00pm

EDT
Thursday, July 02, 2020 -

11:00am

to

12:00pm

EDT
Thursday, August 06, 2020 -

11:00am

to

12:00pm

EDT
Thursday, September 03, 2020 -

11:00am

to

12:00pm

EDT
Thursday, October 01, 2020 -

11:00am

to

12:00pm

EDT
Thursday, November 05, 2020 -

11:00am

to

12:00pm

EST
Thursday, December 03, 2020 -

11:00am

to

12:00pm

EST
Remote Connection URL:
https://ufl.zoom.us/my/idigbio.eodi