Fourth Annual Digital Data in Biodiversity Research Conference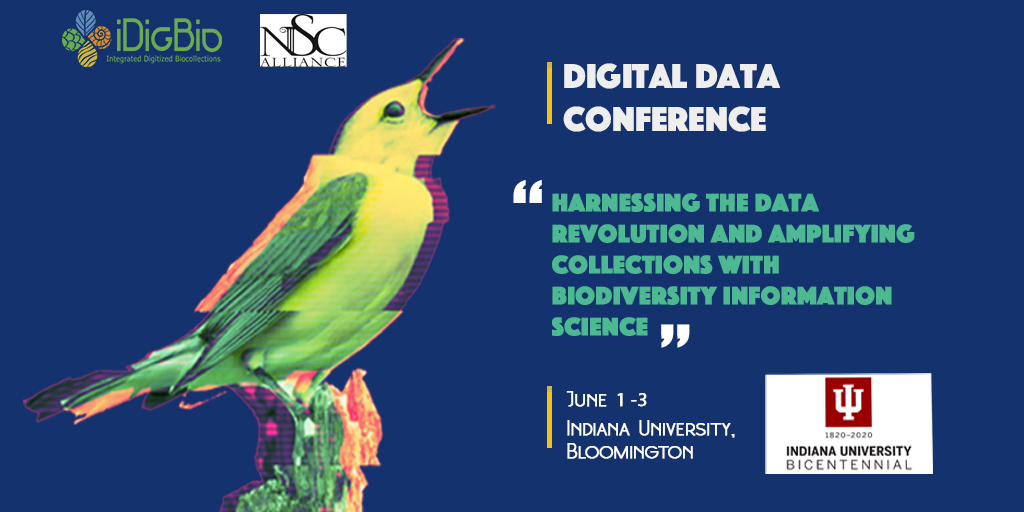 Indiana University in collaboration with iDigBio of the Florida Museum of Natural History, and the Natural Science Collections Alliance is pleased to announce the fourth annual Digital Data in Biodiversity Research Conference, to be held 1-3 June 2020 at Indiana University in Bloomington, IN. 
Please watch for further announcements and program developments via several listservs and on this announcement page. The conference will again provide an important opportunity to explore digital data tools, techniques, research protocols, discoveries, and outcomes across all biodiversity research domains. For further information or to ensure that you are on the conference email list, please contact Gil Nelson (
gnelson@floridamuseum.ufl.edu
) or Jill Goodwin (
jvgoodwin@fsu.edu
) at iDigBio.
Digital Data Conference Registration Fees: 
$100.00 for professionals
$50.00 for students. 
Registration is open! Visit 
Eventbrite
 to register.  Final registration deadline: May 22.
Abstract Submissions:
Options for submission include: discussion, oral, or poster presentations.
Discussion sessions may be up to one hour long and will be scheduled within the concurrent sessions on Monday and Tuesday. These may begin with a presentation or introduction followed by discussion or may be completely devoted to open discussion.
Submitting abstracts: The abstract submission link will be included in your registration confirmation email from Eventbrite. Contact us if you have problems finding the link after you register.
Abstract submission deadlines: 24 April 2020
Topics: The 2020 conference hopes to attract an increased number of presentations focusing on the use of digitized specimen data and big data analytics, conservation and use of digital specimen data, and the use of virtual collection objects.
Additional topics of interest include:
machine learning and artificial intelligence
harnessing the data revolution
published or publishable biodiversity research and data using digitized specimen information,
methods and protocols for enhancing discovery with digitized specimen data,
systematics and the use of digital specimen data,
ongoing research projects that utilize digital data,
gaps and deficiencies in currently available digital data that hinder effective use,
user critiques of digital data, aggregators, and data providers,
pipelines that integrate digitization, data use, and research,
standards and practices for depositing and documenting open access digital datasets,
the role and relevance of "Big Data" in biodiversity research,
use of digitized biodiversity specimen data within ecological research and practice,
the relative importance of vouchers vs. observations as digital data,
managing digital biodiversity specimen data in support of research pipelines,
analyzing and visualizing specimen-based and related digital data,
digital biodiversity specimen data in education and outreach.
Keynote and Plenary Speakers for this year's conference include (please return to this page to see the complete list of plenary speakers as others are added:
Beth Plale, Science Advisor for Public Access, National Science Foundation; Director, Data to Insight Center of Pervasive Technologies, Luddy School of Informatics, Computing, and Engineering, Indiana University
Lauren Sallan, Martin Meyerson Assistant Professor in Interdisciplinary Studies, University of Pennsylvania, 2019 TED Senior Fellow
Katie Stanchak, Graduate Student/Postdoctoral Scholar, Department of Biology, University of Washington
The planning team for the 2020 conference includes: from IU Kimberly Cook, Jennifer Laherty, Jess Miller-Camp, Rob Montoya, Gary Motz, and Angie Raymond, and from iDigBio David Blackburn, Jill Goodwin, and Gil Nelson.