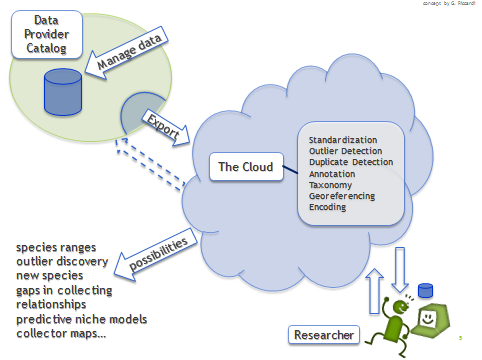 Keeping up with data requires certain skills and infrastructure. This new Interest Group at iDigBio plans to discuss issues surrounding shared data and the help and information the community needs in order to ensure, if possible, that the provider has the most up-to-date versions of their own datasets. Many providers find their data enriched by an aggregator, only to discover their own database cannot hold the enriched data, or that they do not have the skills needed to update their own databases. We intend to provide a forum for discussion, and act as a resource for guidance to point providers toward potential solutions. Do you need help to re-integrate data into your database? Are you able to help, or know of resources? We invite anyone with an interest in this topic to join us and contribute your observations and potential solutions to this challenging topic. Anyone is welcome to join the interest group.
What: Webinar to kickoff a new iDigBio Data Management Interest Group
When: Thursday 7 August 2014, 1:00 - 2:00 PM EDT
Where: http://idigbio.adobeconnect.com/datamgmt (nothing to install, use any browser) Headsets are recommended (they help remove echo). A short presentation will be followed by open discussion for all participants.
Who: All are welcome, please invite your colleagues.
Questions? Please send to any member of the group: Data Management Interest Group
See you soon! Deb Paul, on Twitter @idbdeb
Start Date:
Thursday, August 07, 2014 -

1:00pm

to

2:00pm

EDT
Remote Connection URL:
http://idigbio.adobeconnect.com/datamgmt