UPDATE Workshop Report: Data Carpentry - Please can we have some more?!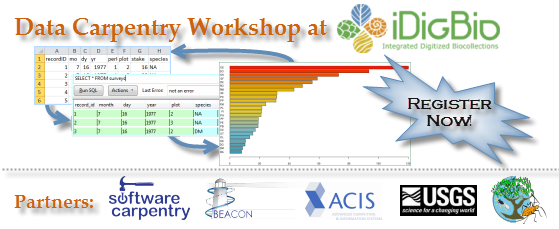 Research using biological data to investigate complex problems over present, recent, and geologic time scales requires managing, analyzing, and visualizing large and/or diverse data sets. In addition, performing these tasks is increasingly a team effort, requiring collaborative work in virtual environments. Integrated Digitized Biodiversity Collections (iDigBio) funded by a NSF, invites applications from seniors, graduate students, post-docs, and current researchers, for a two-day Data Carpentry Workshop. The workshop will be held September 29-30 (all day Monday and Tuesday) at iDigBio in Gainesville, Florida and remote at the American Museum of Natural History (AMNH) in New York. "Data Carpentry's aim is to teach researchers basic concepts, skills, and tools for working with data so that they can get more done in less time, and with less pain." The workshop offers participants hands-on training in managing the life-cycle of their data and code with a focus on using open source tools, including R. Our two-day curriculum includes:
Day 1 morning: Better spreadsheet skills and Introduction to more powerful tools
Day 1 afternoon: Introduction to databases, combining and querying data using SQL.
Day 2 morning: Introduction to R and managing data in R.
Day 2 afternoon: Workflows, visualizing data, and making research repeatable.
Participants will be twenty-five (max) and we expect four instructors with four or five assistants for a 4:1 or better student to teacher ratio. Sign up for this workshop is first-come, first-served. Based on prior workshops of this type, we know they fill up fast. You will need to RSVP as those who are wait-listed would like your spot in the event you cannot make it. Other Data Carpentry workshops are in the works for other locations. Let us know if you are interested in one of these in a location near you!
What you will need.
You will need your own laptop (with admin privileges to install software). Beginners are encouraged, no prior experience with coding, R, SQL or the shell is needed. Course materials are designed to be entry-level. No travel funds are offered for this workshop. If you are traveling, you will need to cover your own lodging and other travel expenses. We have arranged a block of rooms to get you a good group rate at the Gainesville University Holiday Inn where you may make your own reservation in our block.
Details.
Workshop Wiki
Data Carpentry
Contact for questions: Deborah Paul dpaul AT fsu.edu
Partners:
Start Date:
Monday, September 29, 2014 (All day)
to
Tuesday, September 30, 2014 (All day)