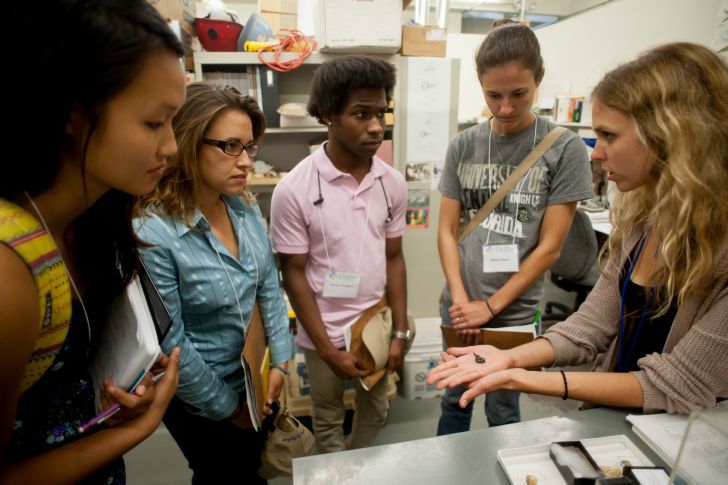 Photo courtesy of the Florida Museum
Come to a free one-day workshop and career shadowing opportunity that includes:
Behind the scenes museum tours
Meet researchers, graduate students, and graduate school representitives
Catered lunch
Early evening social
This is the third Broadening Diversity workshop that is part of a western-US workshop series with a goal to introduce undergraduate students, especially those in underrepresented populations, to museum and biodiversity science careers.
Who: This opportunity is open to all undergraduate students and recent graduates interested in the biological sciences, and we especially encourage applications from those from underrepresented groups.
Where: The New Mexico Museum of Natural History and Science, Albuquerque, NM
When: There are two events. You can register for one or both as they each highlight different aspects of careers in biodiversity and museum science
Friday, November 8th, 2019: Shadow a Museum Scientist
Saturday, November 9th, 2019: Career Workshop: Jobs in Biodiversity Science
Registration is open until we reach capacity; students accepted on a first come first serve basis
If planning to register a group please contact Gabriela Hogue at gabriela.hogue@naturalsciences.org; Individual registration opens October 1st
This material is based upon work supported by the National Science Foundation under DBI 1746715. Any opinions, findings, and conclusions or recommendations expressed in this material are those of the author(s) and do not necessarily reflect the views of the National Science Foundation.
Start Date:
Friday, November 08, 2019 - 12:00am EST

to

Saturday, November 09, 2019 - 12:00am EST
Location:
The New Mexico Museum of Natural History and Science