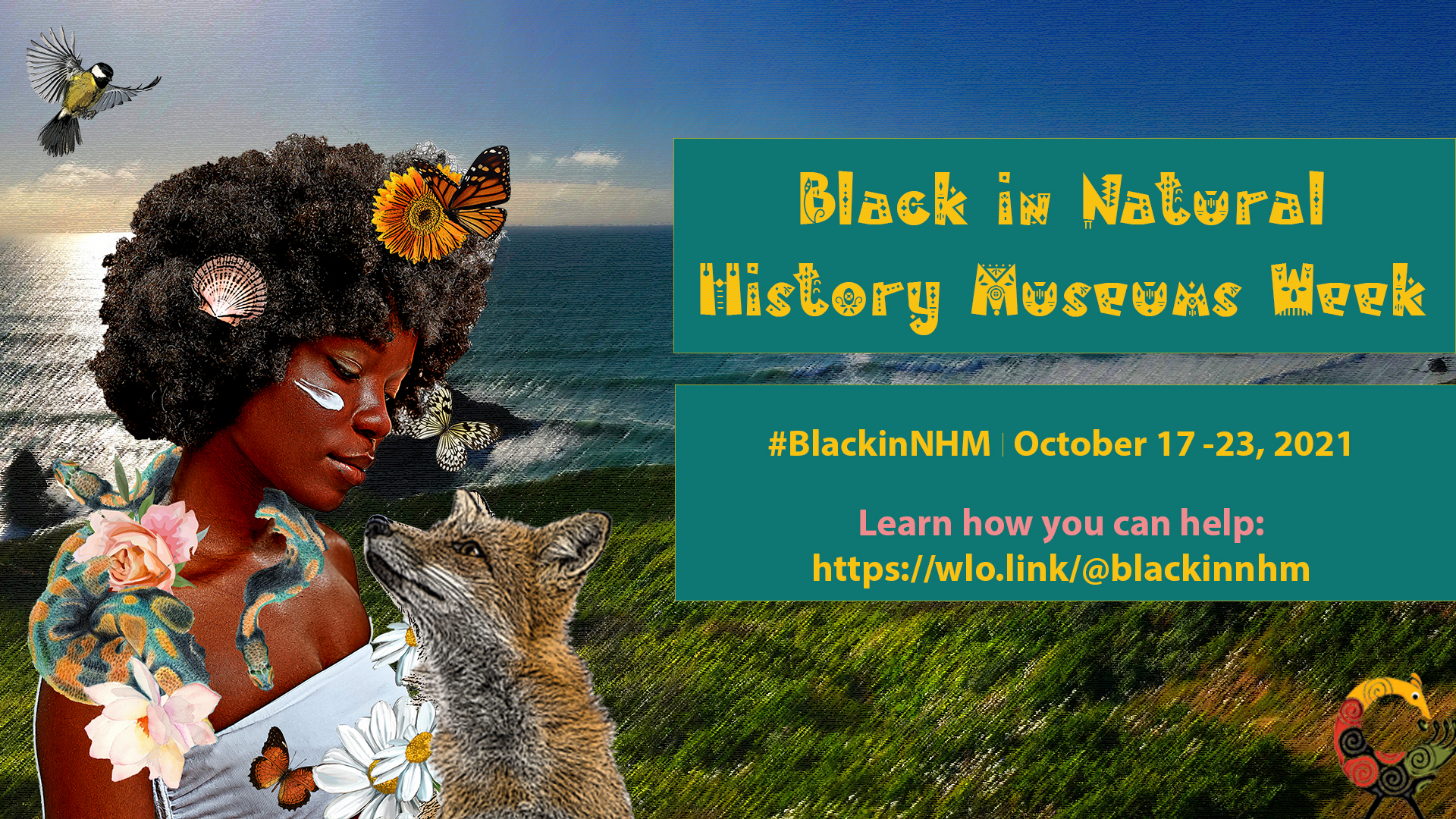 BlackInNHMs is a community of Black museum professionals. Inspired by the many Black-in-"X" weeks on twitter, we are organizing an online event (October 17-23rd) to engage Black in Natural History Museum professionals (#BlackinNHMs). During the week we hope to inspire many Black professionals to reimagine their relationship with the biodiversity of our planet, while highlighting career opportunities in natural history museums and related fields. We want to diversify the stories told and research done within natural history museums as well as highlight the contributions of past Black professionals whose stories were often untold. On day 3 of our week, Tuesday October 19th, we encourage participants and future NHM professionals to directly engage in biodiversity collection with us by kicking off a 5-day, global blitz (BioBlitz, GeoBlitz, PaleoBlitz).
Anyone can take part in this activity and share what they find on social media. You can choose to organize as a group or work individually. We will post options of groups you can join. If you are willing to host a group in your area please complete this survey. The aim is to explore the diversity of life around us (in your backyard, on your balcony, or a local area), thus we can also do paleoblitzes, geoblitzes etc. 
Bioblitz trips happening in the Gainesville, FL area
Date
Location
Leaders
Time
Contact (email or phone number)

Tuesday, October 19th

NATL
 

Gabriel Somarriba
10:00 AM
gabe.somarriba@ufl.edu

Wednesday, October 20th

 

Sweetwater Preserve (entrance at then end of SE 16th Ave no longer available; park at Boulware Springs and enter via Hawthorne Trail)
 

Gabriel Somarriba
9:00:00 AM
gabe.somarriba@ufl.edu

Thursday, October 21st

Morningside
 
Tal
9:00 AM
tkinser@ufl.edu

Friday, October 22nd

Alfred A. Ring Park
 
Abby Uehling
5:30 PM
abbyuehling64@gmail.com

Saturday, October 23rd

Depot Park
 
Gabriel Somarriba
5:30 PM
gabe.somarriba@ufl.edu
Visit here for a Google doc version of this table. 
There will also be a panel on October 19th to help folks who have no idea where to start with a BioBlitz.
ZOOM: https://tinyurl.com/BIOBLITZChat
TIME: 12noon EST/ 9am PCT/ 5pm BST
The 2021 BlackInNHMs BioBlitz will be conducted virtually from 19th - 23rd October to 2021. To participate, all you need is a smartphone, tablet, or a camera and computer. 
It's easy to participate! Simply: 
join the 2021 BlackInNHMs BioBlitz, 

and find some local biodiversity to document! 
If you are using a smart phone or tablet download the app on Google Play or in the Apple Store. New to iNaturalist? Watch this 1.5 minute video on how to make an observation on iNaturalist. 
Use the hashtag #BlackInNHMsBlitz, #BlackinBiodiversity, #LibrariesofLife to share your finds on social media! Let's see what the community can find! At the end of the bioblitz we will send cool natural history-related prizes to the people who were able to document the most biodiversity! 
This is a international, virtual effort but we also encourage local meetups following local COVID guidelines!  
Watch this webinar to learn more!
What is a BioBlitz? 
Community science (also called citizen science) mobilizes volunteers to work alongside scientists to help answer big questions about the world. One of the largest ongoing community science projects is to document the biodiversity of the Earth. iNaturalist is an online social network of people sharing biodiversity information to help each other learn about nature. It's also a crowdsourced species identification system and an organism occurrence recording tool. When a group of people get together to document biodiversity in a short amount of time these efforts are called "bioblitzes." 
BioBlitz Rules 
Participants must create an account on iNaturalist and contribute their observations to this project:  
Observations can be dated from 12:01 Midnight on October 19 (EDT) to 5:00 pm (EDT) October 23rd. BioBlitz champs will be announced through Twitter (@BlackInNHMs)!
Observations must be entered into iNaturalist, and registered as either "Research Grade" or "Needs ID".  "Casual" observations will not be included in totals.  To this end, inclusion of supporting evidence (usually a photo or sound recording) will be very helpful. 
Need Help? 
Need help in figuring out how to register for iNaturalist? This YouTube link is helpful: https://youtu.be/yJS63hdWGvs, and the iNaturalist tutorials will walk you through everything if you are unfamiliar with the app. You can find the tutorials here: https://www.inaturalist.org/pages/video+tutorials 
Watch a webinar about iNaturalist and bioblitzes: https://vimeo.com/572666963 You can find the slides here. 
Still have questions? Contact us. 
Start Date:
Tuesday, October 19, 2021 (All day)
to
Saturday, October 23, 2021 (All day)
Recording policy:
By attending iDigBio's online events, you accept that the event will be recorded and posted for later asynchronous viewing.