Source:
http://www.astate.edu/news/arkansas-plant-collections-to-be-digitized-with-support-from-national-science-foundation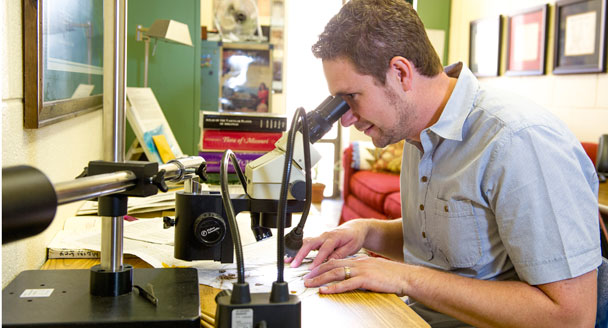 Dr. Travis D. Marsico, by Andrew Ferguson/A-State Marketing and Communications.
Arkansas State University News recently highlighted Dr. Travis D. Marsico an Arkansas State University associate professor, curator for the Arkansas State University Herbarium (STAR), and collaborator in one of the most recently NSF funded Thematic Collections Networks (TCNs). Dr. Marsico is the Education and Outreach team lead for the TCN The Key to the Cabinets: Building and Sustaining a Research Database for a Global Biodiversity Hotspot. The TCN's research will be conducted in conjunction with Southeast Regional Network of Expertise and Collections (SERNEC). The goals of the project are to digitize herbarium specimen data with a focus on the botanically rich southeastern USA. The project plans to make data available for over 3 million specimens.
As the team lead for Education and Outreach, Dr. Marsico talked with the Arkansas State University News about the project's ideas for broadening the impact of the initiative. For example, undergraduate and graduate students will be involved in the digitization efforts at all eight registered herbaria in Arkansas. Students that participate will gain valuable knowledge and skills about maintaining, managing, and utilizing museum collections. In addition to including students in the project, there will be a citizen scientist component. Project scientists plan to engage community members in transcribing data from specimens to increase public understanding of biological collections.
The NSF award was made as part of the National Resource for Digitization of Biological Collections through the Advancing Digitization of Biological Collections program.  All data resulting from this award will be available through iDigBio's portal.
Read the original press release here.