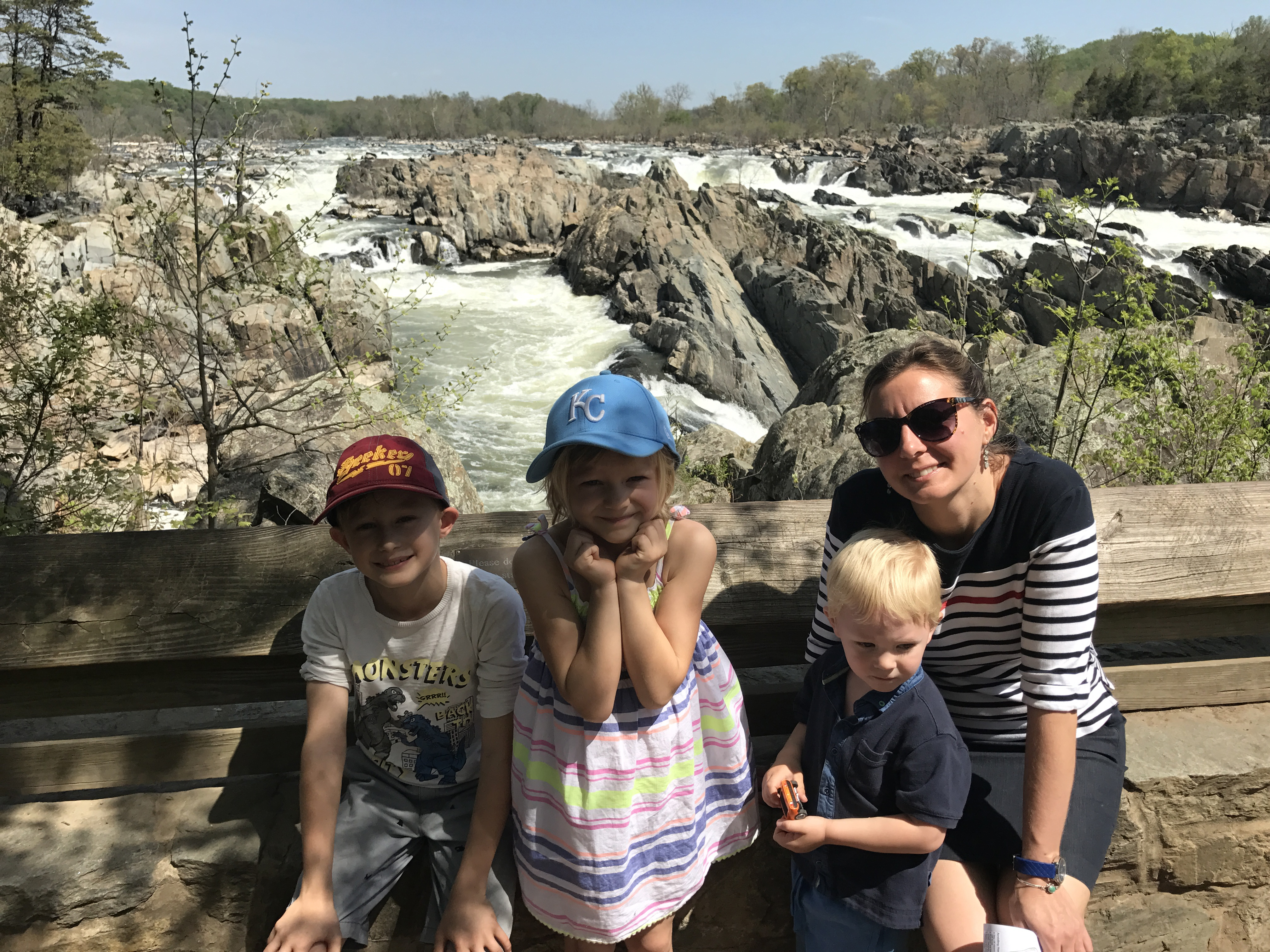 Chalotte with her children enjoying the many parks of the DC region. (here the Great Falls National Park).
iDigBio is starting a new series highlighting alumni from the project to track where they go after they leave us and to try and get a sense of what impact their experience at iDigBio made on their future endeavors. Over the next few months we will be highlighting undergraduate, graduate students, and post-doctoral researchers who have worked for iDigBio but have moved on to new and exciting positions. We also welcome submissions from any of our retired or current Thematic Collections Networks. If you would like us to feature an alumni from your TCN contact us.
Our first Alumni spotlight is Charlotte Germain-Aubrey who was a Post-Doctoral Researcher with iDigBio under Primary Investigator, Pam Soltis. During her time with iDigBio, Charlotte focused her research on ecological niche modeling, and predicting how plant distributions could change based on climate change projections. Charlotte left iDigBio in 2016 to take the AAAS Science and Technology Policy Fellowship (STPF) in Washington D.C. As a fellow, Charlotte worked with the U.S Agency for International Development (USAID). She split her time working with the Environmental Officer and the Climate Coordinator for the bureau on Democracy, Conflict and Humanitarian Assistance. Her previous research modeling climate change outcomes for botanical communities turned out to be great preparation for her new role at USAID trying to understand and mitigate the effects of climate change in communities around the world.
Charlotte was assigned to several projects in East and West Africa. One example of her work was based in Malawi, where they were observing up to 80% sapling mortality in river bank reforestation projects. Charlotte was sent in to determine what was causing such a high rate of sapling loss. After talking to stakeholders and examining the evidence on the ground, she helped update reforestation protocols to adjust for new climate effects. The rains were coming later and more erratically, and often caused severe flooding, which means the under-watered saplings were getting washed away. Charlotte recommended altering some of these protocols to fit the changing rain schedules, which should reduce sapling mortality in the future.
Charlotte also worked on climate induced conflict between farmers and transhumant pastoralists in Mali (and later in Niger at MCC). The farmers used the river beds and surrounding wetlands to grow bourgou, a wetland grass used to feed cattle. Meanwhile, the pastoralists moved their livestock through the area to find grazing lands. In the past, the farmers were able to harvest their crop before the cattle came through. However, because of climate change, the time of harvest had shifted to after the transient cattlemen come through with their massive cattle herds. The valuable bourgou crop was being trampled by the cattle before it could be harvested, and this was leading to violent conflict in the region. Charlotte was not able to visit Mali because of safety concerns, but she was able to write proposals for funding additional resources to go towards solving these climate related conflicts.
The last report Charlotte did for USAID focused on local perceptions of climate change. She noticed that the message coming from Western aid organizations, like USAID, was being misinterpreted by the local people most affected by climate change. The locals understood that if they followed the recommendations from aid agencies, the climate would correct itself and everything would go back to normal. Unfortunately climate change is a global issue, so the actions of these small communities with relatively small footprints are not going to be what will tip the scale to reverse or even slow what is already happening. In her report, Charlotte recommend changing the language in their communications about climate change to suit the audience it is intended for, and focus on how these people can adapt to their new environments instead of on the root causes which makes it seem like climate change is temporary and solvable.
Charlotte was recruited by the Millennium Challenge Corporation (MCC) for the second year of her fellowship. The MCC works on international development and economic growth for poverty reduction around the world. MCC differs from USAID in that they work with fewer countries, but invest more in any one single project. Charlotte began working in the Environmental and Social Performance group at MCC. She also focused on environment and climate change, but also social issues in regards to local community rights. MCC builds a lot of infrastructure that is meant to help economies grow. She was looking at the social and environmental impacts of some of these large infrastructure projects.
One of her main assignments was in Sri Lanka working on a project development dealing with land tenure. After extensive stakeholder consultation in country, Charlotte has recommended the creation of data sharing policies to coordinate potential land privatization with protection of biodiversity reserves, safeguarding areas at risk of land-slide, and indigenous people's land.
Most recently, Charlotte has been focusing on climate change integration in decision making at MCC, but also collaborations around global change research data within the federal government. She has also been involved in the large project of creating data labs in East Africa and the first data science Master's program in the region. In her new role as a consultant, she likes to focus on knowledge management, building a knowledge management plan for the many departments at MCC. She feels she has come full circle now, as she finds many of the conversations very similar to the discussions we would have with collections managers and researchers about their data at iDigBio. She is currently working on a knowledge taxonomy for the agency. She jokes with them that she feels she may have been hired based on a misunderstanding of what her Masters in plant taxonomy is, but in all seriousness she sees a lot of parallels between her new role helping with knowledge management within a government agency and managing and interpreting collections data with iDigBio. The prospects of creating process learning tools at MCC and in partner countries to more efficiently and effectively use existing data and knowledge is exciting! After all, alleviating poverty in developing countries is up there with the mission of protecting biodiversity, and they are linked in more ways than one.