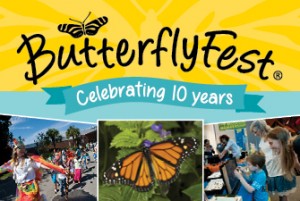 iDigBio again participated in the Florida Museum of Natural History's annual ButterflyFest event on Saturday, September 19.  This year was the 10th anniversary of the event "dedicated to increasing the awareness of Florida's butterflies as fun, fascinating ambassadors to the natural world."  The one-day event was a huge success and boasted an increase in attendance: 2,661 visitors attended this year's event.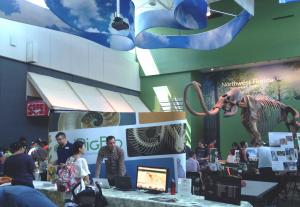 Project staff members Claudia Grant, Jillian Goodwin, Randy Singer, and Ronny Leder (along with two other volunteers) hosted the iDigBio booth.  Children observed real museum specimens, made scientific observations, and learned why museum collections and digitization are important resources for scientists.  Monitors demonstrated more complex concepts related to iDigBio including videos on digital imaging and digital record density throughout the world.  To illustrate how easy it can be and the importance of digitally archiving specimens, participants were also shown examples of how they can contribute as citizen scientists by uploading images of their fossils to the myFOSSIL website.
Check out the Florida Museum of Natural History 's calendar of events page.