Difference between revisions of "Progress in Digitization"
From iDigBio
Line 28:
Line 28:
 

*[link Day1 2:00pm - 3:20pm]

 

*[link Day1 2:00pm - 3:20pm]

 

*[link Day1 3:20pm - 6:00pm]

 

*[link Day1 3:20pm - 6:00pm]

−

 
−

Friday June 2th, 2014

 
−

 
−

*[link Day2 11:00pm - 1:00pm] Collaboration Meeting - All Invited.

 
 
 
 

==Presenters==

 

==Presenters==
---
Revision as of 06:10, 27 June 2014
This wiki supports the SPNHC 2014 Symposium: Update on Initiatives and Progress in Digitization of Natural History Collections, Millennium Centre Cardiff Bay, Cardiff, Wales, June 26th.
All across the globe, many Natural History Collections (NHC) are digitising their holdings, seeking funding to digitise, or trying to figure out how they can get started. Logically, with the development of these digital resources, researchers, providers and users are interested in any specimen data gaps noticed, and specimen data use and re-use cases. No matter where you are on this continuum at your institution, keeping up-to-date on what is going on and what is possible is no easy task. In this session, our aim is to provide a broad and deep coverage of current world-wide NHC digitization efforts and encourage collaboration.
SPNHC 2014 Progress in Digitization Symposium Agenda and Logistics
Remote Sign Up!

Participate from home, from work. Join the world-wide conversation.

Symposium Agenda (.docx)
Attendee List (to be created)
Logistics: We start at 845 am on Thursday June 26th at the Wales Millennium Centre, Rehearsal Room I (RRI). After lunch we move to (I think) the Victor Salvi Suite (check with organizers). Talks are anticipated to be 15 minutes with time for questions / discussion. The conveners hope you will join us on Friday as well, for the SIG: Collaboration in Digitization meeting.
Twitter: @iDigBio @SPNHC2014 #spnhc2014 #spnhc #collections #digitization and conveners: @idbdeb @emhaston @libbyellwood
Collaborative Notes Documents
Workshop Recordings
Thursday June 26, 2014
[link Day1 850am-1040am] (Cardiff time)
[link Day1 11:00am - 12:40 noon]
[link Day1 2:00pm - 3:20pm]
[link Day1 3:20pm - 6:00pm]
Presenters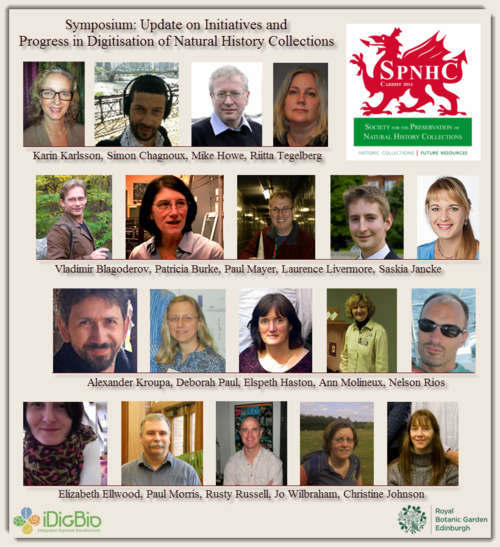 PowerPoints and Presentations
Thursday, 26 June 2014
Remote Participation Link