Data Management Interest Group
From iDigBio
Data Management Interest Group (DMI)
This page is devoted to resources and discussion for the DMI Group. Keeping up with data requires certain skills and infrastructure. This Interest Group plans to discuss issues surrounding shared data and the help and information the biodiversity community needs in order to ensure, if possible, that the provider has the most up-to-date versions of their own datasets. We intend to provide a forum for discussion, and act as a resource for guidance to point providers toward potential solutions. Do you need help to re-integrate data into your database? Are you able to help, or know of resources? We invite anyone with an interest in this topic to join us and contribute your observations and potential solutions to this challenging topic. Anyone is welcome to join the interest group.
The interest group schedules regular discussion sessions via Adobe Connect for the purpose of sharing techniques, strategies, uses, improvements, and technology associated with re-integrating enhanced data back into a provider's database. Resources, related documents, and discussion notes are stored below. Our first meeting: Webinar 7 August 2014, 1:00 - 2:00 PM EDT.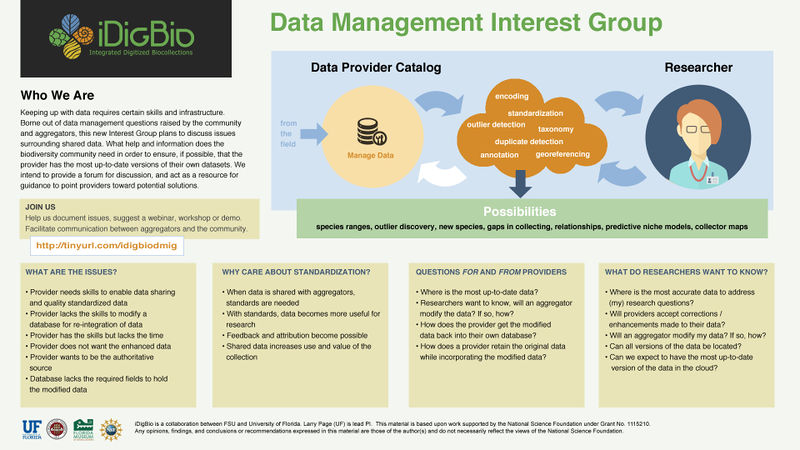 Interest Group Members
Meeting Recordings
Partnering with libraries for data management, by Brian Westra, Recorded Monday October 20th, 2014. Noon - 1 PM EDT
Issues in Re-integrating Georeferenced Data, the FishNet2 Experience, by Nelson Rios, recorded Monday March 30th, 2015. 2 - 3 PM EDT
Data quality, usage, and issue tracking using GitHub, by John Wieczorek, et al at VertNet, recorded Friday 23 April, 2015. 4 - 5 PM EDT.
Towards user-definable, semi-automated workflows for curating biodiversity data (recording). Presenters (abc order): David Lowery, James A. Macklin, Timothy McPhillips, Paul J. Morris, Tianghong Song. Recorded 28 May 2015 2 - 4 PM EDT
Improving Data Quality: iDigBio Recordset data cleaning methods, tools, and data flags. Presenters: Alex Thompson (iDigBio IT), Matt Collins (iDigBio IT), and guests: Heather Appleby and Katja Seltmann. Recorded 23 October 2015 - 2 - 3 PM EDT.
Collaborative Notes and Interest Group Documents
Presentations, Posters, Upcoming Topics
Data Management: The Data Re-integration Step Presentation from first meeting (Webinar), 7 August 2014
DMI Poster at DigBio Summit IV, 27-28 October 2014

Poster presented by Mare Nazaire, content by working group, design by Jeremy Spinks.

Webinar Calendar Announcement: FishNet2 on re-integrating georeferences back into local collections databases (March 30, 2015)
Webinar Calendar Announcement Data quality, usage, and issue tracking using GitHub: the view from VertNet (23 April 2015)

Presentation Slides from Data quality, usage, and issue tracking using GitHub: the view from VertNet

Webinar Calendar Announcement: Towards user-definable, semi-automated workflows for curating biodiversity data.(Filtered PUSH, Kepler Kurator, *Akka) May 28th, 2015

Part 2 of Webinar: designed for IT-oriented folks wanting to install and test please go here http://wiki.datakurator.net/web/iDigBioWebinar_May2015 Follow the instructions and you'll have some opportunities in the second half of the webinar to get input into use of this tool.

iDigBio Recordset Data Cleaning tools and flags: where do they come from? how can data providers use them to enhance their datasets?

Alex Thompson and Matt Collins, Friday, October 23rd, 2 PM EST

Variations on the theme of tracking loans, gifts, sampling, and more

Simon Checksfield, Nicole Fisher, Andrew Bentley, Matt Woodburn, Vince Smith, Christine Johnson, Tiffany Adrain, and Elspeth Haston Friday, October 30, 2015, 21:00:00 (UTC) Wed 5:00 PM (EDT) Wed 9:00 PM (Edinburgh) Thu 8:00 AM (Sydney)

A Tale of Two Topics: Archiving, what is it anyway? and just what is a DAM?

Larry Gall will be presenting on this topic (tentatively scheduled for November 2015)

Providing Data to iDigBio - Getting Feedback from iDigBio: Experiencing the Data Life Cycle

Mare Nazaire (date to be decided after their data is ingested)
Potential Topics
Linking specimens, notes, and literature-- what systems have you found that best serve those linkages?
Macroalgal TCN using Voice Recognition and OCR output to speed up digitization
Relevant Papers and Documents
A specialist's audit of aggregated occurrence records Robert Mesibov
Relevant Links