ScioTR
Jump to navigation
Jump to search
ScioTR is a new touch-enabled Windows 8 app which integrates Optical Character Recognition (OCR), Natural Language Parsing (NLP), Model Strategies and crowdsourcing to provide an efficent workflow for capturing highly-structured data from images. The workflow illustrates how to leverage the strengths of individual technologies while simultaneously compensating for inherent weakness. Work is partitioned across temporal and skill-set boundaries and data is bi-directionally synchronized between different users.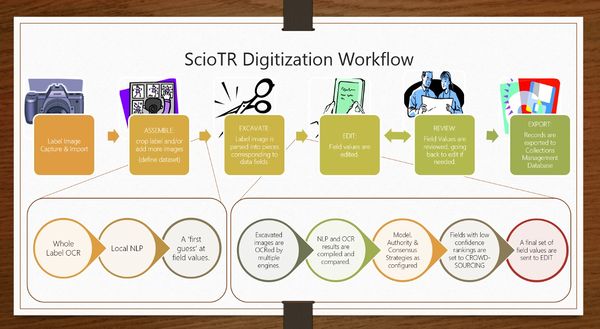 This tool is currently under development and will be available in the Windows 8 Store. A talk and demo was given at SPNHC DemoCamp 2013.
PPT Presentation given at SPNHC on ScioTR Workflow
You can view a recent ScioTR Progress Video Here, very similar to the demo given at DemoCamp 2013.